Jaylen Brown Shows the Celtics How Ridiculous They Would Look in Trading Him
The Boston Celtics are among the teams likely to mix things up at the NBA trade deadline. But while the C's might choose to reposition by moving veterans such as Dennis Schroder and Al Horford, they'd look utterly foolish in trading Jaylen Brown.
Brown sent a loud and clear message to Celtics president of basketball operations Brad Stevens and the rest of Boston's front office on Jan. 2 by producing one of the finest games of his career. Sure, there have been growing pains for the star duo of Brown and Jayson Tatum. Still, the C's cannot give up on a talent of Brown's caliber.
Jaylen Brown has been the subject of trade rumors
The Celtics hoped to take a step forward following a disappointing 2020-21 season that saw them finish as the No. 7 seed in the Eastern Conference. But it's been a struggle for Boston, and the rumor mill is churning.
Bleacher Report's Jake Fischer reported in mid-December that "speculation about Brown's availability has noticeably increased around the league." Executives told Fischer they remain skeptical of the Brown-Tatum pairing, with some suggesting that a split is inevitable.
The Celtics have not shown any willingness to budge on Brown yet. Fischer reported that Boston still considers the All-Star swingman an untouchable.
Still, Brown himself hardly did anything to quiet the noise. The 25-year-old strangely issued a public dissonance after Horford said the team needed to find its identity.
Alas, the losing and purported internal turmoil have made for juicy gossip while making it seem feasible that the Celtics could trade Brown. However, the Mariette, Georgia native showed on Jan. 2 why Boston would be making a critical error in judgment if it elected to deal him elsewhere.
Brown scored a career-high 50 points in a crucial comeback win
Things looked to be going from bad to worse for the Celtics during a weekend matchup with the lowly Orlando Magic.
Although Boston found itself without Tatum and starting center Robert Williams, it should have had enough to deal with the 7-29 Magic. That wasn't the case through the first three quarters, though, as Orlando staked itself to a 12-point lead entering the final period.
The C's looked headed for an embarrassing loss. That is until Brown took over.
After scoring 17 points in the first half, Brown poured in a whopping 21 points on 9-of-12 shooting in the fourth quarter as the Celtics clawed back to tie the game. He added just three points in the overtime period, but the damage was done. Brown finished the contest with a career-high 50 points and lifted his team to a massive victory. He knew it, too.
"We needed to win," Brown said, via ESPN. "No way we could have lost this game … I wanted to get a win for everybody."
However, the former University of California product also pointed to slow starts as potential pitfalls and said the C's are hungry to start 2022 off properly. While he's vented at times, Brown's sense of urgency sounds more and more like a quality of leadership.
Indeed, that desire to win and his exceptional two-way play make Brown a fundamental franchise cornerstone.
The Celtics cannot bait themselves into doing something rash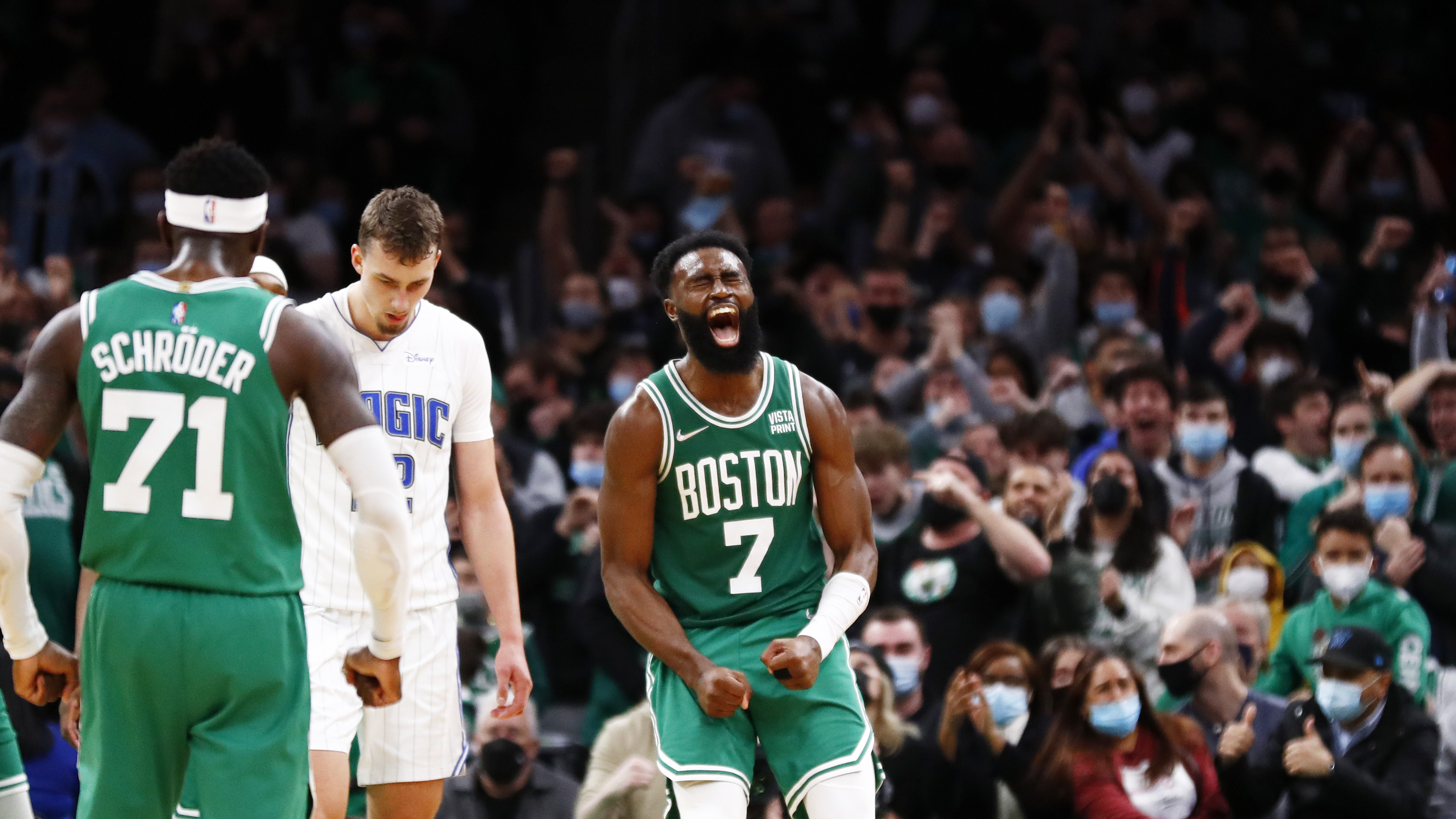 For all the talk about Tatum and Brown coexisting, fans should not forget that the two helped lead Boston to the Eastern Conference Finals just two seasons ago. The Celtics have not had as much success as of late, but there are important contextual reasons.
In 2020-21, Boston suffered from many roster and fitness issues because of COVID-19. This past offseason, the organization underwent a restructure with Stevens moving from the bench to the front office and the team hiring first-year head coach Ime Udoka.
Additionally, availability has still loomed large. Brown has played in just 23 of the Celtics' 37 games. Josh Richardson has missed time, as have Horford and Williams.
Realistically, there are reasons to be optimistic. The Celtics are 11th in net rating and have a 20-17 win-loss record. They are 7.4 points better per 100 possessions with Brown on the floor.
As for Brown and Tatum? In 19 games, they have a higher net rating (4.3) than the combination of Tatum and Schroder (3.3) as well as Tatum and Smart (1.9), per NBA.com.
There's too much panicking going on in Boston. The Celtics need to get aggressive in making moves at the deadline. But that should not include trading Brown, who is one of the best two-way wings in basketball.
Instead, the Celtics should assess how they can surround Brown and Tatum with more viable playmakers, such as Gordon Hayward and Kemba Walker provided when they were healthy.
Stats courtesy of Basketball Reference unless otherwise noted.