Jaylen Brown Struck a Deal With His Grandfather So He Could Play in the NBA Bubble: 'If You Play, I'll Play'
Jaylen Brown is one of the best two-way athletes in the NBA. The shooting guard has shown a relentless work ethic, serving as a crucial player in the Boston Celtics' recent postseason runs. Last year, however, the 24-year-old came dangerously close to not participating in the playoffs at all. In the end, it was only after Brown struck a deal with his ailing grandfather that he agreed to head to Orlando to play in the NBA bubble.
Let's look at Brown's family background, rise to the NBA, and the agreement he made with his grandfather.
Jaylen Brown's childhood and family
Brown was born and mostly raised in Marietta, Georgia, a large suburb of Atlanta. His mother, Mechalle, raised him and his brother Quenton as a single mom. Meanwhile, she also earned her Ph.D. from the University of Michigan, according to Fansided. That determination to succeed against all odds clearly left a lasting impact on Brown, who has lauded his mother's grit and bravery on numerous occasions.
Brown also has an interesting father, Marselles, who pursued a successful career as a heavyweight boxer. Standing 7-foot-0, Marselles Brown compiled a 31-18-1 career record with 25 knockouts, according to BoxRec. He even made a comeback at the age of 48 years old, competing in the final three bouts of his career.
Brown's rise to the NBA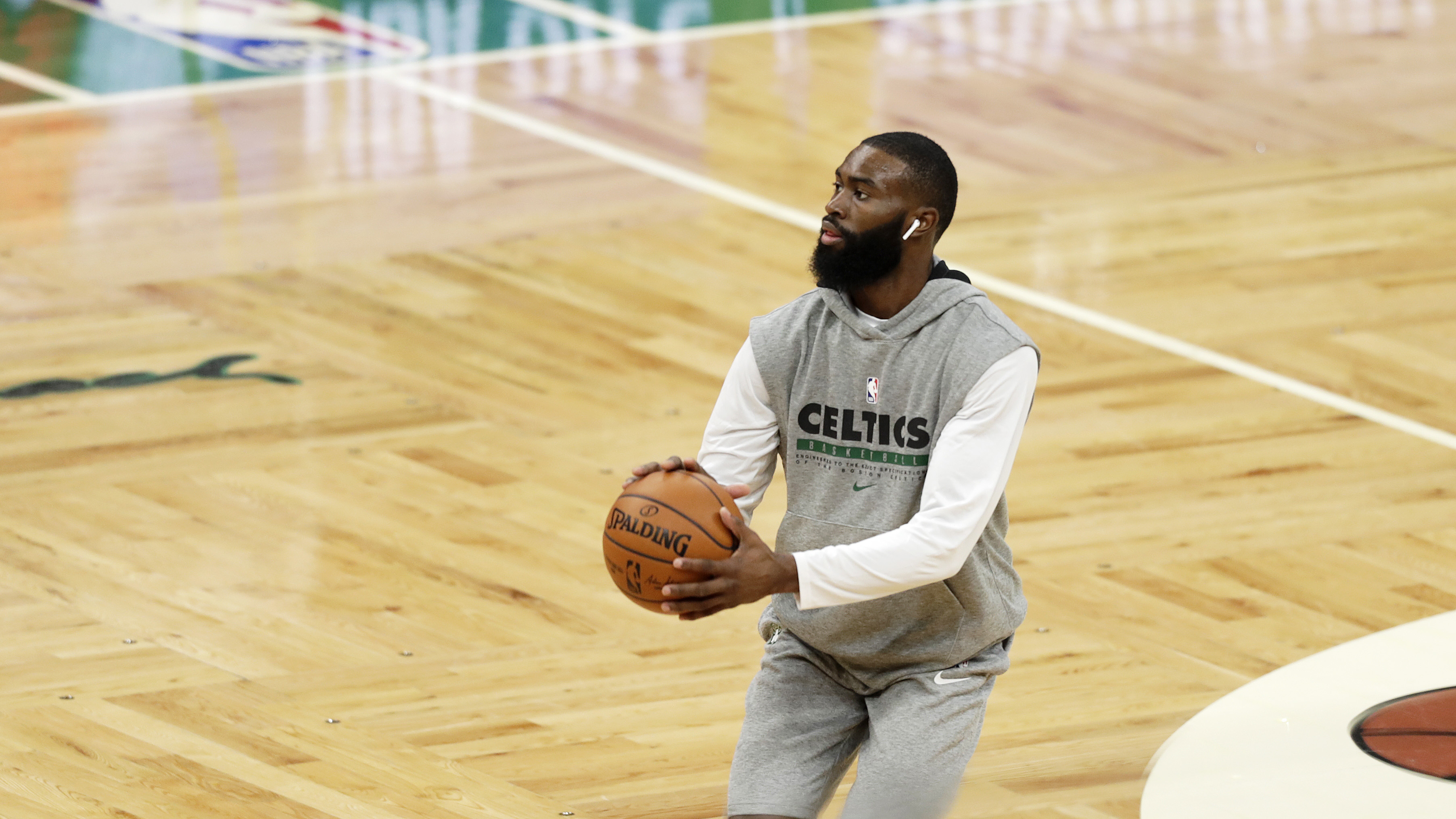 RELATED: Jaylen Brown Thinks This Scene from 'Coach Carter' Is Absolutely Ridiculous
Brown spent his high school years playing as a small forward on the Wheeler High School basketball team. There he earned several accolades, including being a multiple-time All-Cob County Player of the Year. As a senior, he averaged 28 points and 12 rebounds per game, details CalBear.com, while leading his team to an impressive 30-3 record and a Georgia 6A state title.
As a five-star recruit, Brown was considered one of the most talented players in his class. According to 247 Sports, he was the number four recruit in the country. He ultimately chose to attend the University of California Berkeley. In his one season before declaring for the NBA draft, Brown averaged 14.6 points, 5.4 rebounds, and two assists per game.
The deal Jaylen Brown struck with his grandfather
Brown was in the midst of his best season in the NBA last spring when the coronavirus pandemic temporarily shut down the league. Yet Brown almost didn't join his teammates once things were set to resume in the Orlando bubble. According to a recent profile in GQ, Brown's grandfather had been diagnosed with bladder cancer about a month before the season was to resume.
The news came as a devastating blow to Brown. Even worse, however, was that his grandfather didn't show any motivation to try and fight his cancer. Brown considered opting out of the bubble to stay with his family. In the end, however, he struck a deal with his grandfather. If his grandfather would commit to fighting his cancer, then Brown would head to Florida to play alongside his Celtics teammates.
Brown had another bout of intense self-questioning in the wake of the George Floyd shooting in Minneapolis, Minnesota. In the end, he decided to rent a car and drive his family, including his sick grandfather, from Boston down to Atlanta, to participate in the protests. That decision makes perfect sense when you consider what a committed activist Brown has been throughout his time in the league. Today, he continues that activism as the vice president of the NBPA.