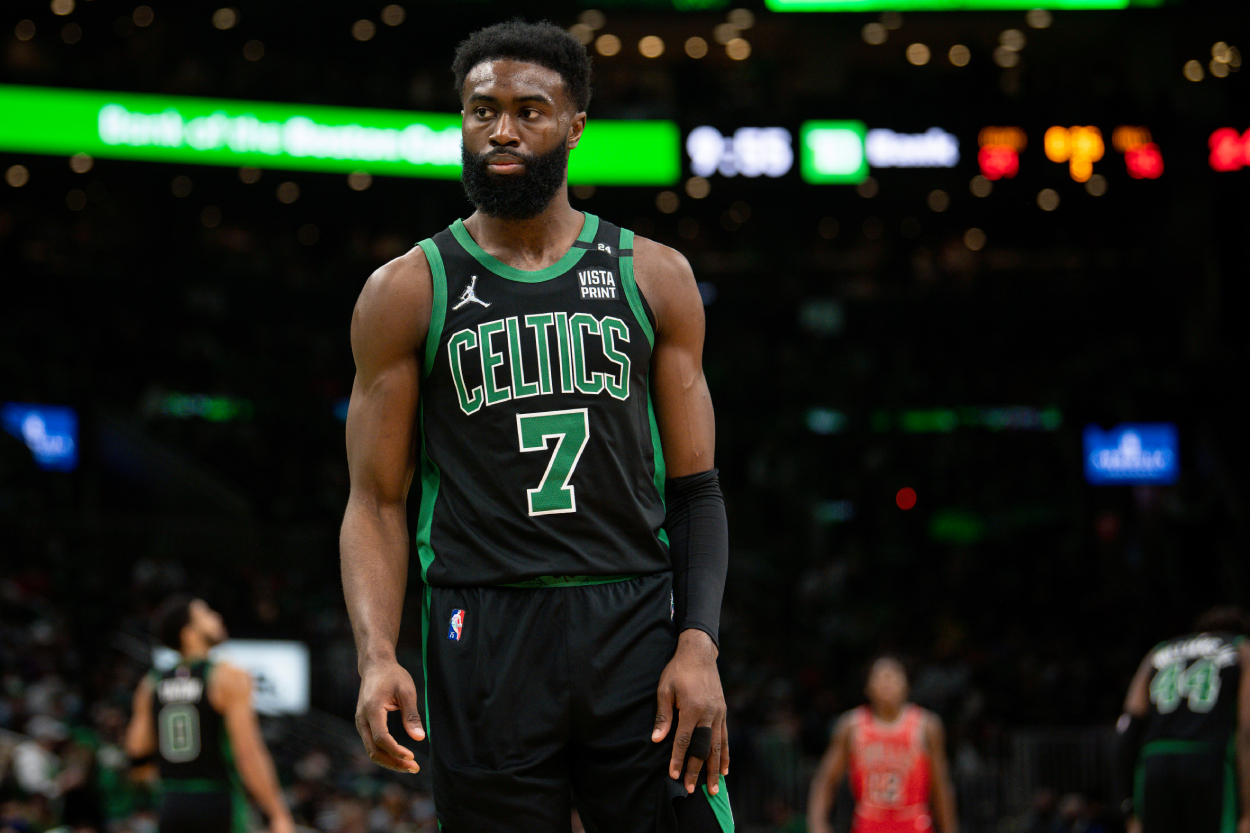 Jaylen Brown's 3-Word Comment After Destroying the Nets Should Have Celtics Fans Encouraged
Jaylen Brown's three-word message after beating the Nets should be encouraging to Boston Celtics fans.
The Boston Celtics are playing the way many around the NBA thought they would. After a roller-coaster campaign that had the Celtics mired in mediocrity all season, the Celtics are starting to make some noise in a crowded Eastern Conference. After Tuesday's win over the Brooklyn Nets — Boston's sixth straight win — Celtics guard Jaylen Brown wasn't jumping for joy.
Brown's short comment after the game, however, should finally have Celtics fans feeling good about themselves.
Jaylen Brown and the Boston Celtics are rolling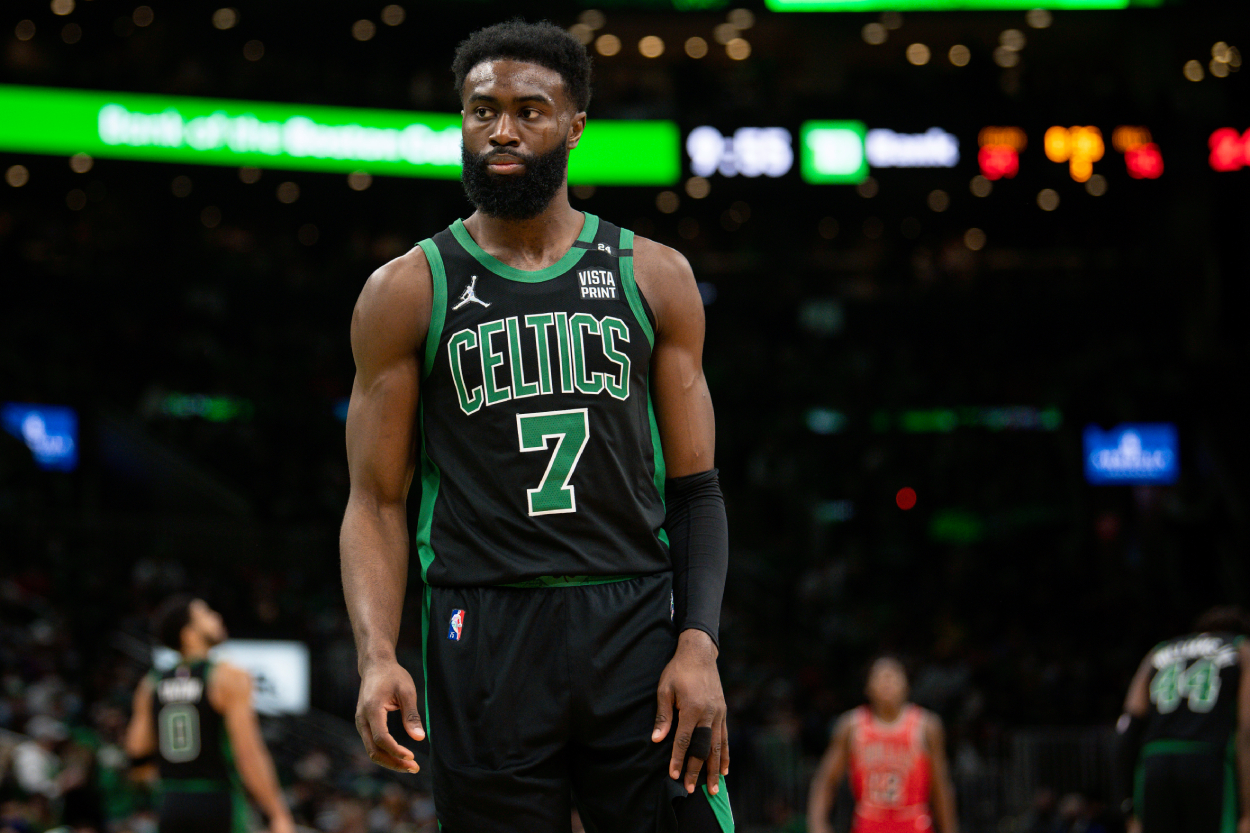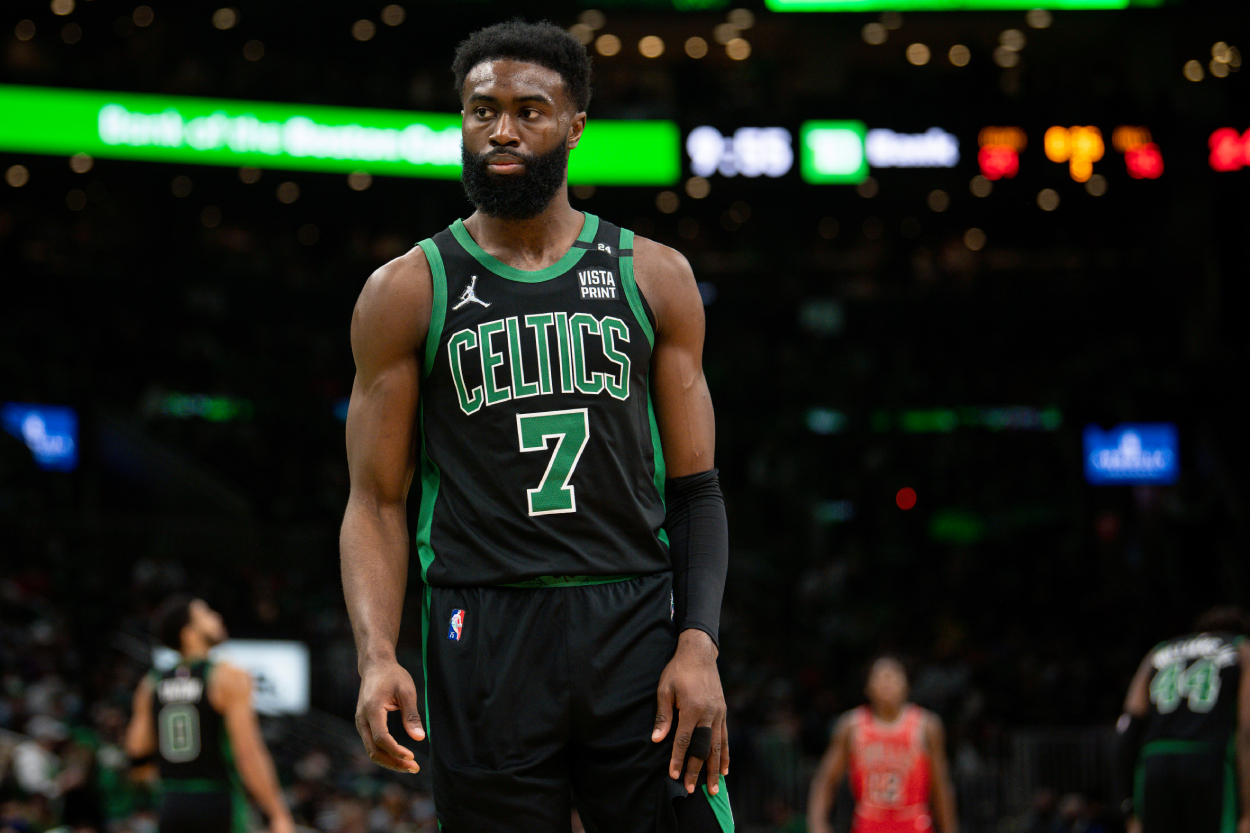 Yes, the competition hasn't been the best, but the Celtics have certainly been at their best the last two weeks. They haven't tasted defeat since Jan. 28 on the road against the Atlanta Hawks. They carry a six-game win streak into Friday's home game against the Denver Nuggets.
Brown got the win streak going with a 31-point effort against the New Orleans Pelicans, and then he added 29 in Boston's most impressive win during the stretch, a 122-92 victory over the top-seeded Miami Heat. He poured in 22 points in 27 minutes in a blowout victory over the Nets. The Celtics have also defeated the Charlotte Hornets, Orlando Magic, and Detroit Pistons during this span.
Sure, their competition in those six games hasn't been the greatest, but earlier in the season, Boston wouldn't have pulled out victories in all six. Tuesday's win over the heavily-depleted Nets has the Celtics at 31-25 and in seventh place in the Eastern Conference. They sit 4.5 games out of first place.
Under first-year coach Ime Udoka, the Celtics struggled out of the gate and for most of the season. Team chemistry and their offensive plan of attack were in question, as evidenced by Marcus Smart publicly calling out Brown and Jayson Tatum for not passing the ball. Udoka also challenged the team after lackluster efforts.
Jaylen Brown's three-word comment should have Boston Celtics fans feeling good
During their six-game win streak, the Celtics have won three of those by 30 or more points, including their last two. They are playing at a high level, but that was expected from Day 1. It was respected by the fans, coaches, and players. So, when the Celtics embarrassed the short-handed Nets 126-91 in the last outing, there wasn't a whole lot of dancing around in the locker room.
Brown offered three words after the game that summed up the team's mentality.
"No satisfaction whatsoever," Brown said, per CLNS Media, when asked how satisfying the blowout win was.
"I just keep saying it over and over again — one game at a time," he continued. "That's it. And that's where we have to keep our focus. There's nothing to get happy about, we can't lose our edge, can't get comfortable, can't get satisfied."
Brown's comments show he and the team have much higher expectations than what they've shown through the first 56 games of the year. He's happy they are finding ways to win, but he's not yet happy with the overall picture.
"I'm proud that we're finding ways to win games now," he said. 'But we really ain't got a lot to be proud about. We got a lot of games left, we gotta keep going."
Brown knows any struggles in a big market like Boston will be amplified
The Celtics might not be as good as they're showing right now, but they're also not as bad as they were earlier this season. With two young stars like Brown and Tatum, expectations are certainly high in Boston.
Last year, the team finished a highly disappointing 36-36 and the Nets bounced them in the first round of the playoffs. For most of this season, Boston hovered at or below the .500 mark, creating a sense of panic among Celtics fans.
Brown knows how intense the Boston fans and media can be. He knows expectations are always high and said it can be difficult playing in a city like Boston.
"I am proud of our guys for continuing to be persistent, to keep going," he said after the lopsided victory over the Nets. "Navigating through the pressure of being in Boston, and the expectation levels. It's not an easy thing to do."
For now, Celtics fans will take Brown's three-word message and realize there's more to come.