Jayson Tatum and Jaylen Brown Teach James Harden a Lesson in Perseverance as Celtics Crush 76ers
When the going gets tough, some get going. Others crumble under the weight of heightened scrutiny. Boston Celtics stars Jayson Tatum and Jaylen Brown emphatically showed James Harden and the Philadelphia 76ers that they represent the former on Tuesday night in Philly.
With Harden in street clothes, Tatum and Brown dominated for the Celtics in a blowout win over the Sixers. While The Beard suggested earlier on Tuesday during his introductory press conference that he and Joel Embiid can lead Philly to a championship, Boston — now on a nine-game winning streak — looked like the more dangerous contender in the Eastern Conference.
Whereas Harden has typically run from challenges, Tatum and Brown have confronted trade chatter and questions about the team's future all season long. They've responded by reminding NBA fans that the Celtics have what it takes to win a championship.
Jayson Tatum and Jaylen Brown led the Celtics to a lopsided win over the 76ers as James Harden watched from the bench
Tuesday should have been a night of celebration for 76ers fans. Harden's arrival in the City of Brotherly Love seemingly cemented the team's contender status. The Beard even rang the gong before Philly took on the Celtics.
Well, what began as a festive occasion quickly turned into a disaster, thanks mainly to Tatum and Brown.
The Celtics stars combined for 57 points as Boston cruised to a stunning, 48-point victory. Tatum displayed his All-NBA brilliance, finishing with 28 points on 9-of-17 shooting in addition to 12 rebounds, six assists, and a pair of blocks. Brown, meanwhile, had 29 points, eight rebounds, and three assists while going 5-of-7 from beyond the arc.
Tatum and Brown had plenty of help. Al Horford and Daniel Theis locked down Joel Embiid. Second-year wing Aaron Nesmith scored 18 points in just over 23 minutes. Derrick White finished a game-high +42 in plus-minus and showed the two-way capabilities that make him a critical piece in Boston's title chase.
Still, it's abundantly clear that Tatum and Brown anchor big winning efforts for the C's and have played massive roles in Boston's turnaround. They couldn't be more different from Harden in their stick-to-itiveness.
Tatum and Brown have shown more maturity than the more veteran Harden
The fact that James Harden, whenever he makes his 76ers debut, will suit up for his third team in the past 14 months speaks to the fickle nature of superstars in today's NBA. However, Jayson Tatum and Jaylen Brown embody an approach countering that notion.
Boston's dynamic duo faced its share of frustrations throughout the season. Aside from the Celtics' early-season struggles, Tatum dealt with a woeful shooting slump, while Brown almost constantly found himself in trade rumors as questions about his working relationship with Tatum abounded.
Instead of wallowing in the mire, the two All-Star wings persevered. Tatum and Brown continuously stressed their determination to figure things out and erase all the doubts from skeptics. That mentality offers a direct contrast to Harden.
Rather than push through rough patches, The Beard has forced his way out of situations he deemed unfriendly. Harden even managed to irk Kevin Durant, the man who essentially recruited him to join the Brooklyn Nets. Granted, it's likely that Harden feels the pressure to win a championship as he nears the end of his prime. Still, he's developing a selfish knack for constantly looking out for himself.
Whereas the Nets felt obligated to cave to Harden, the Celtics are reaping the rewards of Tatum's and Brown's collective perseverance. Boston is now just 3.5 games back of the No. 1 seed in the East. It ranks fourth in net rating. Over the course of this winning streak, Tatum is averaging 25.0 points, 8.6 rebounds, and 5.2 assists. Brown is averaging 21.6 points, 6.1 rebounds, and 3.9 assists.
Everything has come up roses for the Celtics as of late, and they look like a team destined to make a deep run come playoff time. Will the same prove true for Harden and the 76ers?
Could the Celtics and 76ers meet in the playoffs?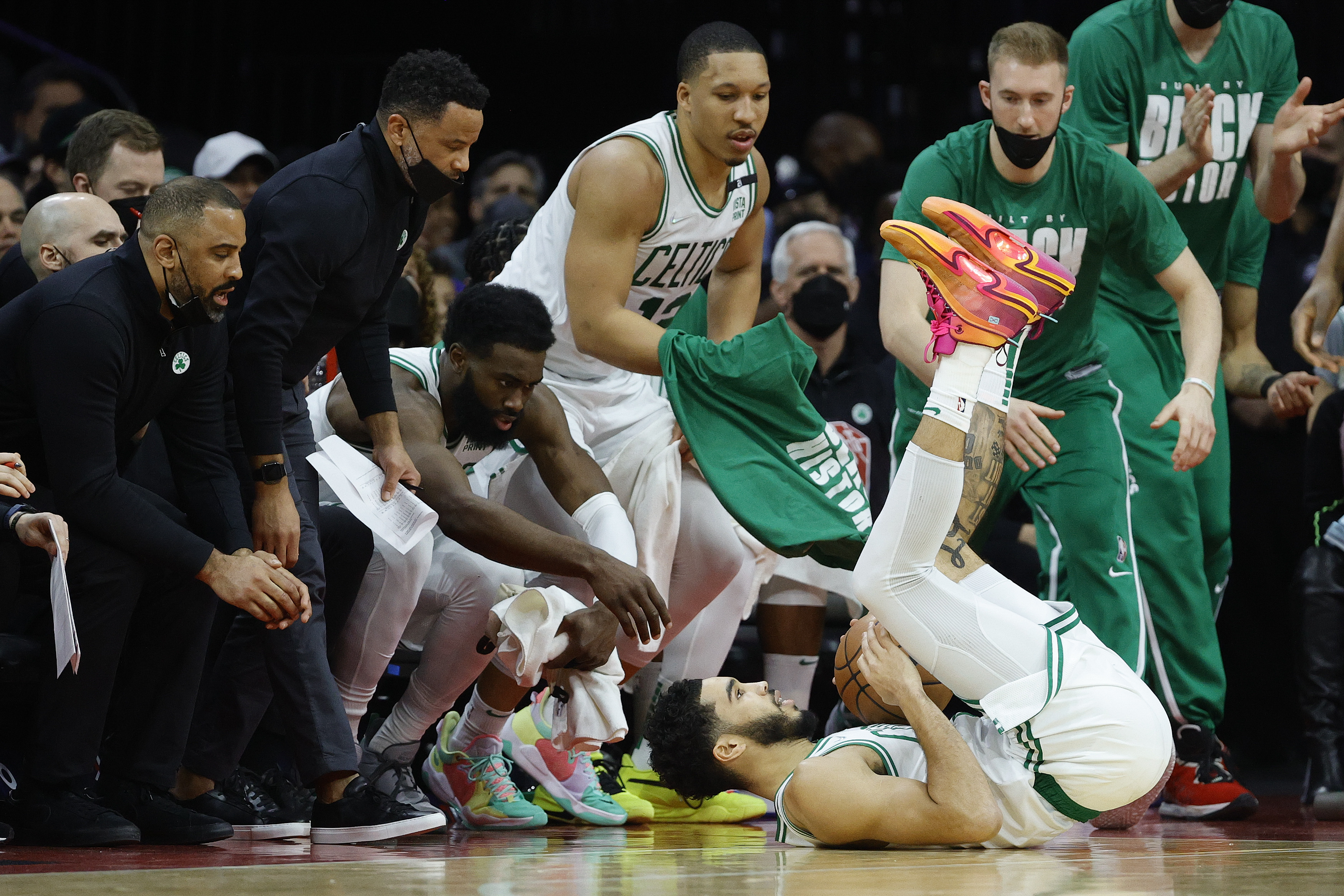 If nothing else, 76ers fans can take solace in the fact that James Harden did not participate in Tuesday's rout. Philly doesn't get another crack at Boston this season, but it could well meet the Celtics come playoff time.
The Sixers are the No. 5 seed in the East, just one game ahead of the Celtics. Both teams could continue to make up ground in the standings over the final two-plus months.
Philly will incorporate Harden into the mix as the playmaker it has needed all season. Should he find ways to provide value off the ball and still allow for Joel Embiid post-ups, the 76ers could thrive, especially with JoJo playing MVP-caliber basketball and The Beard likely feeling revitalized on a new team.
The Celtics, meanwhile, will hope to continue the outstanding quality of play they have shown since the start of 2022. White gives Boston more playmaking around Jayson Tatum and Jaylen Brown, and if Boston can shoot anything remotely close to what it did against the 76ers (a ridiculous 55.6% from deep), then opponents are in trouble.
Harden pouted his way out of Brooklyn and to Philly in the hopes of winning a championship. Conversely, Tatum and Brown battled through adversity and steered Boston on a winning path. Will this clash of styles meet in the playoffs? Time will tell. But, for one night, Tatum and Brown taught The Beard a lesson.
Stats courtesy of Basketball Reference.
RELATED: Jayson Tatum Took Some Trash Talk From Pistons Coach and Ran Wild With It