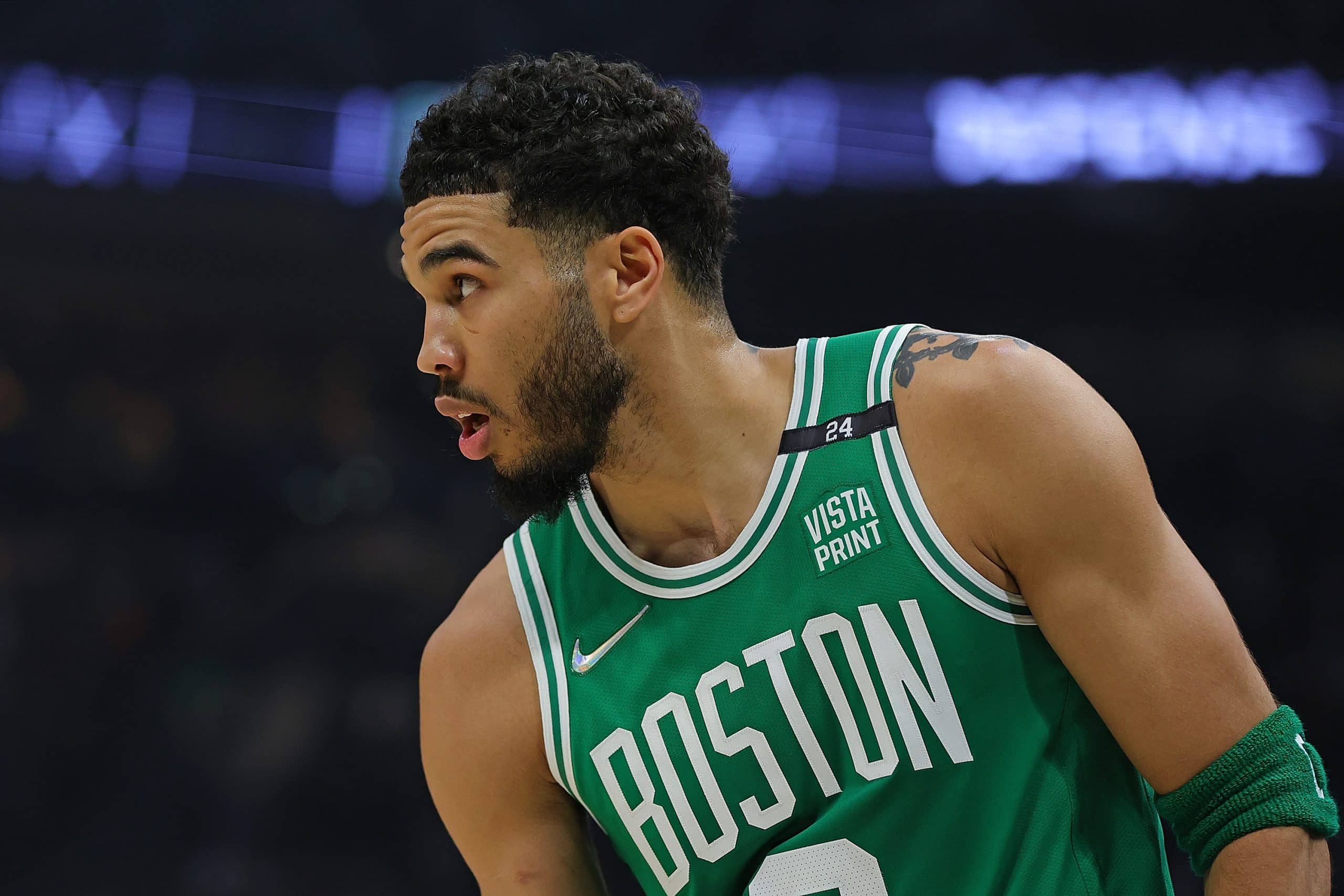 Jayson Tatum Might Not Feel the Pressure, but It's Staring Him in the Face
Can Jayson Tatum and the Boston Celtics bounce back after a tough loss to the Milwaukee Bucks on Saturday?
Jayson Tatum had a game to forget Saturday when his Boston Celtics played the Milwaukee Bucks in Game 3. He made four of his 19 shots from the floor, went 0-for-6 from three-point land, and finished with 10 points.
He wasn't a whole lot better in Boston's home loss in Game 1 when he went 6-for-18 from the floor. After Game 3's woeful shooting effort and Boston's 103-101 loss, Tatum didn't seem concerned.
The fifth-year forward and three-time NBA All-Star said he knows he has to be better. As much as he seems like he's under no pressure, Tatum will be under a microscope the rest of this series and beyond.
Jayson Tatum and the Boston Celtics need a bounce-back win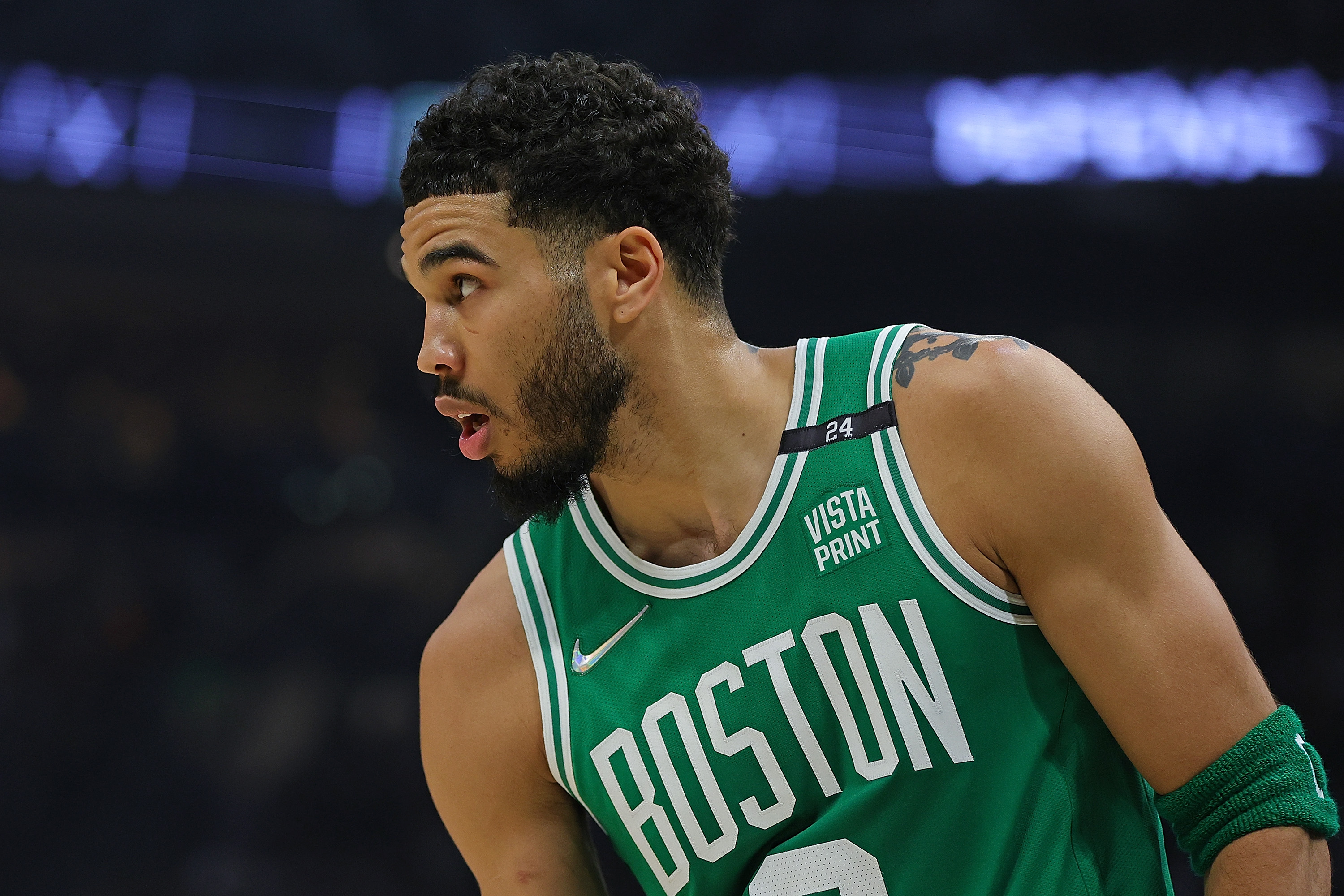 Despite Tatum's poor performance Saturday, the Celtics rallied from a 14-point deficit late in the third quarter to take the lead. After the frantic comeback, the Bucks reclaimed the lead and held on for the two-point victory. The Celtics look to even the series Monday night.
In order for Boston to grab homecourt advantage back from the Bucks, Tatum needs to show up. First-year Celtics coach Ime Udoka believes Tatum will do just that in Game 4.
"We've had discussions throughout the year, the way he can impact the game with everything he does besides scoring," Udoka said Sunday, per The Athletic. "You can't let your offense dictate the rest of your game. He knows that. He knows how important he is to the team. We kind of go where he does to some extent.
"What he did after a lackluster Game 1, he bounced back in Game 2, and I look forward to him doing the same thing next game."
After Game 3, Tatum said he may have been overthinking on the court.
"I think they're doing a good job of showing a crowd and being physical and things like that," Tatum said. "I think I was just thinking a little too much today."
Jayson Tatum might not be feeling the heat, but the pressure is on
Tatum has never been to the NBA Finals. He's gotten a taste of the Eastern Conference twice, once as a rookie and another during the bubble year in 2020. Now, he's gotten the big contract. He's expected to be the leader. He's also expected to take them to the next level.
After Game 3, he called it an off night.
"Today was just a one-off. I probably was thinking a little bit too much," Tatum said in his postgame press conference. "It all comes down to I just gotta make better reads and a lot of times it was for myself today that I passed up. Obviously, I expect to play better and just come in here Monday trying to get a win.
"I'm not going to make it about me or anything like that. I gotta be better. I know that, my teammates know that. I'm sure I will be and we'll make some adjustments to just be a little bit better on Monday."
It is about him, though.
Tatum has the talent to jump from star to superstar. Milwaukee's Giannis Antetokounmpo is a superstar. Tatum's not quite there. Should the Celtics rally and advance past the Bucks, Tatum will have taken the next step to become an NBA superstar.
He hasn't won an MVP. He hasn't even been to the NBA Finals. The sky is the limit for Tatum, who is still just 24 years old. He needs to show he can get his team over the hump. Shooting 10-for-37 in Boston's two losses isn't going to cut it.
Is Tatum a top-five player in the NBA?
Former Boston Celtics player Kendrick Perkins may have gotten carried away with his assessment of Tatum recently.
"Jayson Tatum, right now, is the best two-way player in the game," Perkins said during a recent episode of First Take. "Jayson Tatum is a top-three player in the NBA. This mean version of Jayson Tatum, nobody wants to see."
Tatum is an outstanding two-way player. He's not a top-three player. He's not even top five. Could he get there? Absolutely.
It wasn't until late January this year that the Celtics turned things up a notch. Up until a nine-game win streak, the Celtics had been a .500 team in their previous 122 games. In the 2020-21 season, they went 36-36 and were 25-25 through the first 50 games this year.
Something clicked, and Tatum and the Celtics went on a tear. Should they continue that tear through the NBA Finals, Tatum just might break into that top five.