Jayson Tatum Is Not Worried About Marcus Smart's Ability to Fill the Celtics' Most Glaring Hole
Marcus Smart's defensive acumen has never been in question. It's his offensive game that frequently draws scrutiny. Questions surrounding Smart's capacity to fill the point guard spot and his ceiling as a playmaker are sure to be abundant for Boston Celtics fans this season, but the 27-year-old has support where it counts: from Jayson Tatum.
Tatum has more responsibility than ever before heading into this season and will need a strong presence at the point to help maximize his game. Tatum has complete confidence in Smart's ability to fill Boston's most glaring hole.
The Celtics struggled without consistent primary and secondary ball-handlers
The complexion of the Boston Celtics offense changed as soon as Gordon Hayward decided to sign with the Charlotte Hornets in free agency last fall.
Despite his durability issues, Hayward gave the Celtics a vital playmaking presence and a guy who could stretch the floor and handle the ball as an undersized 4-man. He was often the most viable distributor outside of Kemba Walker, whom the C's also needed to score and be more of a shot-creator. His absence opened up a significant void.
Speaking of Cardiac Kemba, last season was a nightmare. Walker played in just 43 games as a result of injury. He saw another decline in scoring and suddenly became almost unplayable as a defender.
Jayson Tatum and Jaylen Brown excelled, but it wasn't nearly enough. Boston finished at 36-36 and, after winning the first game of the play-in tournament, bowed out to the Brooklyn Nets in the first round of the playoffs.
That loss highlighted the Celtics' most prominent issue. Whereas the Nets had elite playmakers in Kevin Durant, James Harden, and Kyrie Irving, the Celtics — who were without Brown due to injury — needed Tatum to play hero ball to even have a chance of winning.
Boston's roster has undergone further changes this offseason. Walker is gone, and Dennis Schroder is in. The Celtics also acquired Josh Richardson for wing depth and added Enes Kanter and Al Horford to the frontcourt.
Ultimately, though, Boston's offensive upside is likely dependent on Marcus Smart's ability to play the point. Tatum says his teammate is up for the challenge.
Jayson Tatum offers a strong show of faith in Marcus Smart's playmaking abilities
The Celtics are professing plenty of optimism regarding Marcus Smart's upside leading into the season. As if the four-year, $77 million extension he signed this wasn't indicative of said optimism, Smart was almost immediately deemed the starting point guard even after Boston signed Schroder.
Moreover, the two-time All-Defensive selection received a ringing endorsement from his superstar teammate.
Jayson Tatum called Smart "a hell of a player" during the Celtics' media day. He added that Smart's ability to handle the rock and create scoring opportunities should be mentioned with his defensive skills.
Smart certainly showed he could be a capable distributor last season. He averaged a career-high 5.7 assists, running his career mark to 4.2 dimes per contest. The Oklahoma State product will likely have more opportunities to make plays as the Celtics' primary ball-handler.
But while Tatum's belief in Smart is admirable, there are still questions about how Smart will fare as the full-time point guard. He has shot under 40% from the field in the last two seasons and struggles to finish at the rim. Perhaps Smart's finishing ability wouldn't matter as much if he was an efficient three-point shooter, but he shot just 33% from deep during the 2020-21 campaign and is a career 32% shooter from beyond the arc.
Smart's primary offensive function will be to make the right basketball play and put Tatum and others in a position to score. Still, the Celtics also need him to exhibit better shot selection and be a more efficient scorer.
Tatum himself has improved as a playmaker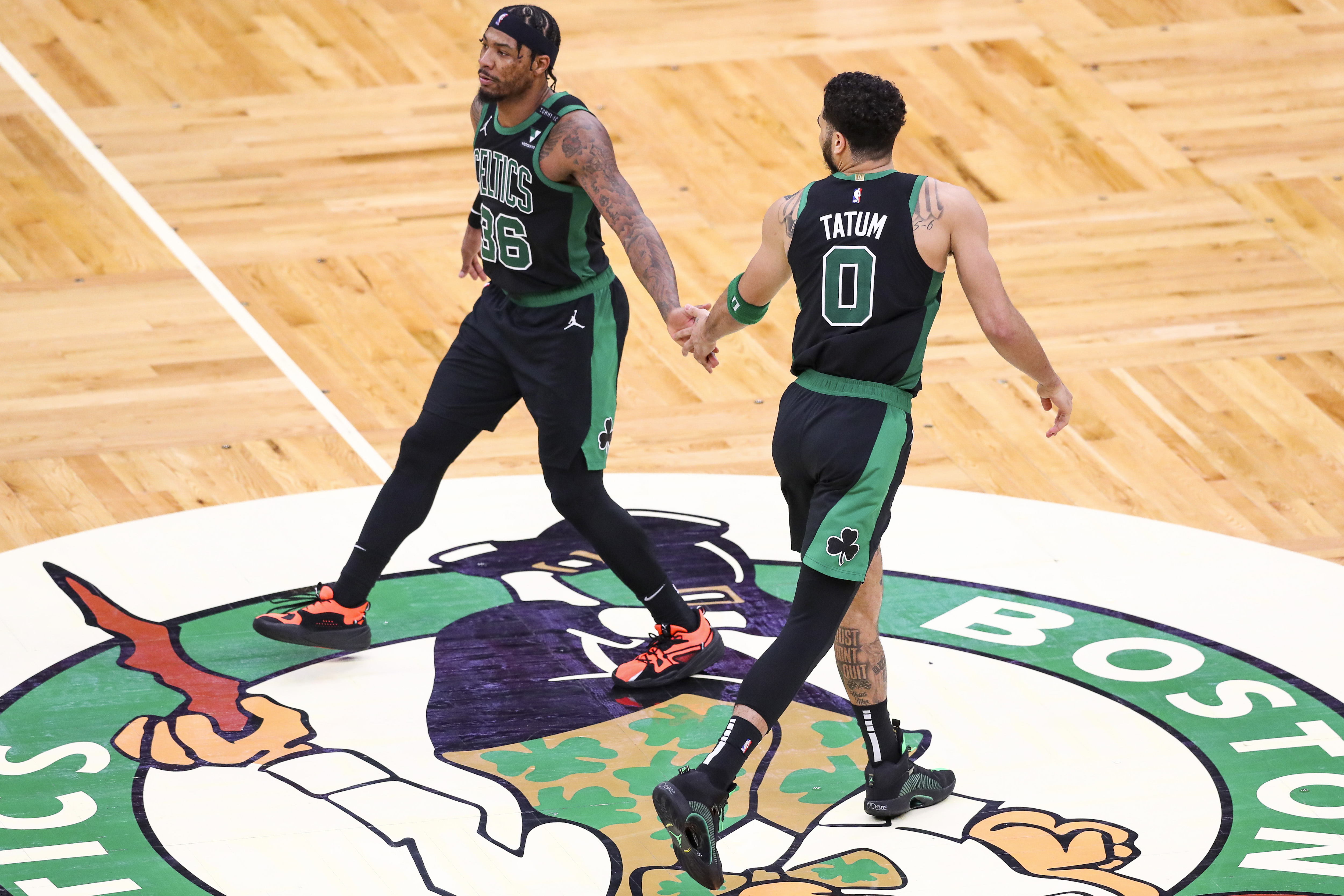 It's not as though Smart will have to shoulder the playmaking load on his own. Jayson Tatum has become much more adept in that department, as well.
Tatum's assist numbers have risen in each season of his NBA career. He averaged 4.3 dimes this past season, up from 3.0 the year before. The former Duke star's three-level scoring ability makes him difficult to guard, and he showed more comfort working in pick-and-roll and utilizing rim-running bigs such as Robert Williams.
New Celtics head coach Ime Udoka will likely want the ball in Tatum's hands quite a bit this season. His continued growth as a superstar is imperative to Boston's success.
For his part, Tatum is sure to want more influence in the offense. However, he is also expressing a belief in Smart to help with the playmaking duties.
Stats courtesy of Basketball Reference.
RELATED: Marcus Smart's $77 Million Contract Extension Was a Critical Move for the Boston Celtics