Jayson Tatum Quickly Erasing a $32 Million Snub
Last season, the media cost Boston Celtics star Jayson Tatum $32 million in contract escalators. This time around, he's out to prove that he is assuredly one of the 15 best players in the NBA.
Tatum has played his best basketball of the season for a streaking Celtics team over the past few months. He elevated to another level Sunday against the Brooklyn Nets, scoring 54 points and tying Larry Bird for the most 50-point games in franchise history. In a contest that also included Kevin Durant and Kyrie Irving, Tatum's star twinkled brighter than all the rest.
Taco Jay has often found himself in the middle of debates about whether he's an elite talent. He's definitely answering those questions in 2021-22 while erasing the memories of his $32 million snub.
Jayson Tatum lost an additional $32 million in contract incentives
Tatum's rookie-scale extension included an incentive that would have given him an additional $32 million in guaranteed money had he made an All-NBA team during the 2020-21 campaign. He appeared to merit selection.
While the Celtics stumbled to a 36-36 mark, Tatum thrived. He averaged 26.4 points, 7.4 rebounds, and 4.3 assists on a career-high 57.6% true shooting. The former Duke star carried an often depleted C's squad despite feeling less than 100% because of COVID-19.
However, Tatum missed out on an All-NBA spot to Paul George despite boasting better advanced metrics. He also lost a spot to Jimmy Butler, who played 10 fewer games. Tatum had more votes than Kyrie Irving, but he primarily received those votes as a forward and thus did not earn the guard selection that ultimately went to Uncle Drew.
In essence, the media and strange voting technicalities deprived him of a massive payday.
Tatum recently spoke about the flawed All-NBA voting process on the Old Man and the Three podcast with J.J. Redick. He said strange biases come into play, such as reporters refusing to include him on past ballots because of his shot selection. The Celtics wing also stressed that it's less about him and more about future stars having the opportunity to cash out on those incentives and earn their money.
This much is certain: Tatum is wasting no time putting the slight behind him and assuring this year's voters that he once again deserves All-NBA consideration.
Tatum's 54-point explosion underscores his ability
Jayson Tatum showed his full array of skills and put up some ridiculous stats against the Nets on Sunday.
The St. Louis native erupted for 54 points on 16-of-30 shooting, including 8-of-15 from beyond the arc. He routinely created separation off the dribble and converted on tough finishes around the rim, also not shying away from firing contested jumpers when in a rhythm.
Tatum's fourth 50-point game tied him with Bird for first all-time in Celtics history. The difference is that Taco Jay reached that plateau just after turning 24, while Bird was almost 33 before recording his fourth 50-piece.
But Tatum didn't just score the basketball.
Although the three-time All-Star finished the contest with just three assists, he showed patience at the end of the game, negotiating double teams and starting ball movement leading to buckets for Marcus Smart and Jaylen Brown. The combination of scoring and distribution emphasized Tatum's maturation as a playmaker and leader for the Celtics.
Tatum has gotten it done on both ends. He is averaging 26.5 points, 8.2 rebounds, and 4.2 assists. The Celtics star leads the NBA in defensive win shares and has a +12.0 on-off margin. Plus, he ranks second in total minutes played while ranking 12th in value over replacement player (VORP).
Even if he didn't feel like he belonged in the Celtics photoshoot at All-Star Weekend, Tatum is rapidly ascending the ladder as one of the best players in the NBA. Now, can he help bring a championship back to Beantown?
The Celtics continue to roll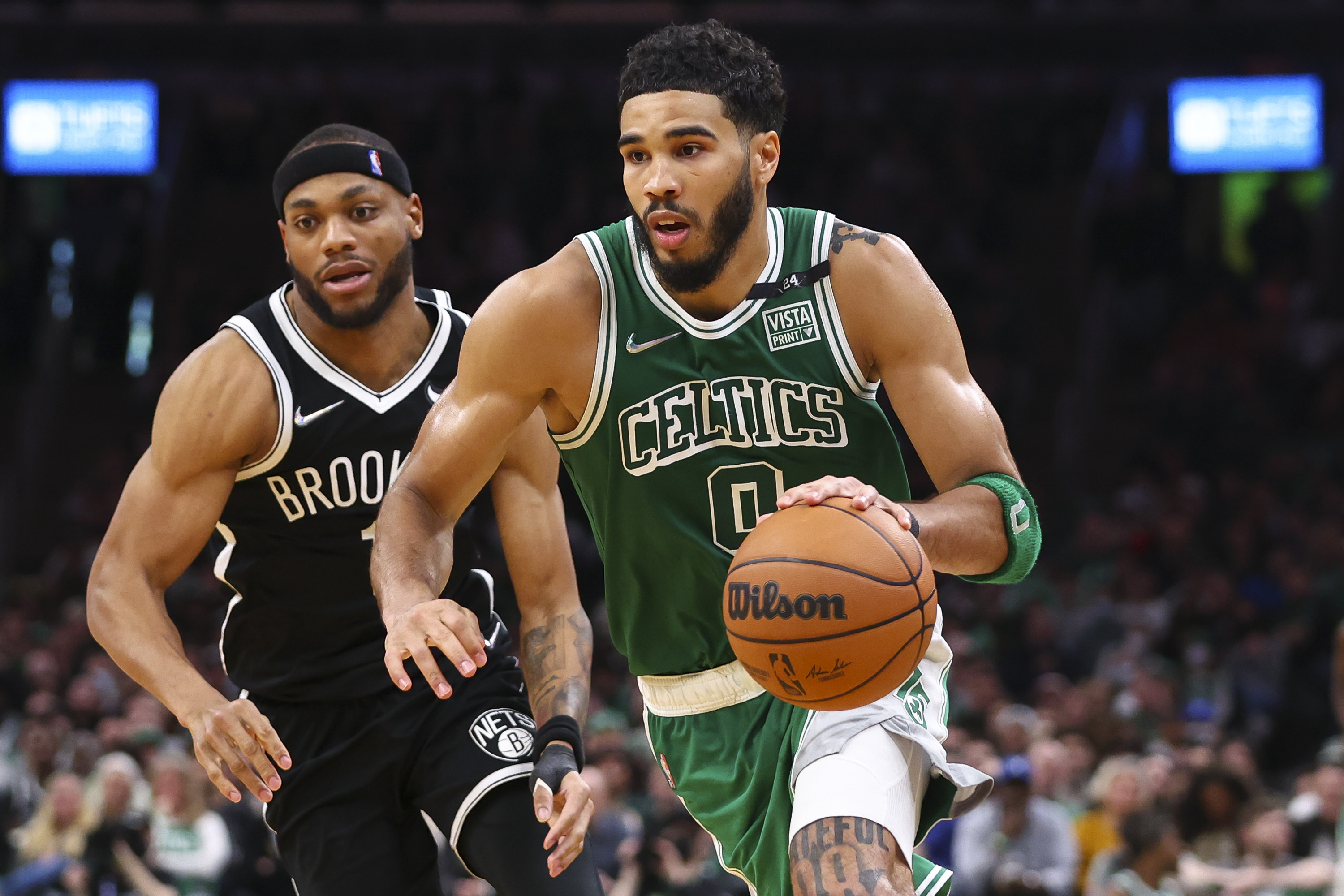 As much as Jayson Tatum might like to earn All-NBA honors for the second time, the only stat that probably matters to him is winning. The Celtics sure are doing a lot of that lately.
Boston is 22-8 since the calendar flipped to 2022. The C's rank first in both net rating and defensive rating in that stretch, per NBA.com, dwarfing all other teams in the latter category. The strong play has elicited a more confident Ime Udoka on the bench.
For his part, Tatum has dominated since All-Star Weekend.
In Boston's six games out of the break, Tatum is averaging 34.0 points, 7.0 rebounds, and 4.7 assists on 61% true shooting. He has scored at least 33 points in the last three games and is a combined +33 in those contests.
The Celtics have surged up the Eastern Conference standings thanks to a collective, defensive-minded effort. However, Tatum's individual excellence has been on full display, and he's intent on certifying his status as a perennial All-NBA talent.
Stats courtesy of Basketball Reference unless otherwise noted.
RELATED: Celtics X-Factor Grant Williams Is Quietly Trending Toward NBA History