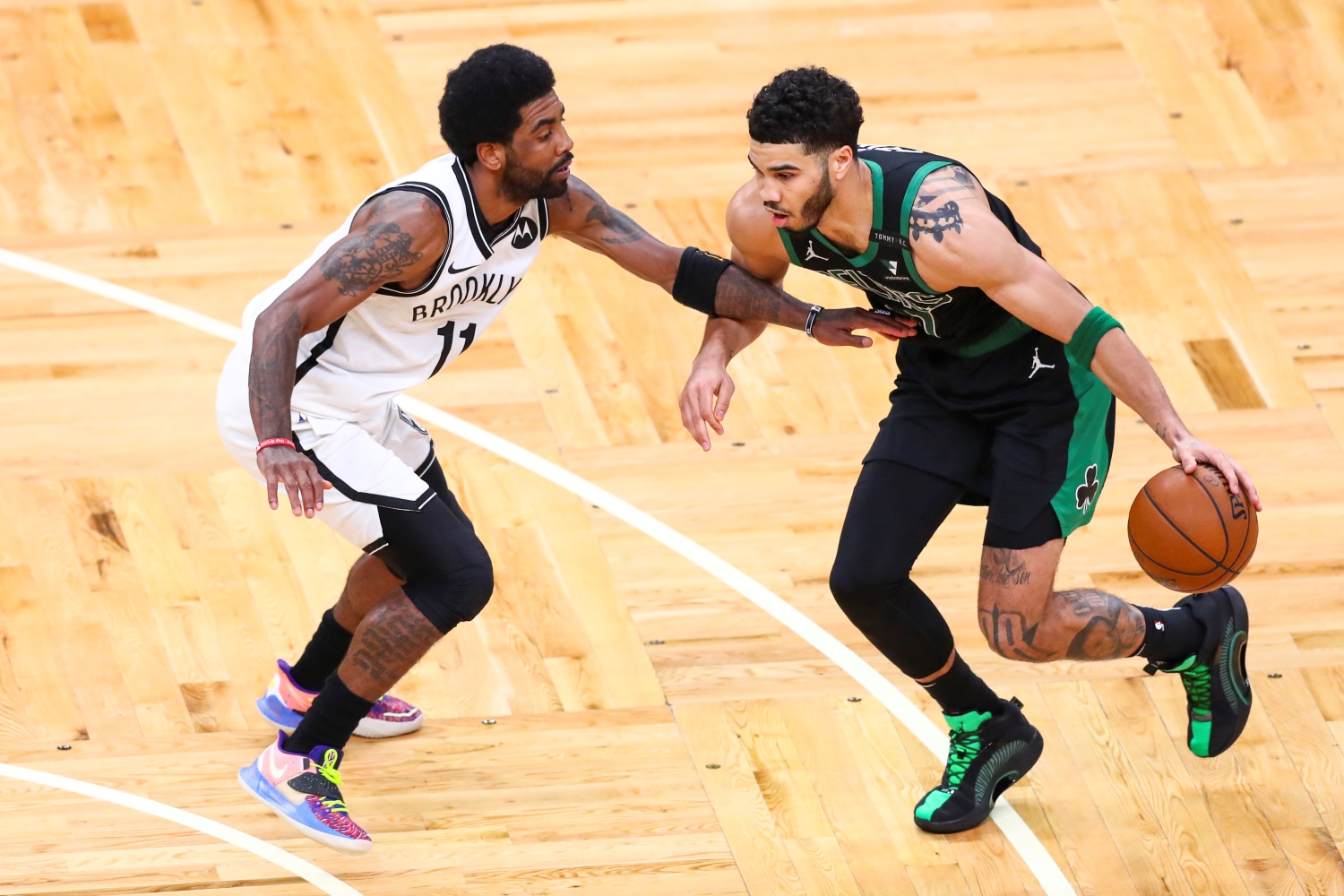 Jayson Tatum Ruined Kyrie Irving's Return to Boston by Joining Elite Company With Michael Jordan at the Right Time
Think Jayson Tatum understands the importance of timing? By joining elite company with Michael Jordan at the right time, he managed to ruin Kyrie Irving's return to Boston.
On Friday, Kyrie Irving got a chance to face the Boston Celtics for the first time as a member of the Brooklyn Nets. Unfortunately for the veteran point guard, his return to TD Garden got ruined by one of the NBA's brightest young stars: Jayson Tatum.
And by choosing the right time to join elite company with Michael Jordan, Tatum officially made the Celtics-Nets series much more interesting.
Kyrie Irving's return to Boston ended in disappointing fashion for Brooklyn
Irving entered Friday night with plenty of incentive to play well. Making his first appearance at TD Garden since he joined the Nets in 2019, Irving had even more pressure on his shoulders because of some controversial comments he made about Celtics fans earlier in the week.
The seven-time All-Star didn't totally flop, but he most certainly didn't deliver the type of performance the Nets needed. Irving finished the night with an uninspiring stat line of 16 points, six rebounds, two assists, and one steal in 41 minutes. He averaged 26.9 points, 4.8 rebounds, 6.0 assists, and 1.4 steals per game this season in 54 starts. After shooting a career-high 50.6% from the field during the regular season, he only hit 35.3% of his attempts in his return to Boston.
Meanwhile, his star teammates held up their end of the bargain. Kevin Durant torched Boston with 39 points, nine rebounds, and four steals. James Harden destroyed the Celtics from behind the 3-point line (7-of-12 shooting), knocked down all but one of his 13 free-throw attempts, and handed out 10 assists. However, his 41 points weren't enough to put the Nets over the top.
While Marcus Smart (23 points), Tristan Thompson (19 points), and Evan Fournier (17 points) all rose to the occasion, Celtics fans celebrated a home playoff victory thanks to a historic effort from Tatum.
Jayson Tatum ruined his former teammate's night by picking the right time to join elite company with Michael Jordan
Considering they won by a final score of 125-119, the Celtics certainly needed every ounce of scoring Tatum could muster on Friday night. Luckily for Boston, the talented forward took his game to a Jordan-esque level at exactly the right time. And besides spoiling Irving's return, Tatum also kept his team's playoff hopes alive by preventing Brooklyn from taking a 3-0 series lead.
The two-time All-Star shot 16-of-30 from the field and hit 13-of-15 free throws to finish the night with 50 points. At 23 years and 86 days old, Tatum became the third-youngest player in NBA history to score 50 points in a postseason game. NBA legend Rick Barry holds the No. 1 spot at 23 years and 21 days old.
As for the second-youngest player to hit that half-century mark in a playoff game?
Jordan dropped 63 points against the Celtics in 1986 at the age of 23 years and 62 days.
Tatum's historic performance shifted the focus away from Irving to one of the league's most exciting young stars. The same fans who booed and chanted at Irving ended up spending much more time celebrating and applauding all of Tatum's big plays.
But after beating Brooklyn by only six points to start the weekend, can Boston make magic happen again on Sunday?
Can Tatum help the Celtics even the series on Sunday?
Down 2-1 in the series, the Celtics must build off the momentum they gained in Game 3 in order to fully put the pressure on the Nets. If Tatum and his teammates take care of business on Sunday and even the series at two games apiece, that could spell trouble for Brooklyn.
Coming off a 50-point effort that put him in MJ territory, Tatum has a high bar to clear. But he has added motivation to deliver another dynamic performance since the TD Garden will be at near-capacity for Game 4.
"I can't wait. It's been a while since playing in front of a packed house, especially in the playoffs in the Garden," Tatum said in his post-game press conference. "I'm excited. I'm excited for the new guys, the young guys that haven't experienced that yet. It's going to be fun."
Of course, it won't be fun for Celtics fans if Irving rediscovers his rhythm. And based on how things went on Friday, you can bet he'll want to redeem himself in front of a packed crowd. If Boston can't contain the crafty point guard, it might take a 60-point night from Tatum to prevent a 3-1 series deficit.
Then again, perhaps we haven't seen the best of Tatum yet.
All statistics courtesy of Basketball Reference.