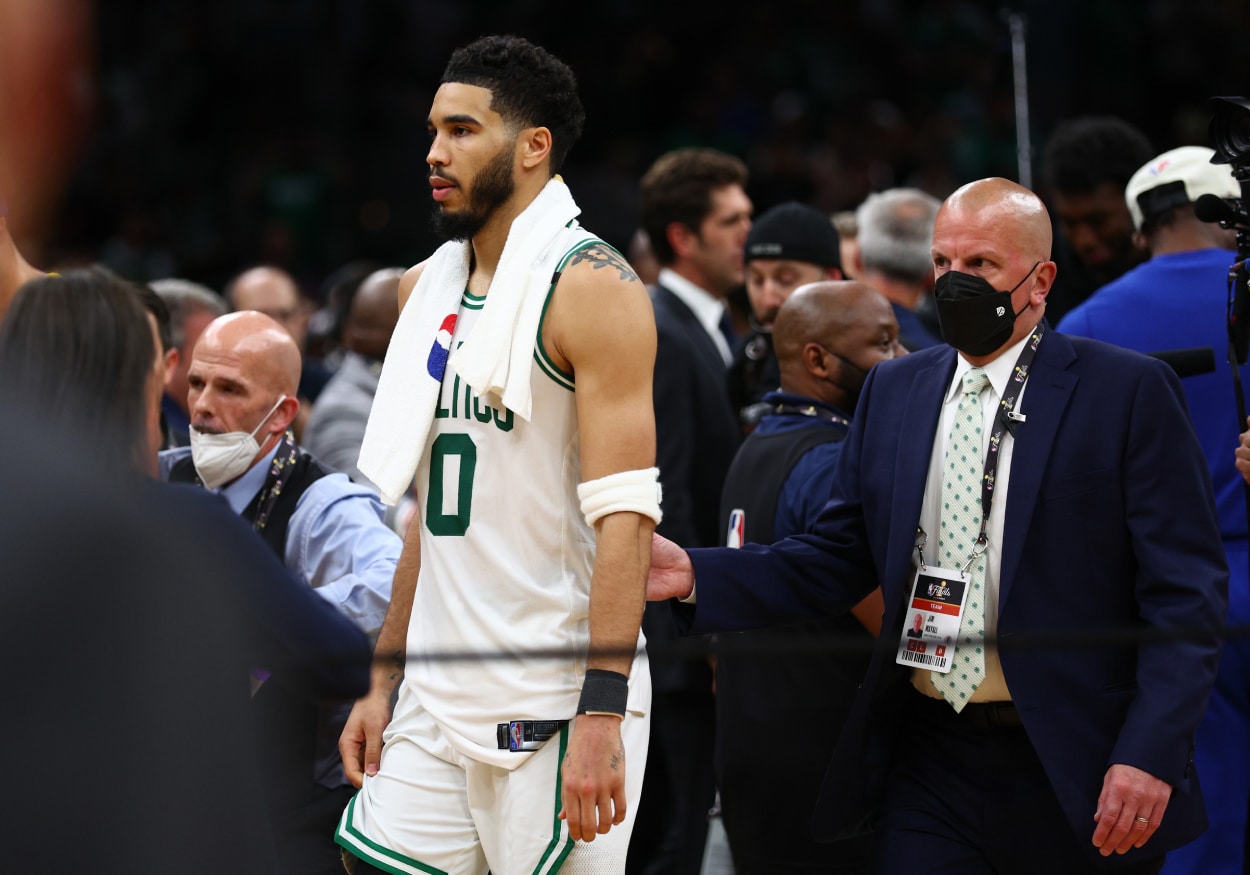 Jayson Tatum Talks Chemistry, Says the Boston Celtics Have 'Unfinished Business'
Boston Celtics star Jayson Tatum said there is "unfinished business" they need to take care of.
It sounds like Jayson Tatum doesn't want change. Speaking at his basketball camp Saturday, the Boston Celtics star talked about having "unfinished business" after his team came together with a strong second half of the season to make its way to the NBA Finals.
The Celtics came up two games short of raising what would've been an NBA-best 18th championship banner. Tatum talked about the importance of team chemistry, sounding like a guy who wants to battle for another championship with the game guys he did last year.
Jayson Tatum and the Boston Celtics figured things out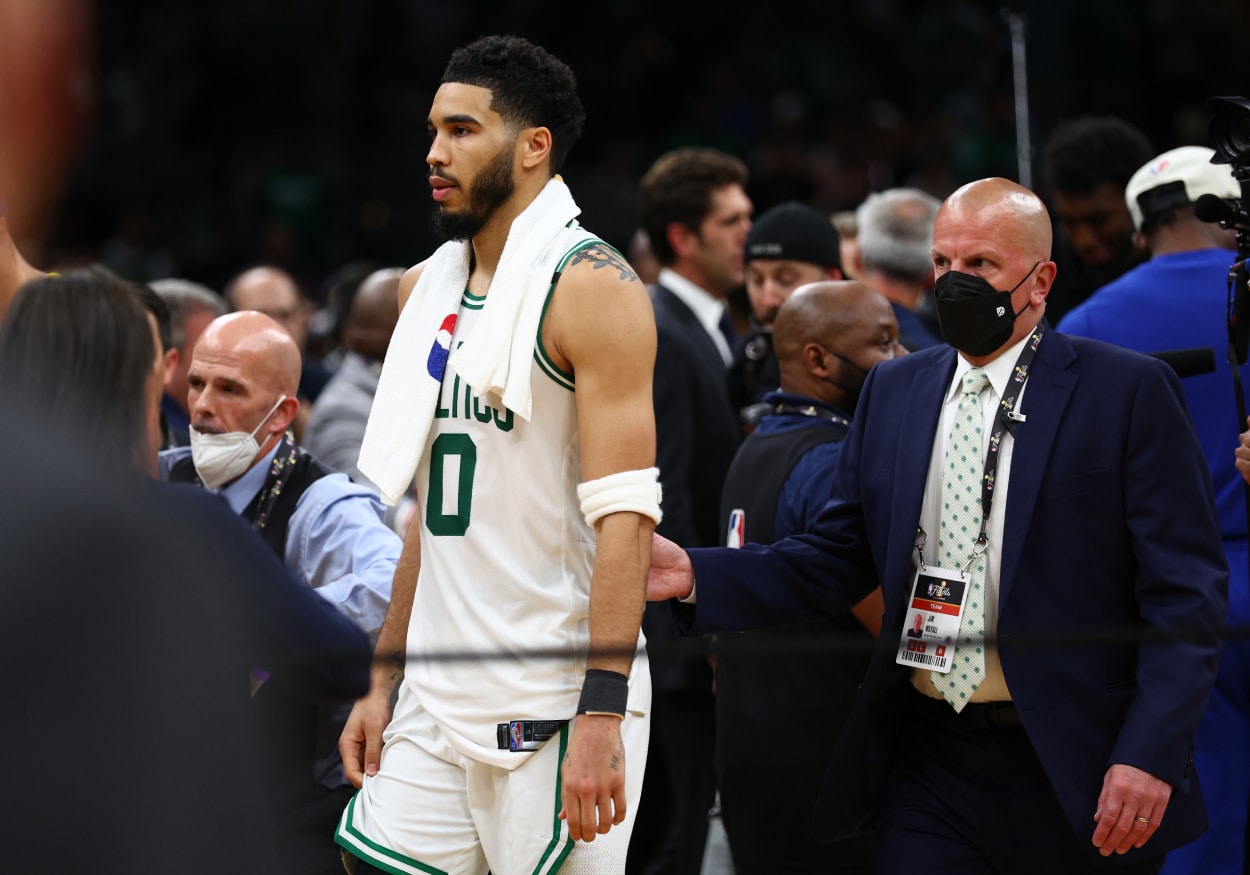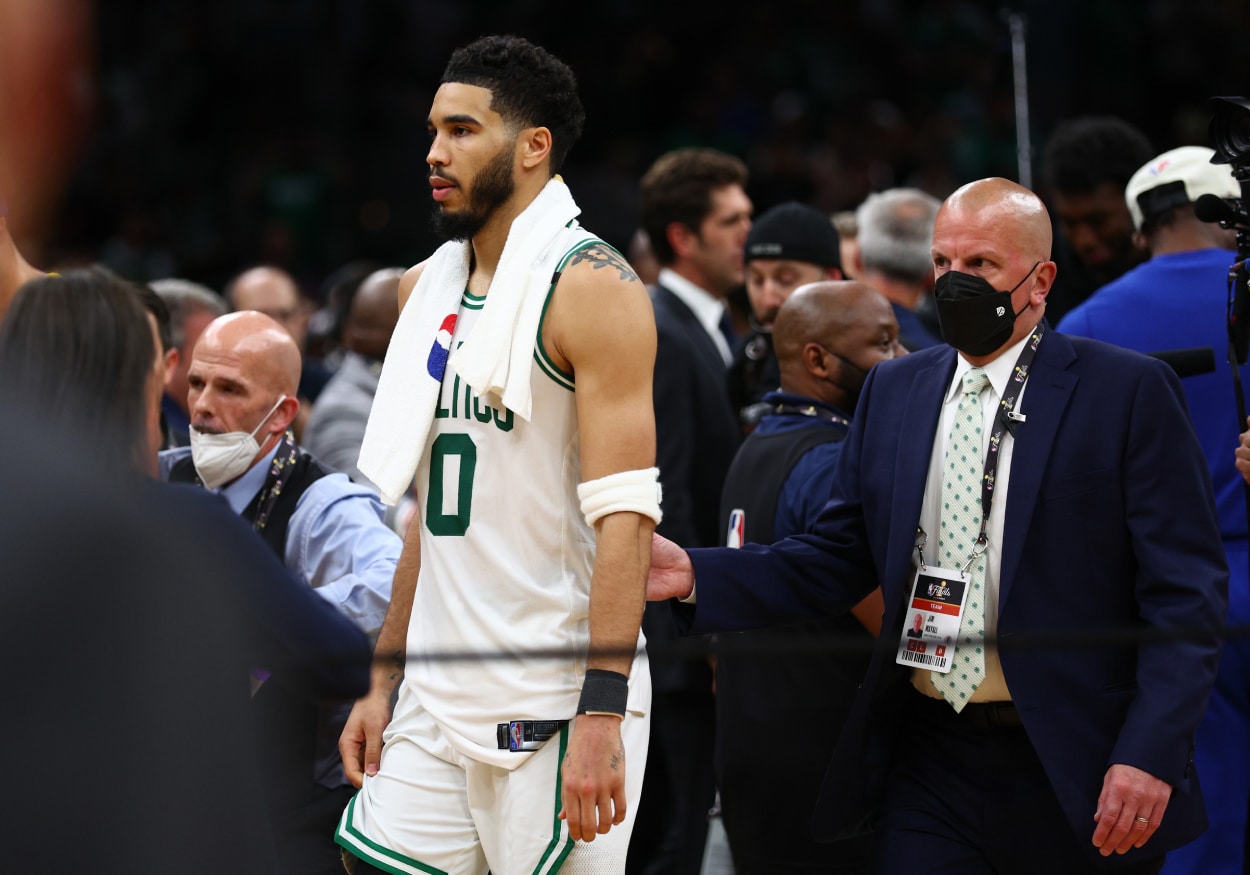 Nobody thought the Celtics would wind up where they did last season. They began the year just as they finished the previous one — mired in mediocrity. After finishing the 2020-21 season with a 36-36 record, they began the 2021-22 season 25-25 through the first 50 games.
There was turmoil. Marcus Smart publicly called out Tatum and Jaylen Brown for not passing the ball. First-year head coach Ime Udoka questioned the team's effort on multiple occasions. Many wondered if Tatum and Brown could ever get on the same page. Then January happened.
The Celtics put together an incredible streak that saw them finish the regular season with a 26-6 mark. They claimed the No. 2 seed in the Eastern Conference and passed the toughest postseason test any team faced last year, knocking off the Brooklyn Nets, Milwaukee Bucks, and Miami Heat.
For more than four months, the Celtics showed Tatum and Brown could play together. Udoka found the right mix, even if it was a rotation of eight players. The Celtics found confidence and made their first NBA Finals appearance since 2010.
Tatum says there's 'unfinished business' for the Celtics
The Celtics fixed that eight-player rotation issue by adding veterans Malcolm Brogdon and Danilo Gallinari in the offseason. They did so without compromising their core group. Depth is no longer an issue for Boston.
Recent talk has the Celtics in conversation with the Nets about acquiring the disgruntled Kevin Durant, who has requested a trade. Brown's name has come up in trade talk. It sounded like Tatum is happy with the guys he has and wants to win with that group instead of bringing in Durant. He talked chemistry Saturday at his camp.
"We have a great group of guys, guys that play well together, and that we almost won a championship. Went to Game 6," Tatum said, per NBC Sports. "So, when you go through battles and stuff like that with guys, you just become closer.
"Chemistry is half the battle, I feel like. You can have a great team with great talent and not necessarily jell well together. You guys saw, we figured it out in January and never looked back."
He was asked if he was ready to get back on the court with those guys, and he had a quick response.
"We got unfinished business," he said.
Like Sportscasting on Facebook. Follow us on Twitter @sportscasting19 and subscribe to our YouTube channel.