Jeff Fisher Stomps on Jon Gruden's Loud Claim That the Rams Were Forced to Draft Michael Sam
Article Highlights:
Jeff Fisher denied Jon Gruden's claim that the Rams were forced to draft Michael Sam in 2014
Sam, who is gay, did not play a regular-season game for the Rams
Fisher denied theories involving Sam, the Rams, and the NFL in the past
Former Las Vegas Raiders head coach Jon Gruden's offensive emails included everything from racist and homophobic remarks to conspiracy theories involving NFL Commissioner Roger Goodell.
Longtime Tennessee Titans head coach Jeff Fisher found himself and Michael Sam, who became the first openly gay man to play in an NFL preseason game, dragged into one such conjecture. The Super Bowl 20 champion quickly made it clear he has no time for Gruden's loud and brash claims.
Jeff Fisher dismissed Jon Gruden's claim that the Rams were forced to draft Michael Sam
In the spring of 2014, Gruden still worked at ESPN, and Fisher, who nearly led the Titans to a thrilling victory in Super Bowl 34, was entering his third season with the then-St. Louis Rams. Late in that year's NFL draft, the Rams used a seventh-round pick on Sam, the co-SEC Defensive Player of the Year and a talented pass-rusher.
In a leaked email offensive from some point that year, Gruden wrote he believed the NFL pressured the Rams to select Sam. The then-Monday Night Football analyst used a homophobic slur to describe Sam, who announced he was gay in February 2014, nearly three months before the draft.
Fisher, who currently advises the Tennessee State Tigers football program, issued a statement dismissing Gruden's theory. The veteran head coach said the Rams selected Sam purely based on his "defensive product and pass-rushing skill set."
​​"As a head coach for over 20 years, we drafted or didn't draft, players based on a variety of qualities. The sexual orientation would never — and should never — play a part in the decision-making process. I continue to support Michael … it took courage to serve as a role model for those competitive football players who may also happen to be gay."

Jeff Fisher
Fisher ended the press release by reiterating the NFL never encouraged or discouraged him "regarding the selection of a potential prospect."
This isn't the first time Fisher dismissed a theory involving Sam, the Rams, and the NFL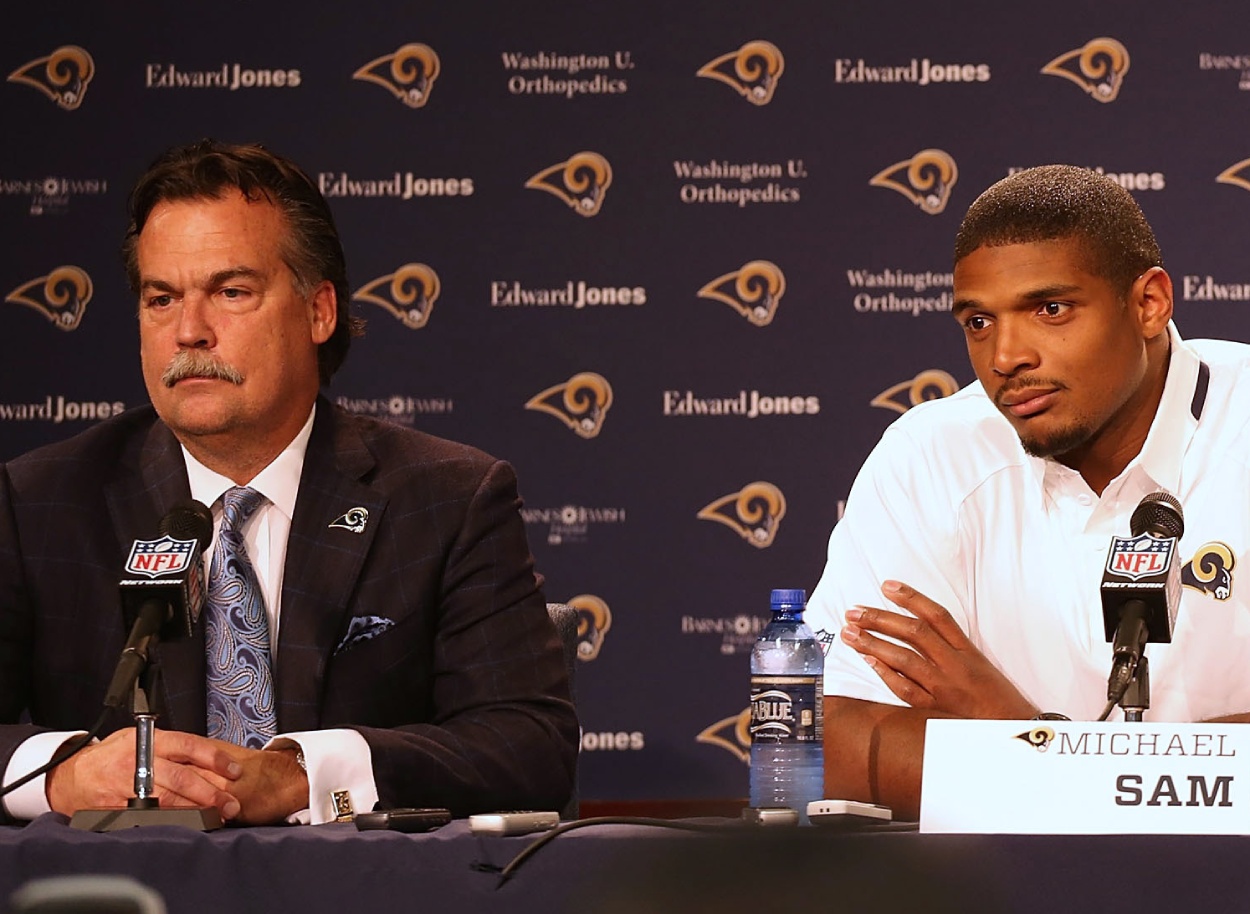 A quick Google search or Twitter deep-dive will easily pull up internet users' tweets and message board posts featuring the same theory that Gruden shared in the email.
Fisher and Sam have been here before. According to ProFootballTalk, longtime St. Louis sports media personality Howard Balzer said in 2016 that multiple unnamed sources told him the league office agreed not to put the Rams on HBO's Hard Knocks if the team drafted Sam. The popular series instead followed Matt Ryan and the Atlanta Falcons through that year's preseason.
Sam tweeted, "I'm not surprised at all," in response to Balzer's claim. Fisher denied the accusation during a March 2016 appearance on ESPN's Mike & Mike.
"It's insulting, from my standpoint, as it relates to Michael. We had three seventh-round picks. When we drafted Michael, he was the best player on the board. Who in their right mind would think that you give up a draft choice to avoid doing something like that?"

Jeff Fisher
Fisher called Balzer's comments "absurd" and "100% incorrect."
"It's really not fair to Michael because of all the hard work he put in," Fisher said.
Sam has since lent his support to Raiders pass-rusher Carl Nassib, who is also openly gay
Seven years after using homophobic slurs to describe Sam in an email, Gruden found himself coaching another openly gay pass-rusher, Carl Nassib, on the Raiders. The Penn State product came out in June.
Nassib totaled 1.5 sacks and forced a fumble in his first five games this season. He came off the bench and saw his defensive snaps decrease from 44% in Week 1 to 19% in Week 5.
Sam sounds like someone who will be thrilled to see Raiders interim head coach Rich Bisaccia give Nassib more defensive snaps. The Missouri graduate praised Nassib for taking the "baton" and thanked him for lifting a weight off his shoulder on Oct. 3.
"I feel like I did my part, and now I just have to stand on the sidelines and cheer him on," Sam wrote.
Like Sportscasting on Facebook. Follow us on Twitter @sportscasting19.
RELATED: Keyshawn Johnson Crushes Former Coach Jon Gruden 18 Years After Their Famous Feud: 'He's Been a Used-Car Salesman, and People Bought It'