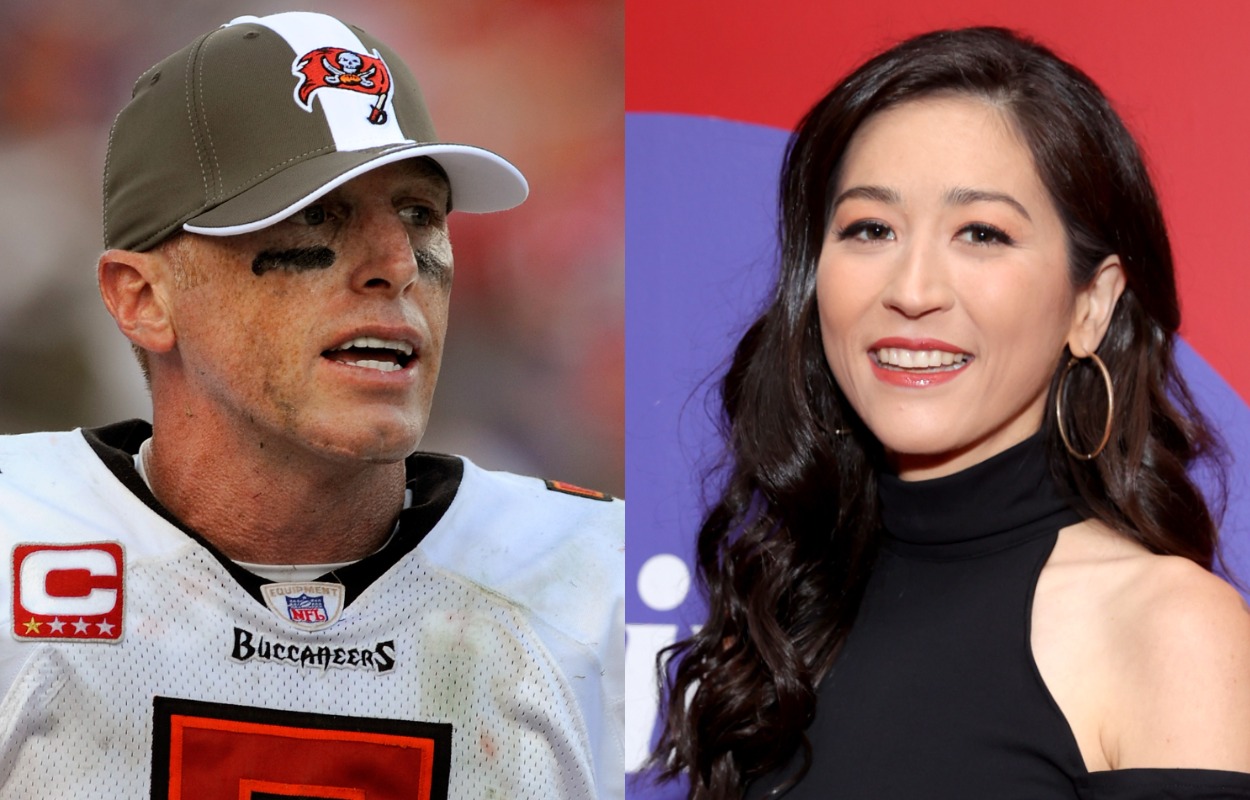 Jeff Garcia Isn't Backing Down From Controversial Criticism Regarding ESPN's Mina Kimes: 'I Would Have Had the Same Response for That Man Who Has Never Stood in the Pocket'
Former San Francisco 49ers quarterback Jeff Garcia doesn't regret his controversial comments about ESPN NFL analyst Mina Kimes, and he has no intention to apologize.
Article Highlights:
Former San Francisco 49ers quarterback Jeff Garcia isn't apologizing for his comments regarding ESPN's Mina Kimes
The four-time Pro Bowler blasted Kimes on Instagram after she critiqued current San Francisco quarterback Jimmy Garoppolo

Garcia is the latest to invoke the "you didn't play the game" argument, and he won't be the last
Former San Francisco 49ers quarterback Jeff Garcia and ESPN NFL analyst Mina Kimes shouldn't expect to trade Christmas gifts later this year. Or next year. And, given how their ongoing feud is going, 2024 also seems like a long shot.
Garcia, who earned three Pro Bowl nods in five seasons with the 49ers from 1999-2003, recently came under fire for criticizing Kimes after she critiqued 49ers quarterback Jimmy Garoppolo. Social media blasted Garcia's controversial Instagram response as sexist, an accusation the retired quarterback wholeheartedly denied during a radio interview on Friday, Jan. 28.
Jeff Garcia shot down the idea that he criticized Mina Kimes because of her gender
During a Jan. 25 appearance on ESPN's First Take, Kimes suggested the 49ers reached the NFC Championship Game in spite of Garoppolo, who struggled in a Jan. 22 victory over the Green Bay Packers. She also compared the veteran quarterback to a student getting an "A" on a project despite not doing any work.
Enter Garcia, who vented about Kimes' commentary in a now-deleted Instagram post. The four-time Pro Bowler called Kimes a "joke" and said she can never "truly understand the ability, the mindset, the physical and mental toughness, that it takes to play the QB position or any position in the NFL."
Social media users and ESPN colleagues spent the next few days firing back at Garcia, insisting his response was sexist and offensive. First Take host Molly Qerim, who previously worked with Garcia at the NFL Network, even delivered an emotional on-air monologue and called Kimes a "pioneer."
When the former 49ers star appeared on Steiny & Guru on 95.7 The Game on Friday, he denied those allegations and said he would have criticized anyone who offered such commentary regardless of their gender.
"There was nothing sexist about what I had to say, outside of the fact, yes; women don't play professional football, there are women that do participate in football, but had it been a man saying the same thing, I would have had the same response for that man who has never stood in the pocket, who has never delivered a touchdown pass, has never take a hit to the head while trying to make a play from within the pocket."

Jeff Garcia
Garcia also made it clear he has no plans on apologizing to Kimes, who has worked at ESPN since 2014.
"I don't owe anybody an apology for my beliefs and my experience at playing the QB position," Garcia explained.
Garcia dug his heels deep into the 'you didn't play the game' argument
In Garcia's eyes, those who did not play a sport — in this case, professional football — lack the proper qualifications to truly analyze a player or team. Most of ESPN's active NFL analysts, whether it is Sunday NFL Countdown's trio of Matt Hasselbeck, Randy Moss, and Tedy Bruschi or NFL Live's Dan Orlovsky and Marcus Spears, would likely pass Garcia's background check, so to speak.
The San Jose State product cannot say the same for Kimes or Skip Bayless, who he also name-checked during his radio interview.
"When I hear somebody, whether it's Mina or somebody else, talk about the game of football, give their insight and professional opinion without ever having actually done it, there's a flaw to that," Garcia said.
Matt Steinmetz, the program's co-host and a former Division III basketball player at Franklin and Marshall College (Penn.), asked if he was allowed to criticize Garoppolo. When Garcia told him to go ahead, Steinmetz essentially asked why he, as someone who did not play football, is allowed to do so, but Kimes couldn't without feeling the former quarterback's wrath.
"Look, if you were the one that criticized him and said similar things and I happened to see it, I would have said the same thing about you," Garcia replied. "It has nothing to do with her being a woman or you being a man. It has to do with the experience of being in that position."
The 'they didn't play the game' argument isn't going away anytime soon
Garcia won't be the first athlete to invoke the 'they didn't play the game' argument, and he won't be the last. Chicago Cubs pitcher Marcus Stroman recently ripped the National Baseball Hall of Fame's voting process because "biased writers" are responsible for determining who earns induction instead of ex-players.
There are merits to both sides of the argument. Some football fans might believe Kimes' analysis and football knowledge is enough for her to be on NFL Live and First Take. Others, like Garcia, may feel studio shows, regardless of the sport, should only feature panelists who played the game because they are capable of sharing the feelings and experiences that non-players never had.
Theoretically, Orlovsky, a longtime backup quarterback, is more qualified to explain what a player feels after throwing a fourth-quarter interception than Kimes or Spears, an ex-defensive lineman. However, that doesn't mean Kimes and Spears can't lend their thoughts to the conversation.
Regardless of Garcia's feelings, ESPN obviously thinks highly enough of Kimes' insight to continue putting her on NFL Live despite her lack of playing experience. Not everyone is going to agree with her commentary, whether it's about Garoppolo, Aaron Rodgers, or anything else relevant in the NFL that day. But, plenty of football fans likely roll their eyes at Spears or NBA analyst Jalen Rose, too.
Clearly, that isn't good enough for Garcia, and it's his choice not to listen. In return, he doesn't want others calling him sexist solely because Kimes' analysis isn't his cup of tea. But, if he doesn't listen to Kimes and he doesn't post about her, social media won't target him. It appears that's the compromise all parties are better off following right now.
Like Sportscasting on Facebook. Follow us on Twitter @sportscasting19.