Jeff Gordon Is 1 of Only a Few Big Names in NASCAR to Reveal Their COVID-19 Vaccination Status
In 1993, a young driver hit the NASCAR track and impressed everyone with his racing skills. The 24-year-old soon became a household name: Jeff Gordon. Though retired from racing since 2015, Gordon has left an indelible mark on motorsports. He holds many achievements, including awards, titles, and a spot in the NASCAR Hall of Fame.
One of the most influential figures in NASCAR history, the driver–turned–announcer–turned vice chairman of Hendrick Motorsports has spoken out about COVID-19. But Gordon is one of only a few big names to reveal their vaccination status. He does it to promote getting the jab and to tell his personal story.
Is Jeff Gordon vaccinated?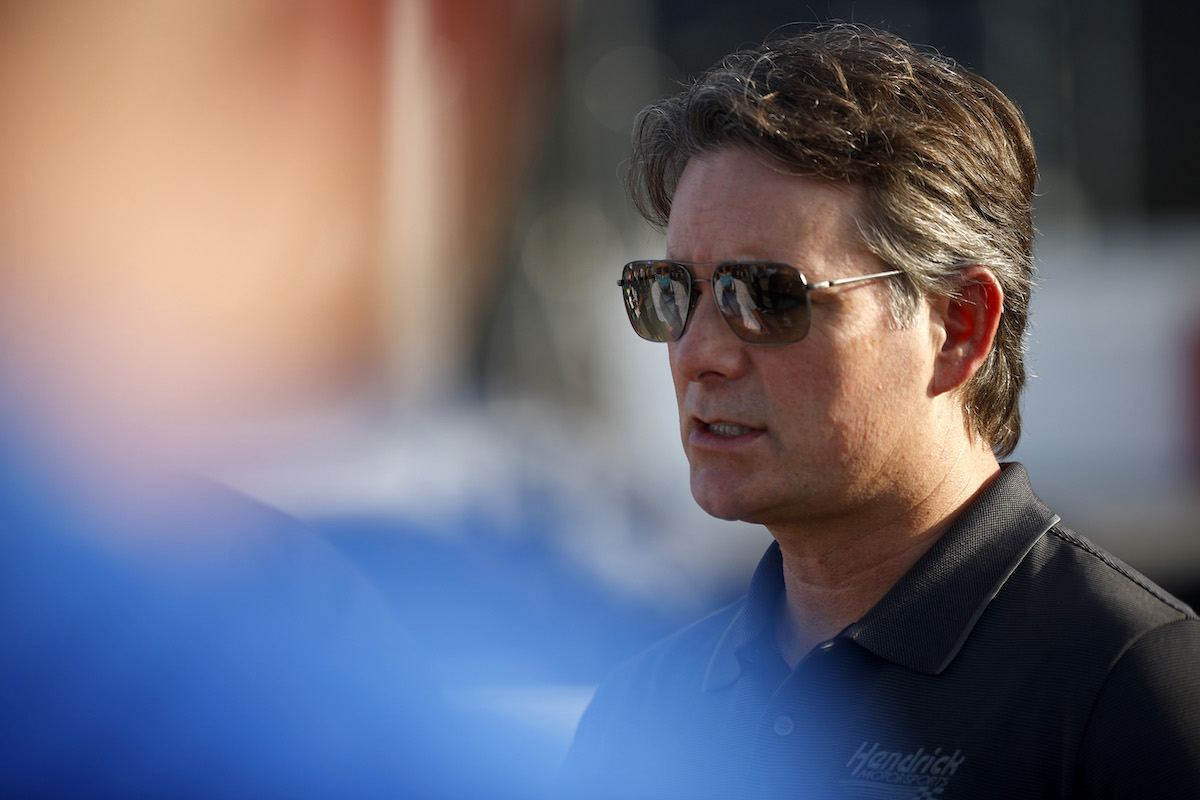 Jeff Gordon received a positive COVID-19 test result this past April. Luckily, he had mild symptoms and returned to work in the broadcasting booth quickly. The positive test result came back around seven days after he had received his first vaccine dose.
According to NBC Sports, Gordon was fortunate that his family did not get the virus, too. He said he did everything he could to prevent the spread.
However, he still took time during and after his diagnosis to try to understand the virus. He also admitted that the "more you try to understand it, the more confusing it becomes."
Gordon has also clearly stated his opinions about stopping the spread.
"I'm a big proponent of masks and vaccination and protecting ourselves. It's unfortunate that this happened but fortunate at the same time that I've been able to get through it as smoothly as I can …"
Other drivers who have revealed their vaccination status
Not all NASCAR drivers have spoken about their challenges with the coronavirus or their decision whether to vaccinate. Their status is not something NASCAR requires of them due to privacy concerns.
But not everyone agrees with the idea of keeping vaccination status a secret. According to USA Today, Joey Logano revealed he is vaccinated. The reason the 2018 cup champ wanted the vaccine was simple:
"There's one thing I learned when we won (the championship): It affects so many people's lives with bonuses and other stuff, so if I get COVID-19 and miss the race, then I'm taking away food from other people's families."
On the other hand, driver Kyle Busch likes his privacy. Asked about his vaccination status, he said it's personal, and nobody needs to know about other people's choices.
Recently, the Charlotte Observer reported that Busch said of the Delta variant:
"I haven't changed anything. I'm going about life as normal."
Busch isn't alone in his sentiments. Most other big names in NASCAR have yet to discuss their vaccination status.
How does NASCAR protect fans and drivers from the coronavirus?
The coronavirus could have costly consequences for NASCAR. If a driver misses a race, they could give up a shot at winning the championship. In Corey LaJoie's case, simply being near someone who tested positive put him out of the race at Michigan International Speedway.
Therefore, NASCAR strictly enforces protocols to protect teams, staff, and fans. For instance, guests are not allowed near haulers or garage areas, drivers cannot enter visiting suites but must meet outdoors with social distancing, and driver exposure to spectators is much more limited now than before the pandemic.
Even members of the media cannot go near haulers or garage stalls. They must wear facemasks when interacting with the drivers or teams to help stop the spread of the virus. They may go into the grid, but they must have a NASCAR hard card or essential credential.
RELATED: NASCAR Star Joey Logano's Surprising Diagnosis Will Affect Him for the Rest of His Life