Jeff Gordon Admitted to Joe Buck He Was Told to Slow Down To Make NASCAR Races Less Boring
During the late 1990s and early 2000s, Jeff Gordon dominated NASCAR in a way few drivers have ever dominated the sport before or since. In fact, his dominance was so great that NASCAR itself had to intervene at one point and tell him to back off for the sake of the sport, if his 2017 interview with Joe Buck is to be believed.
Gordon's era of dominance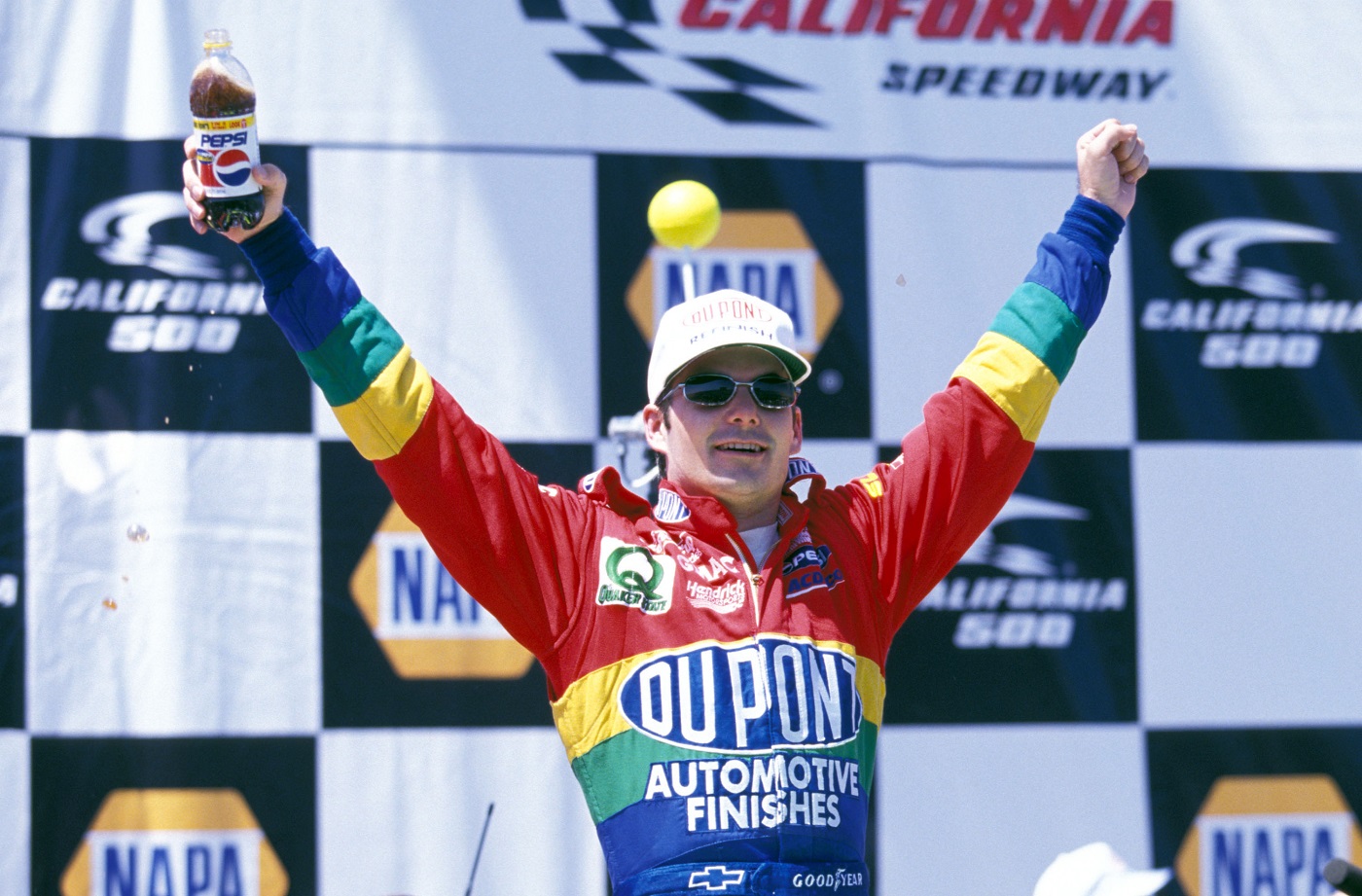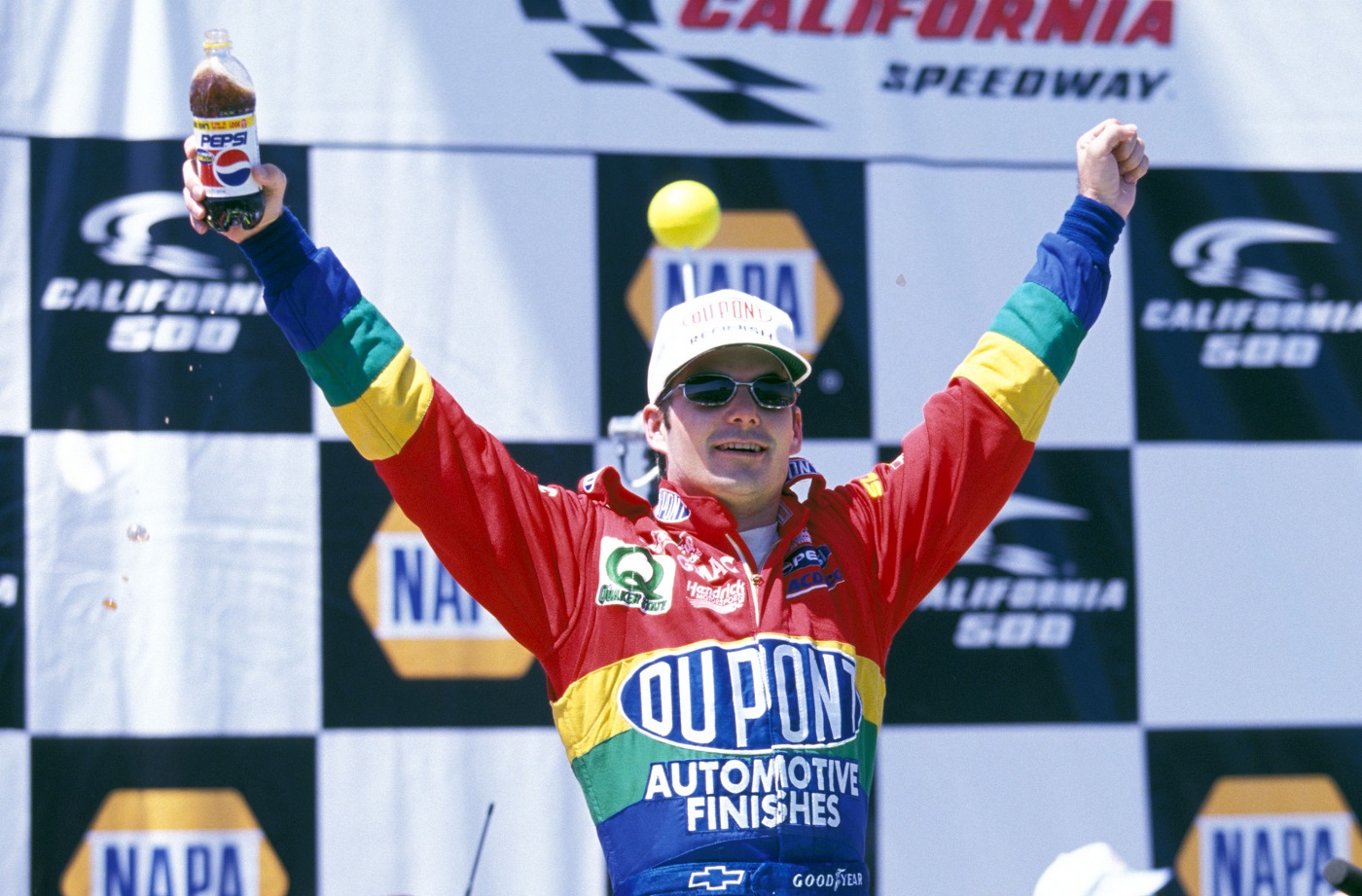 No NASCAR driver dominated his era as decisively as Jeff Gordon had during the late 1990s and early 2000s. From 1995 to 2001, Gordon won an amazing 56 races — nearly a quarter of the 231 Cup Series races run during that period. In that time, Gordon won four Cup Series championships, two Daytona 500s, two Brickyard 400s, and three All-Star Races.
A key to Gordon's success was the guidance of Ray Evernham, Gordon's crew chief until the 1999 season. Evernham and his "Rainbow Warriors" pit crew – named for Gordon's colorful DuPont paint scheme – were the most lauded in NASCAR.
The peak of Gordon's career came during the 1998 season, when he won an incredible 13 races — more than a third of the 33-race schedule. This included a four-race winning streak through July and August, with Gordon becoming only the seventh driver to pull off that feat. He won the then-Winston Cup by a massive 364 points over second-place Mark Martin.
Gordon: "Y'all are stinkin' up the show"
Gordon retired after the 2015 season, a winner of 93 races and four Cup Series titles. He now works as an analyst for FOX Sports' NASCAR telecasts.
In 2017, Gordon appeared as a guest on the series Undeniable with Joe Buck to discuss his NASCAR career. According to Gordon, at one point during his run of success — although he doesn't give an exact date — his dominance grew so out of hand that NASCAR itself had to step in.
All of a sudden, something happened, and Ray [Evernham] had a conversation with someone. They said, 'Listen, boy. Y'all are stinkin' up the show, and that's not good for NASCAR. You need to be thinking about that,' said Gordon during the interview.
"So we actually had a signal in the car. If I had a big lead, they would say, 'Okay, one-second lead. All right, two-second lead. Three-second lead. All right, Jeff, you're at four seconds.' And it would never get more than four seconds."
Other revelations from Undeniable
In that same interview, Gordon shared his views on the unpopular practice of "Buschwhacking". This is where Cup Series regulars take part in Xfinity Series races, taking wins and points away from the younger drivers who compete in the lower series regularly. Buschwhacking is named for the former sponsor of the series, Busch Beer.
While most NASCAR fans detest the practice, Gordon shared the opposite view. He himself drove in the lower series — as a regular driver from 1991 to 1992, and in occasional events from 1999 to 2000. Gordon picked up five wins in the then-Busch Series, his first coming in 1992 at Atlanta. That very win, he believes, was what led Rick Hendrick to sign him for his first Cup Series ride later that year.
"Had I not been in that series racing against the best…if I hadn't won the race in Atlanta that day and beaten Mark Martin and Dale Earnhardt and Dale Jarrett and other Cup drivers, no one would have noticed me, in my opinion," said Gordon.
Statistics courtesy of Racing-Reference.