Jeff Gordon and Clint Bowyer Finally Get 'Intoxicated' Enough to Address Their Ugly 2012 Feud
Many NASCAR and motorsports fans remember the ugly incident between former drivers Jeff Gordon and Clint Bowyer in 2012 that resulted in a feud between their teams. The two even saw their friendship take a hit after it ultimately cost Bowyer a championship.
Well, nine years later, the two retired drivers finally addressed the incident. But they did so while "intoxicated."
Jeff Gordon and Clint Bowyer had an ugly 2012 feud
RELATED: Clint Bowyer Fires Direct Shot at Jeff Gordon Just Days Before Pair Return to Phoenix and Site of Ugly 2012 Incident
While racing at Martinsville during the 2012 NASCAR season, Clint Bowyer took Jimmie Johnson and Jeff Gordon out. The incident was ultimately foreshadowing for what was to come, though.
Later during that season, Bowyer was competing for a championship, as he sat in third place. However, during a race at Phoenix, Gordon ended up getting into Bowyer's right rear. The move ultimately sent Bowyer into the wall and led to him collecting Gordon and Joey Logano. It essentially ended Bowyer's run at a championship with just one race left in the season, per Sporting News.
That wasn't even where things got ugly.
After Gordon later exited his vehicle, a member of Bowyer's team then attacked him, and both teams got into a brawl for a bit. Bowyer ultimately showed up a little late, though, as NASCAR officials ended up intervening before a confrontation could take place between the drivers.
Their friendship took a hit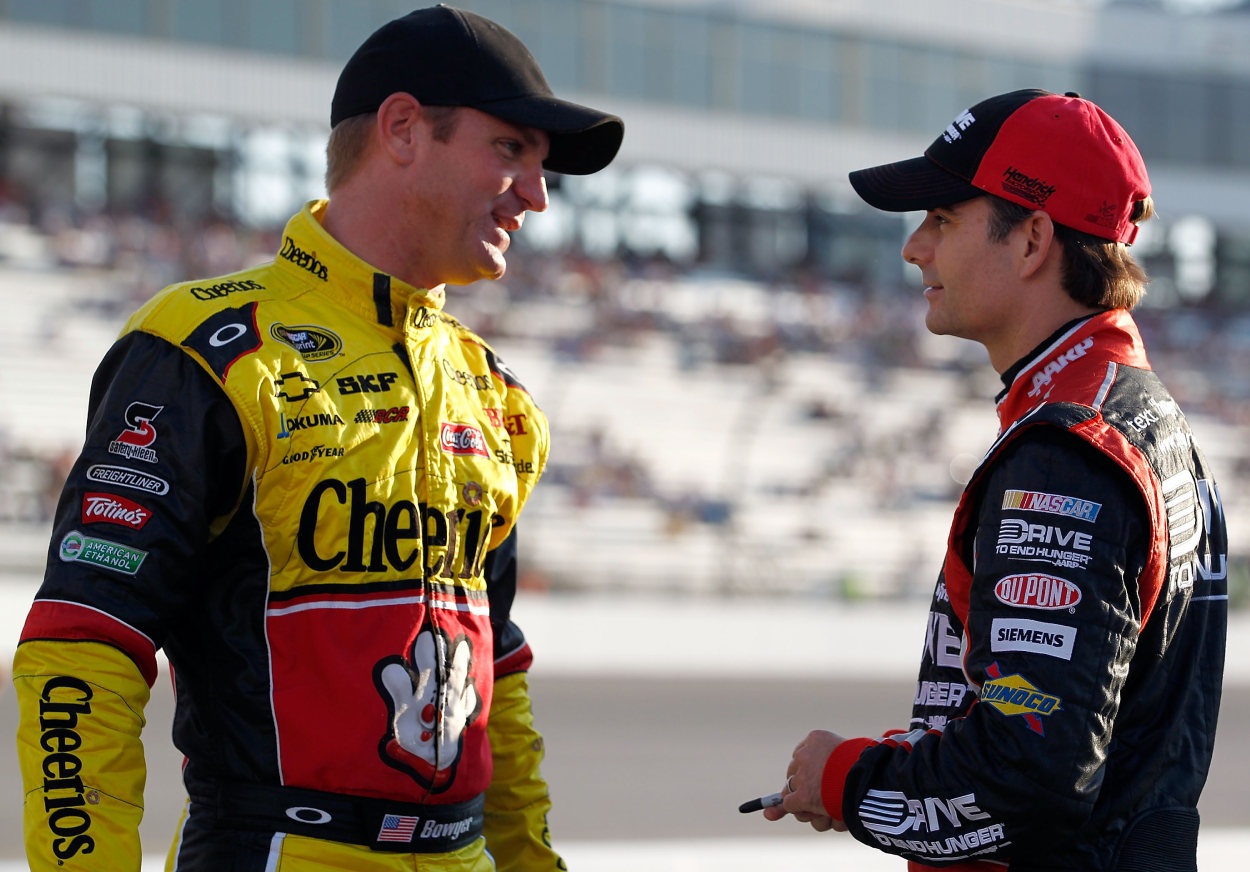 RELATED: Jeff Gordon and Clint Bowyer Work Together on Fox Just a Few Years After Ugly On-Track Feud and 'Divorce' in Friendship
Jeff Gordon announced his retirement from NASCAR a few seasons later. This led to Clint Bowyer receiving a question about Gordon's retirement.
Bowyer ultimately praised Gordon's impact on the sport, as he said, "He's paved the way for all of us. Everybody knows that and everybody appreciates what he's done," according to Sporting News. However, he also admitted that their friendship took a hit after the 2012 feud.
"You're never good with somebody when it got that ugly," he said, per Sporting News.
Bowyer then went on to discuss their previous friendship, as he said that they "had a lot of fun together," but "it's kinda like a divorce. You may appreciate them from time to time, but at the end of the day, you don't like them anymore."
Bowyer, though, did admit that he texted Gordon and told him that he was "looking forward to having fun with" him again, but after his retirement.
That seems to be what the two are doing now, too, as Bowyer and Gordon now work together on FOX for the 2021 season.
However, they can't team up without finally addressing their 2012 incident.
Jeff Gordon and Clint Bowyer finally addressed their 2012 feud — while 'intoxicated'
RELATED: Dale Earnhardt Jr.'s 'Greatest Day' of His Life Included a Mysterious Amazon Package and a Big Surprise
Jeff Gordon and Clint Bowyer finally addressed their 2012 NASCAR season kerfuffle during a segment on the March 14 episode of FS1's NASCAR RaceDay. The piece opened with a warning that said "the men reliving [the] events are completely intoxicated." The screen then flashed to Gordon and Bowyer having some drinks together.
The two men then traded barbs almost immediately. Gordon said there was "no way in hell" that Bowyer was going to win the championship that year. Bowyer then responded by saying that Gordon "made sure of that."
However, Gordon claimed that Bowyer decided that for himself with his actions at Martinsville, which led to the retired drivers reliving that race first. Their conversation then ultimately got so intense, though, that Bowyer had each of them take shots.
Gordon later ended up admitting that he held a grudge from Martinsville before the two of them then finally addressed what happened at Phoenix.
"Old Clint was minding his own business, trying to win a championship — you weren't even a factor in the championship," Bowyer said.
After going back and forth a bit, Gordon then questioned Bowyer's real chances of winning the championship had he hypothetically passed him and finished fourth in the race at Phoenix.
"You knew how I raced you. You knew that I tested you; you knew that I pushed you," Gordon said at one point.
In the end, though, the former drivers never came to a resolution. But who expected that to happen?
The 2012 Phoenix incident may haunt them — especially Bowyer — forever. This probably isn't the last we'll hear of it, either.
Like Sportscasting on Facebook. Follow us on Twitter @sportscasting19.