Jeff Gordon Unfairly Became One of Nascar's Biggest Villains
Jeff Gordon lives in a complicated space where he is simultaneously one of the biggest names in the history of NASCAR while also being disliked. Painted as a villain early on in his career, Gordon's reputation took a dive based on the sin of being good.
With Gordon gone from racing, however, he has received some redemption as people reconsidered why they disliked him. Gordon's perceived villainy is a fascinating look at the way sports fans react to certain competitors. 
Jeff Gordon's career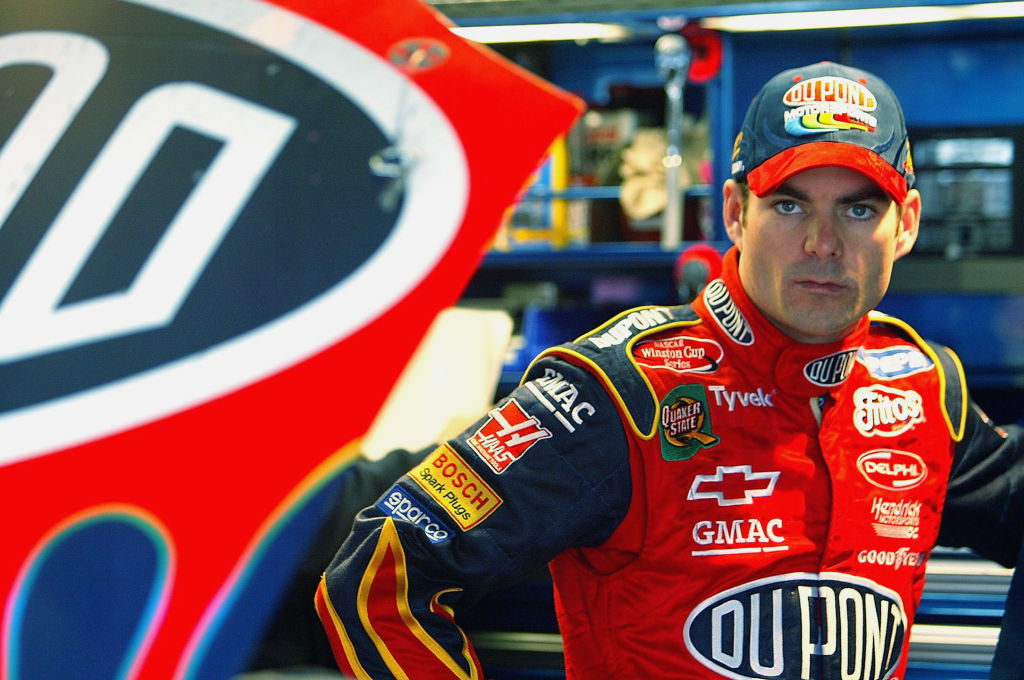 Gordon's 25-year NASCAR career began in 1992 when he was just 20 years old. It was the following year, however, when he began to make waves.
After failing to do much in his inaugural race, Gordon began sneaking closer and closer to first place. In 1993, he had seven top-five finishes and 11 top-ten finishes. At the 1994 Coca-Cola 600, however, everything changed when Gordon got his first win.
The legend of Gordon was born, with every passing year, he collected more and more wins. Seven in 1995, 10 in the two years following, and a career-best 13 wins in 1998.
The racing world had a new face, meaning that former gods like Dale Earnhardt Sr. had to watch Gordon finish from the back. Petty as it may be, fans took ire to this trend.
Gordon never again had a year like 1998, but for most of his remaining days, he remained one of the winningest racers in the game. He constantly finished in the top five, won anywhere from one to five races, and showed why he was one of the best. After several years of slumping, however, Gordon retired in 2015 after 805 races — 93 of them wins.
Why do people hate Jeff Gordon?
RELATED: Bill Laimbeer Went From NBA Villain to Championship-Winning Coach
As with many of the greatest, Gordon's status as a villain is largely because he was so good. People hate seeing that their favorite winners are no longer the top of the sport, and Gordon was the person making this a reality. Shane Walters wrote about his hatred of Gordon in 2016. According to Walters, it was Gordon's fearlessness that made him both great and hated.
"Jeff Gordon was the young California kid who came into the sport in 1992," Walters wrote. "When it came to short tracks he was a mix of fast and aggressive. The very things that make short track kings. The same thing that makes fans hate you."
Gordon represented something different. NASCAR, which has specific importance to southern audiences, was not ready for a California-grown product to derail the careers of their favorites.
Gordon was annoying not because he did something wrong to Earnhardt, Rusty Wallace, and other greats. Instead, he was annoying because he was the same type of driver, just younger and faster.
Gordon was consistently greeted with a chorus of boos throughout his career. Since retirement, however, some are looking at his career through a different lens.
Jeff Gordon's final laps
RELATED: What Is Jimmie Johnson's Net Worth and How Many Races Has He Won?
Near the end of his career, when Gordon was racing his final laps, those who previously hated him began to cheer him. In many ways, this made sense. Gordon was no longer the great who was dethroning other greats — he was the great who had been dethroned.
Speaking about the boos that he heard throughout his career, Gordon put it into perspective before one of his final races.
"Well, you never really know why people cheer or boo," Gordon said according to SportingNews. "Sometimes it's obvious, but for me, I came into the sport and starting our third year in started competing for the championship, and then the boos started coming…"
"I never really thought a whole lot about it. It was, I don't know, things were going well, and if they're booing, I guess that's a good thing. As long as they're making noise."
Now retired, Gordon may be better respected than he ever was as an active racer.
Some of sports' greatest villains fed that image with wrestling-like proficiency. Others don't know how to handle it. On one hand, it gives them certain infamy that keeps them in the spotlight.
On the other, however, it can feed an irrational hatred that goes beyond the sport. Gordon learned this, although he seemed to show the world that he was never the villain of his story — just a man who was too good at racing too early.