What Was Jeff Saturday's Coaching Experience Before Joining the Colts as Interim Head Coach?
Jim Irsay, the owner of the Indianapolis Colts, made a big splash recently when he named former Colts center Jeff Saturday as the team's head coach. The move has left fans and media alike questioning Irsay's decision. Saturday and the Colts were successful in his first game, defeating the Las Vegas Raiders in a thrilling matchup. But some are still bewildered by the Saturday hiring based on his overall lack of experience. 
Let's take a closer look at the situation the Colts find themselves in and Saturday's coaching experience before joining the Colts.
The Indianapolis Colts have shaken up their team's infrastructure in many ways
After a difficult start to the 2022 NFL season, the Colts and Irsay were out of options. They're in the midst of a lackluster season. They've replaced their quarterback and offensive coordinator.
Finally, Irsay had enough and fired head coach Frank Reich. Irsay tabbed Saturday, a man he knew well from his time with the Colts, the team's coach for the rest of the 2022-23 season. 
The organization's main problem is an inability to surround a loaded roster with a consistent quarterback. Since Andrew Luck's retirement, they've tried to fill his role with accomplished veterans who have underwhelmed. Philip Rivers, Carson Wentz, and now Matt Ryan have all failed to lead the team to success. Reich became the latest casualty of the team's failure to draft, develop, or acquire a franchise quarterback. 
Jeff Saturday has minimal head coaching experience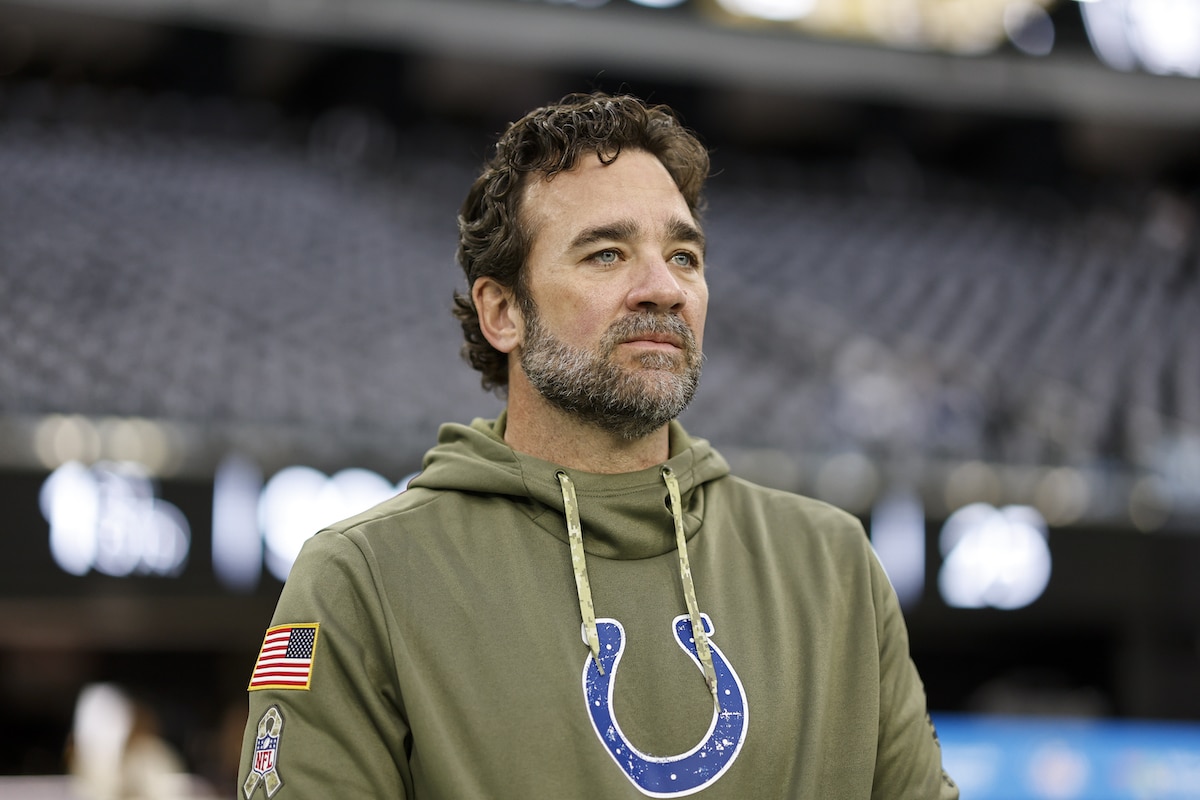 When Irsay announced Saturday's hiring as the interim coach, he staunchly defended it. According to ESPN, Irsay called Saturday "fully capable." Irsay challenged his critics even further by stating, "Want to bet against this guy? Put your money down. [I'd] love to see it because I know what he's about." Irsay also indicated that while this move is strictly for the rest of the season, he wants Saturday to be the team's eventual permanent coach.
The Colts owner also said the assignment was for "eight games, hopefully, more." The presence of "hopefully" in the owner's statement means Irsay wants this to be a long-term fit. 
While Irsay's spirited defense of his friend is admirable, it doesn't quite square with reality. Saturday may be a great competitor — his playing career certainly indicates that — but being dubious of his credentials is entirely understandable. According to The Spun, Saturday's only head coaching experience is at the high school level, at a Georgia school called Hebron Christian Academy.
NFL Network's Andrew Siciliano reported that Saturday's record is a rather pedestrian 20-16. That's not bad, but is it impressive enough to merit an NFL head coaching job? It's hard to believe Irsay would have selected Saturday without their previous relationship. 
Jeff Saturday has been a busy man since retiring from the NFL
Of course, Saturday's lack of coaching experience hardly indicates a lack of involvement with the game. After retiring, he moved from the playing field to the analyst's chair. He's been a commentator for ESPN, providing insight into the game. Saturday has been a fine analyst with plenty of football knowledge and experience to draw on.
Saturday's player and analyst experience have led to quite a profitable career for the former offensive lineman. According to Celebrity Net Worth, he's got an estimated net worth of $15 million. He's also got a big family of his wife and three children. There's no question that Saturday is winning off the field – but can he translate his football life into success as an NFL head coach?
The jury's undoubtedly out on that, and the lackluster Colts don't have a great chance to turn the 2022 season into a winning one. But Saturday was an undrafted free agent who parlayed that into a spectacular career. He's been counted out before and has beaten the odds. Irsay is counting on him doing it again. One game into his tenure, and he's already proved many doubters wrong. 
RELATED: The Bizarre Trade That Allowed Jim Irsay and His Family to Own the Colts