Jeremy Lane Suffered 3 Horrific Injuries Before Retiring From the NFL
Injuries are an all-too-common part of life in the NFL. They can derail whole seasons, as in the case of Dak Prescott last year. Injuries can even end an entire career right then and there. That's exactly what happened with Bo Jackson back in 1990. Andrew Luck, meanwhile, retired due to the cumulative physical and psychological effects of his various injuries.
Another player who knows plenty about the toll that injuries can take on a career is former Seattle Seahawks cornerback Jeremy Lane. Over the course of his six year career, Lane experienced three of the most gruesome and unwanted injuries. Here we take a look back at Lane's career, his injury history, and his early retirement from the NFL.
Jeremy Lane's NFL career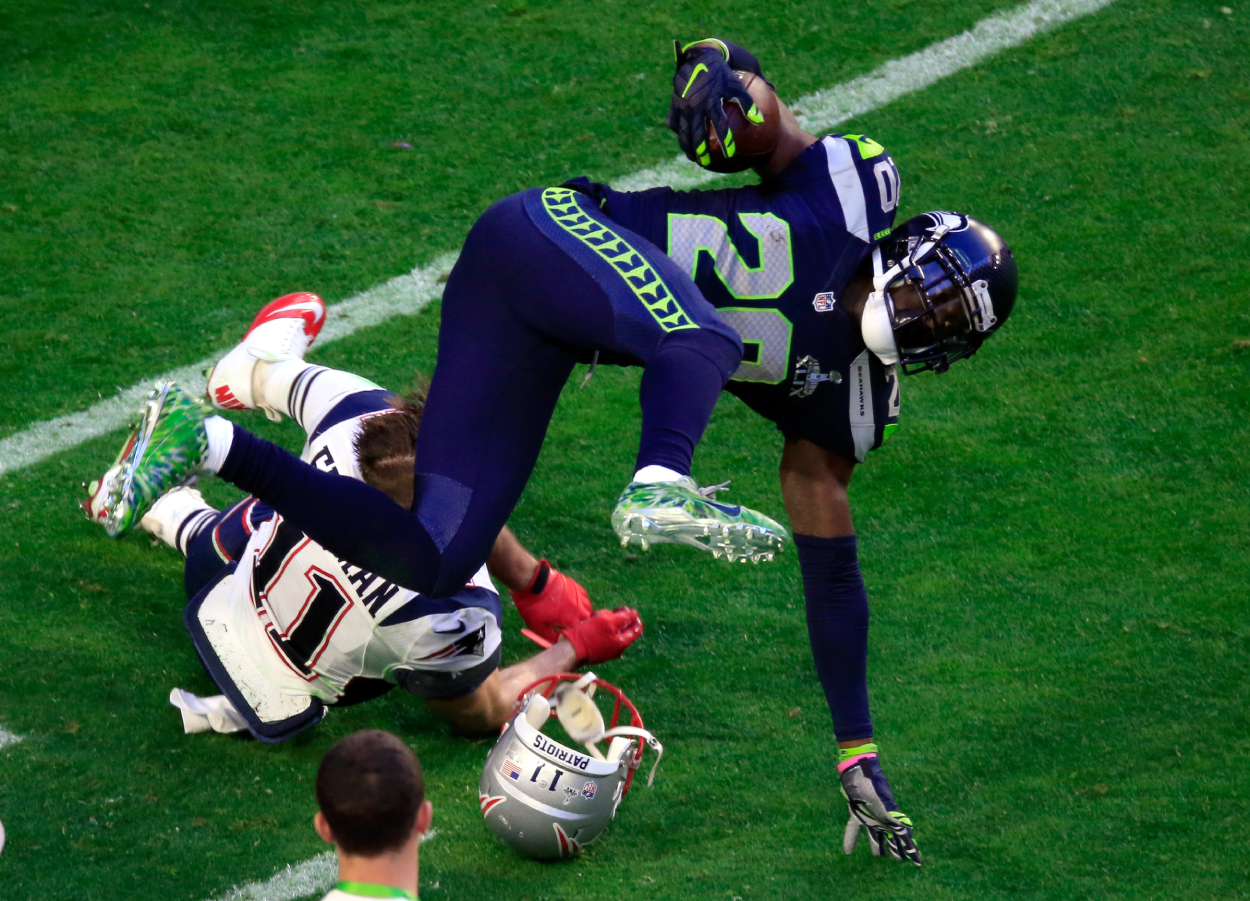 The Seattle Seahawks drafted Lane with the 172nd pick of the 2012 NFL Draft. During his rookie season, the 6-foot-0 cornerback racked up 15 combined tackles, with one tackle for loss and one quarterback hit. Though Lane spent his second season playing entirely off the bench, his numbers improved slightly.
That 2013 season also saw Lane play in — and win — his first Super Bowl. In the Seahawks 43–8 victory against the Denver Broncos in Super Bowl XLVIII, Lane notched two total tackles.
The Seahawks returned to the Super Bowl the following year, only to fall to the New England Patriots. During that game, however, Lane got his first career interception against Tom Brady — only to suffer a gruesome injury following the play.
Lane returned to play later the following season, and remained with the Seahawks through 2017. Statistically, he had his best year in 2016, when he started nine games. That season he amassed 36 solo and 13 assisted tackles. During the course of his entire six-year run with the Seahawks, Lane totaled 103 solo and 43 assisted tackles.
Three brutal injuries took a toll on him
RELATED: The Seattle Seahawks Made it Crystal Clear to Russell Wilson What They Think of Him
As noted above, Lane suffered his first injury on the very same Super Bowl play where he picked off Tom Brady. In landing with the ball, Lane attempted to brace his fall with his left hand. Instead, his wrist bent 90 degrees in the wrong direction, leading to a truly ugly fracture. According to PeekMed, Lane immediately underwent surgery on his broken wrist.
A few days later, however, things went from bad to worse. While walking around a grocery store, Lane's leg suddenly gave out on him. As reported by the NFL, Lane was suffering from a torn ACL — an injury that also stemmed from his Super Bowl interception. That injury also required surgery.
During the course of those subsequent hospital visits, Lane's doctors detected a problem with his earlier wrist surgery. As a result, he had to endure multiple additional surgeries on his arm to ensure that it healed properly.
Remarkably, Lane was ultimately able to make a complete recovery from both injuries, and return to the field later the following season.
In 2017, Lane suffered his third unpleasant injury. According to 247 Sports, that injury came just days after Lane learned that he was losing his starting job.
During a routine play, Lane jammed the ends of two of his fingers very hard. The joints were forced so far out of their sockets that it apparently tore open the skin of his hand.
The end of Jeremy Lane's NFL career
It remains unclear just how much of an impact Lane's injuries had on his retirement. That said, they don't seem to have been the primary reason the Seahawks released him back in March 2018. Of course, Lane had failed his physical with the Texans the previous year, although the exact reason for that failure was never disclosed.
A more immediate factor in Lane's release was likely the fact that in January 2018 he was arrested on suspicion of drunk driving — a charge to which he would later plead guilty, per ESPN.
Lane was just 27-years-old when the Seahawks released him. But he has been out of football ever since, and does not appear likely to return at any point moving forward. It also bears noting that Lane was one of the first players to voice his support for Colin Kaepernick back in 2016.
All stats courtesy of Pro Football Reference