Meet Jeremy McNichols, the Player Who Will Try and Fail To Replace Derrick Henry for the Tennessee Titans
Tennessee Titans running back Jeremy McNichols is about to become one of the most googled names in the NFL in the wake of Derrick Henry's foot injury.
The Titans left Indianapolis with a 34-31 overtime win over the Colts. Still, they suffered a significant loss after the game when it was reported that Henry sustained a major foot injury. The injury happened late in the first quarter, but the superstar running back pushed through to finish with 28 carries for only 68 yards.
The injury clearly hindered Henry, and the Titans phased him out of the offense as a result, using him primarily in pass protection or as a decoy. Henry rushed for just 2.4 yards per carry in the win. 
Not even 24 hours later, it's being reported that the star running back will undergo surgery on his foot and could potentially miss six-to-ten weeks.
The Titans are now left scrambling.
Jeremy McNichols somehow has to fill Derrick Henry's massive shoes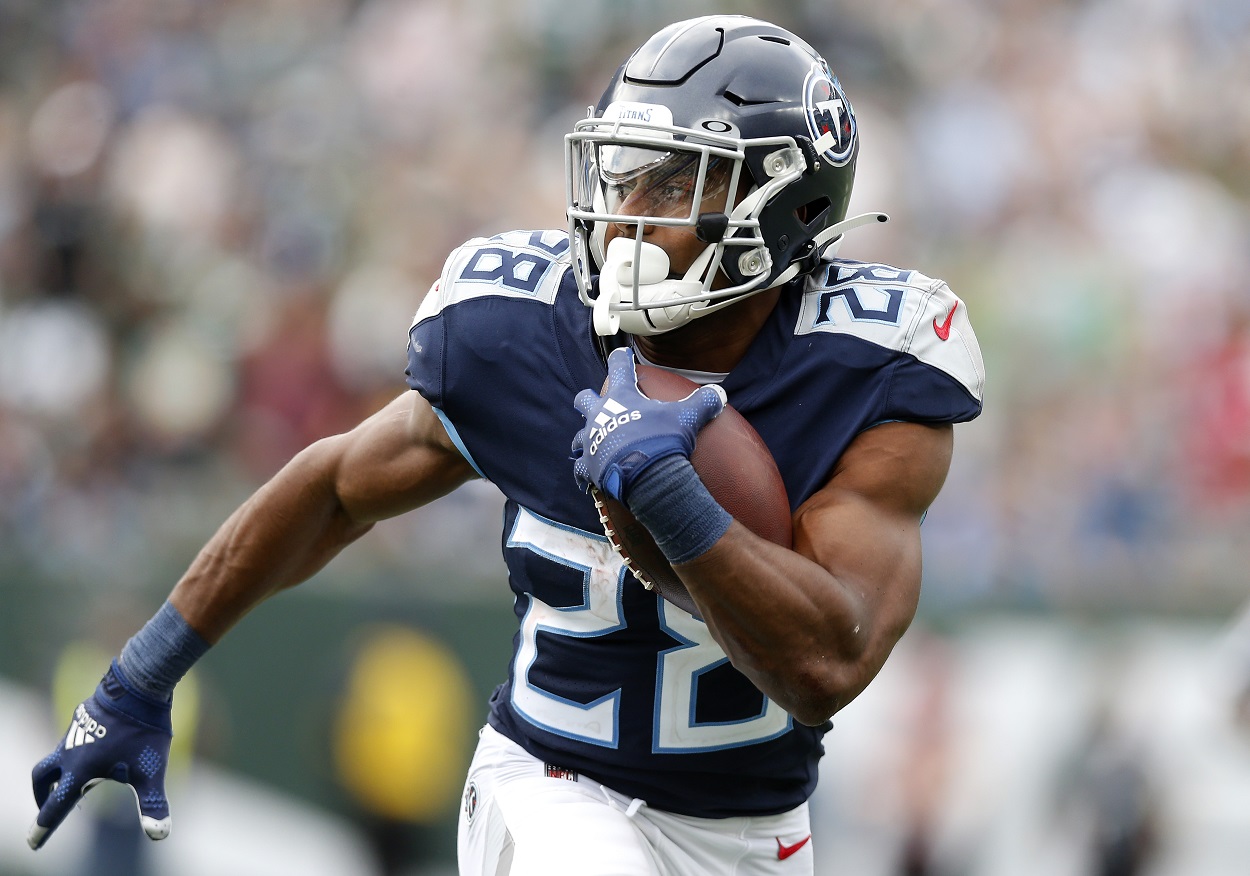 The funny thing about the Henry injury is that its impact goes far beyond Nashville. Fantasy football has swept the world and is as popular as ever, and many fantasy football managers have leaned on Henry to win them games and championships.
How the Titans respond to news is going to be a major story across the NFL universe.
They're certainly going to explore a trade before the November 2nd deadline, and there are some options on the free agency market. The immediate responsibility of replacing Henry will go to McNichols, though, which is going to lead many NFL fans to ask one question: Who?
McNichols is a fifth-year running back out of Boise State. He was drafted as a fifth-round pick by the Tampa Bay Buccaneers but has bounced around the league. He's had stops in San Francisco, Indianapolis, and Jacksonville before landing in Tennessee in 2020.
In two seasons with the Titans, McNichols has rushed for 246 yards and a touchdown in 56 attempts. He's been more of a pass-catcher for the Titans in 2021, having caught 21 passes for 203 yards and a touchdown, averaging 9.7 yards per reception. 
McNichols was a star for Boise State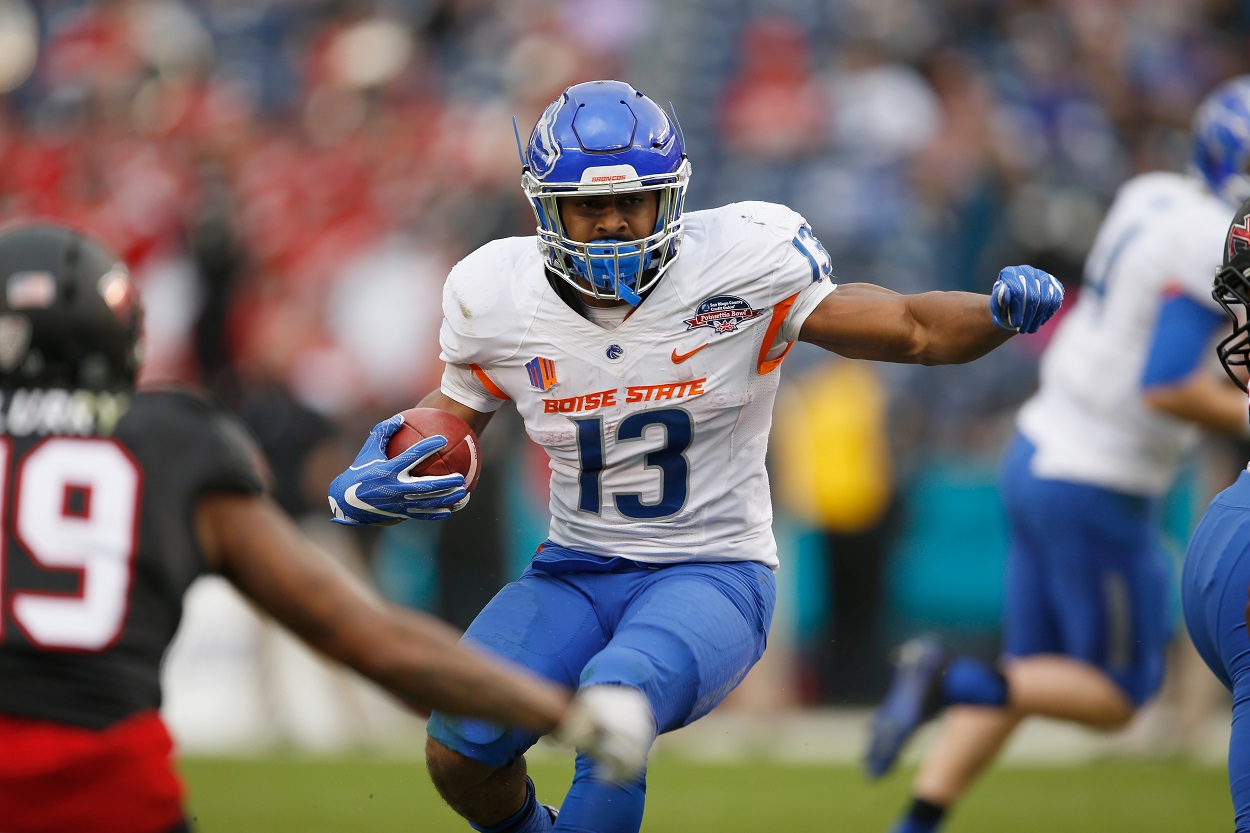 If there is a glimmer of hope for Titans fans it's that McNichols has carried the load before as a running back.
The caveat is that he was a star running back in the Mountian West for Boise State and not in the AFC South. There's a night and day difference between playing in a non-power five conference and being a lead back in the NFL, but at this point, any good news has to be welcome for Tennessee.
In three seasons for Boise State, McNichols rushed for 3,205 yards and 44 touchdowns. True to what we've seen out of him in the NFL, he was also a strong option for the Broncos as a pass-catcher. He notched 1,089 reception yards and 11 touchdowns through the air in his Boise State career. He left for the NFL with 4,294 all-purpose yards under his belt, most of which gained in his sophomore and junior seasons.
McNichols was a Doak Walker Award semifinalist in 2016. That award goes to the best running back in college football.
Anyone trying to replace Henry has already failed before they even started
The truth of the matter for McNichols is that even if he reaches back into his Boise State basket and becomes a lead back in the NFL, he's not even going to come close to replacing Henry for the Titans.
The same thing goes for any other running back Tennessee tries to put in the backfield.
Nobody will be able to replace Henry.
Part of that is because Henry has been so special for the Titans. He's a superstar running back with a unique blend of size, speed, and agility. At 6-foot-3, 247-pounds, he has the size of a big, bruising linebacker, but he has the speed of a wide receiver.
Henry is truly a unique superstar in a league that has largely trended away from star running backs.
Because he's been so special, Tennessee has used him as the focal point of its offense. Can you blame the Titans?
He's rushed 219 times for 937 yards and ten touchdowns so far in 2021. His rushing yards have accounted for nearly 80% of the Titans' total rushing yards as a team. His 219 rushing attempts are almost 100 more than the next most-used running back in the league, Joe Mixon with 137. 
Henry is the Titans' offense.
Sure, Ryan Tannehill is a capable quarterback, and A.J. Brown is a star wide receiver, but Henry is the mechanism that makes everything go for Tennessee. Without him, clever defenses will double up on Brown and make Tannehill beat them, and that's not a winning formula for Tennessee.
The Titans are in trouble because even if McNichols starts running the football like he never has before in the NFL, there's no way he's going to be able to replace King Henry.
Stats courtesy of ESPN and Pro Football Reference.
RELATED: Nick Chubb Rivaling Derrick Henry With Epic Feat of Herculean Strength