Jeremy Pruitt's Firing Has Started a War Within Tennessee Football
After an up-and-down three-season tenure, Jeremy Pruitt is out as head coach of the Tennessee Volunteers. The university has let him go, along with numerous assistants and recruiters, as self-punishment for a range of violations uncovered by an internal investigation. Both Pruitt and the university have retained lawyers, which could make the fallout of the scandal even worse.
Fallout from a possible Tennessee scandal
Pruitt's firing comes after an investigation by the university into potential recruiting violations within the football program. His contract will be officially terminated at 5 p.m. Tuesday afternoon.
The firing comes after what the university calls "conduct…likely to lead to an NCAA finding of Level I and/or Level II violations of one or more Governing Athletic Rules." University administrators have shared few details on the violations, as the investigation is still ongoing. However, according to ESPN, one focus is the recruitment of offensive tackle Amarius Mims.
Pruitt is not the only casualty of this brewing scandal. Nine others within the Tennessee program have also lost their jobs. These include, among others, assistant coaches Brian Niedermayer and Shelton Felton and four members of the on-campus recruiting staff.
In addition, College Football Hall of Famer Phillip Fulmer will voluntarily step down from his post as Tennessee's athletic director, which he has held since 2017. According to Plowman, Fulmer's retirement has nothing to do with the investigation. His successor at AD will find Tennessee's next head coach.
Pruitt's tenure at Tennessee has been a failure
Even if these allegations are accurate, Pruitt and the university did not receive a high return on investment for their actions. The 2020 season was a major letdown for Tennessee, as they finished 3-7 in the shortened schedule. The low point was a 48-17 loss to Alabama on the "Third Saturday in October". After that game, Pruitt added insult to injury for Vols fans by saying this about both teams.
I can assure you that the gap is closing. That might not show on the scoreboard today, but the gap is closing, I can assure you that.

Former Tennessee head football coach Jeremy Pruitt
One of those teams would finish with a perfect record and win the national championship. The other was Pruitt's team.
2020 was especially disappointing, as the Volunteers were considered a rising SEC power going into the season. In 2019, Pruitt's second season, Tennessee finished 8-5 overall, with five of those wins coming in-conference. They finished their season with a 23-22 victory over Indiana in the Gator Bowl.
The Volunteers built on this momentum early in the 2020 season, winning their first two games and reaching #14 in the AP rankings. It was all downhill from there, as they won only one more game — against Vanderbilt.
Tennessee has legal battles ahead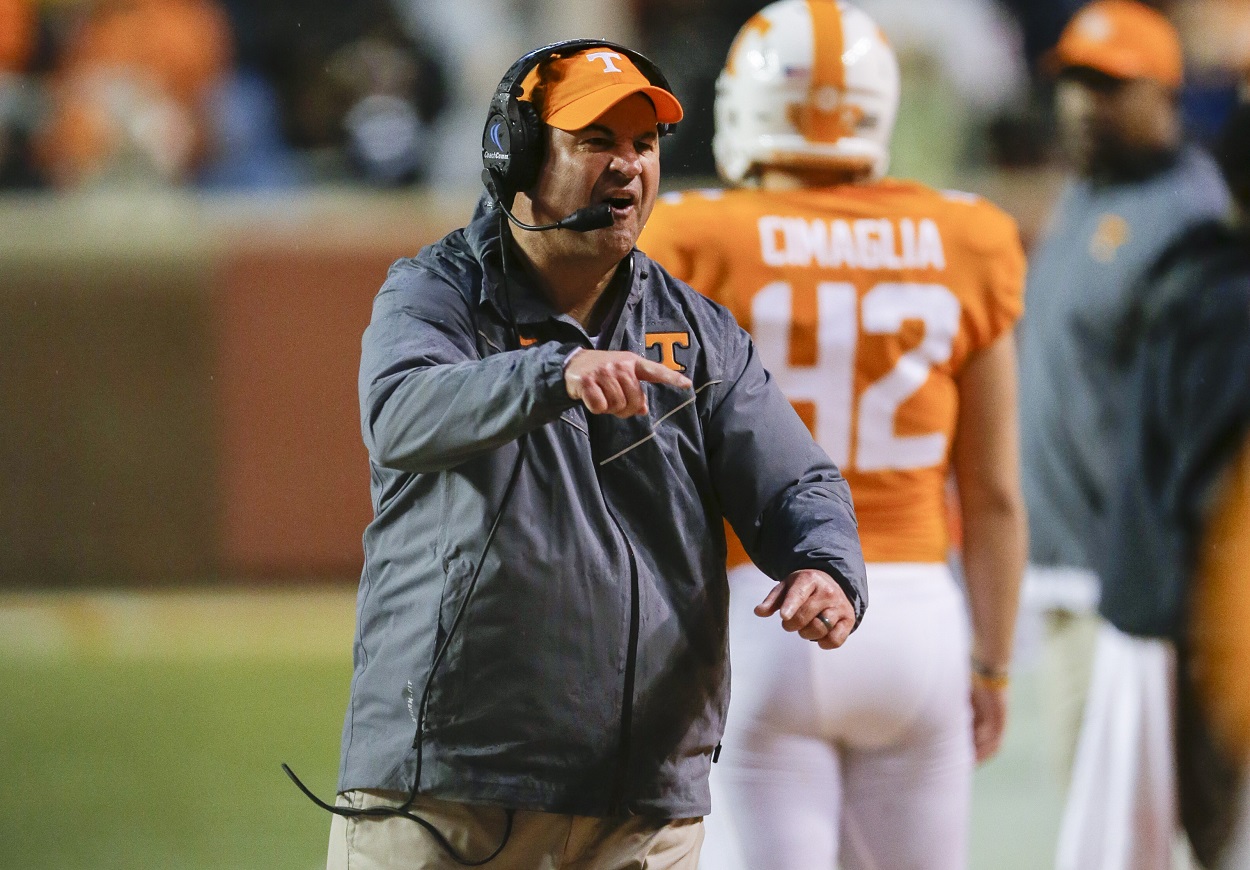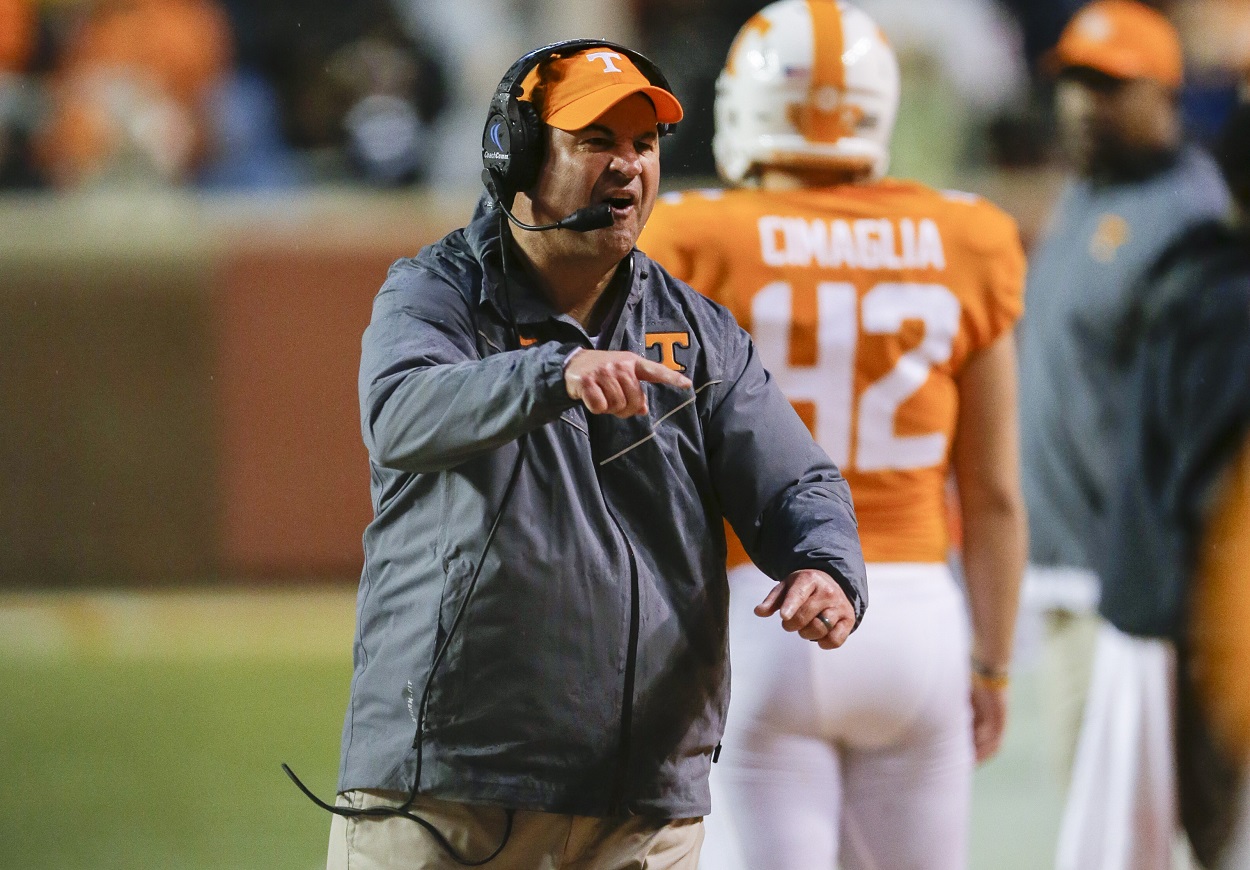 Pruitt's firing comes less than four months after Fulman awarded him a two-year extension which put him under contract until January 2026. The extension also increased his contract buyout to $12.6 million. Since Tennessee fired him "for cause", they will not have to pay this amount.
Like a certain soon-to-be-former president, Pruitt has exercised all legal options at his disposal to fight the loss of his job. He has retained the Dallas-based law firm Lyons and Simmons to fight the university's decision, which the firm told ESPN was a "culmination of an orchestrated effort to renege on contractual promises made to Coach Pruitt upon his hiring in 2017 and reiterated less than five months ago."
The university has retained its own set of lawyers from the Bond, Schoeneck, and King firm. Unfortunately for Pruitt, Tennessee may have an ace in the hole. According to USA Today, his contract included 30 provisions that allowed the school to fire him "for cause". One of those was for "conduct likely to result in an NCAA finding of a Level I or Level II rules violation".