Jermaine O'Neal Built a 91,000-Square-Foot Youth Sports Facility With His $157 Million Earnings
Jermaine O'Neal knew his place during a long NBA career. He found an even better role as a retired player.
Whether he played with Dwyane Wade or Stephen Curry, Jermaine O'Neal had a key role as an imposing big man in the paint.
O'Neal made so much money in that position that the former Pacers star chose to give back in style.
Jermaine O'Neal had a terrific NBA career
RELATED: The Indiana Pacers' Return to Detroit After Malice at the Palace Might Have Been Scarier Than the Fight
It is easy to forget that Jermaine O'Neal was one of the NBA's first none-and-done players. O'Neal entered the NBA in 1996 straight out of high school as opposed to spending time in college.
That may have been the right choice. Although O'Neal mostly contributed off the bench in first four seasons, he developed at the NBA level and earned paychecks.
Portland traded O'Neal to the Pacers before the 2000 season in a move the Pacers will forever celebrate. O'Neal averaged 17.5 points, nine rebounds, and 2.3 blocks from 2000-10 for three teams.
O'Neal is best known for his time with the Pacers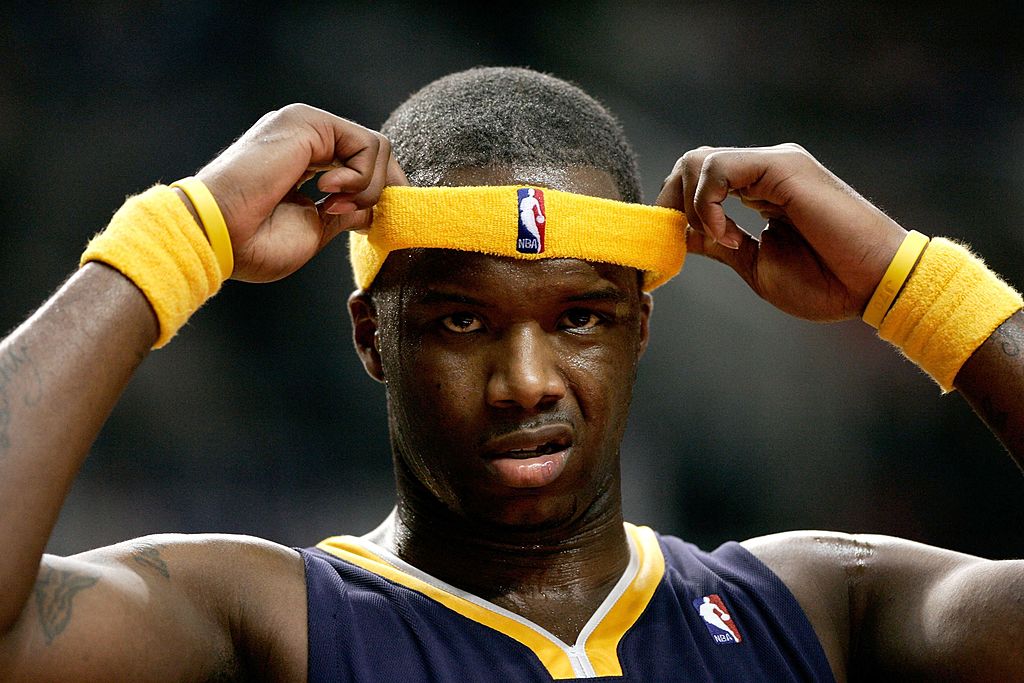 RELATED: Former Indiana Pacers Star Rik Smits Was the Most Underrated Center of the 1990s
The Indiana Pacers acquired Jermaine O'Neal, then 21, in August 2000. It remains one of the most successful trades in Pacers history.
O'Neal averaged 18.6 points, 9.6 rebounds, and 2.4 blocks in eight seasons with the Pacers. He earned six All-Star nods, all from 2001-07, and grew into one of the Eastern Conference's top big men.
O'Neal averaged 18.1 points and 9.8 rebounds in 50 playoff games with the Pacers. He contributed a staggering 17.5 rebounds per game in the 2002-03 playoffs.
Indiana traded O'Neal to Toronto before the 2008-09 esason, but he only lasted a half season. Toronto dealt O'Neal to Miami and he played there until signing with Boston in 2010.
O'Neal closed out his career in Phoenix and in Golden State, though his final season was the Warriors' last before the dynasty began in June 2015.
Jermaine O'Neal gave back with all the money he earned
RELATED: Former NBA Player Matt Barnes Could Have Pursued an NFL Career
Jermaine O'Neal made over $167 million in his career, according to Spotrac. A sizable chunk, over $101 million, came from his eight seasons in Indiana.
O'Neal's career earnings ranked 32nd in NBA history as of June 2020. He is narrowly ahead of Miami's Andre Iguodala, longtime NBA big man Elton Brand, and Spurs legend Tony Parker.
With all of that money in hand, O'Neal wanted to do something special. That's why, after his playing days ended, O'Neal announced he intended to build the Drive Nation sports training facility at the Dallas/Fort Worth Airport.
In a 2017 interview with the Fort Worth Star-Telegram in Texas, O'Neal explained what appealed to him about opening a youth community center.
"I'm trying to implement things I took in as a student-athlete and a professional athlete. I was an African-American inner-city kid living the American dream. God has positioned me to give back what was given to me."
The 91,000-square-foot facility opened in October 2017. The Drive Nation sports training facility remained open until the coronavirus pandemic.