Jermaine O'Neal, Kevin Garnett and Ray Allen Could've Formed a College Basketball Superteam at the University of South Carolina
The state of South Carolina has seen its fair share of talented high school basketball players. Long before Zion Williamson, big names like Jermaine O'Neal, Kevin Garnett, and Ray Allen dominated the state's basketball scene.
The University of South Carolina formed a pitch to the three standouts, which would see the trio play together for the Gamecocks.
Jermaine O'Neal, Kevin Garnett, and Ray Allen were elite high school basketball prospects
Kevin Garnett was born in Greenville, South Carolina, and played his high school ball at Mauldin High School before transferring to Farragut Academy in Chicago for his senior season.
He was named Gatorade Player of the Year in South Carolina as a junior. As a senior, the Big Ticket was named a McDonald's All-American. He was also ranked the No. 1 high school basketball player in the country.
Jermaine O'Neal was one year behind Garnett. O'Neal played at Eau Claire High School. The Columbia, SC native was the South Carolina Gatorade Player of the Year and a McDonald's All-American as a senior.
Allen was born in California but played at Hillcrest High School in Dalzell, SC. There he was named Gatorade Player of the Year in 1993.
South Carolina had a plan to have all three players come to their school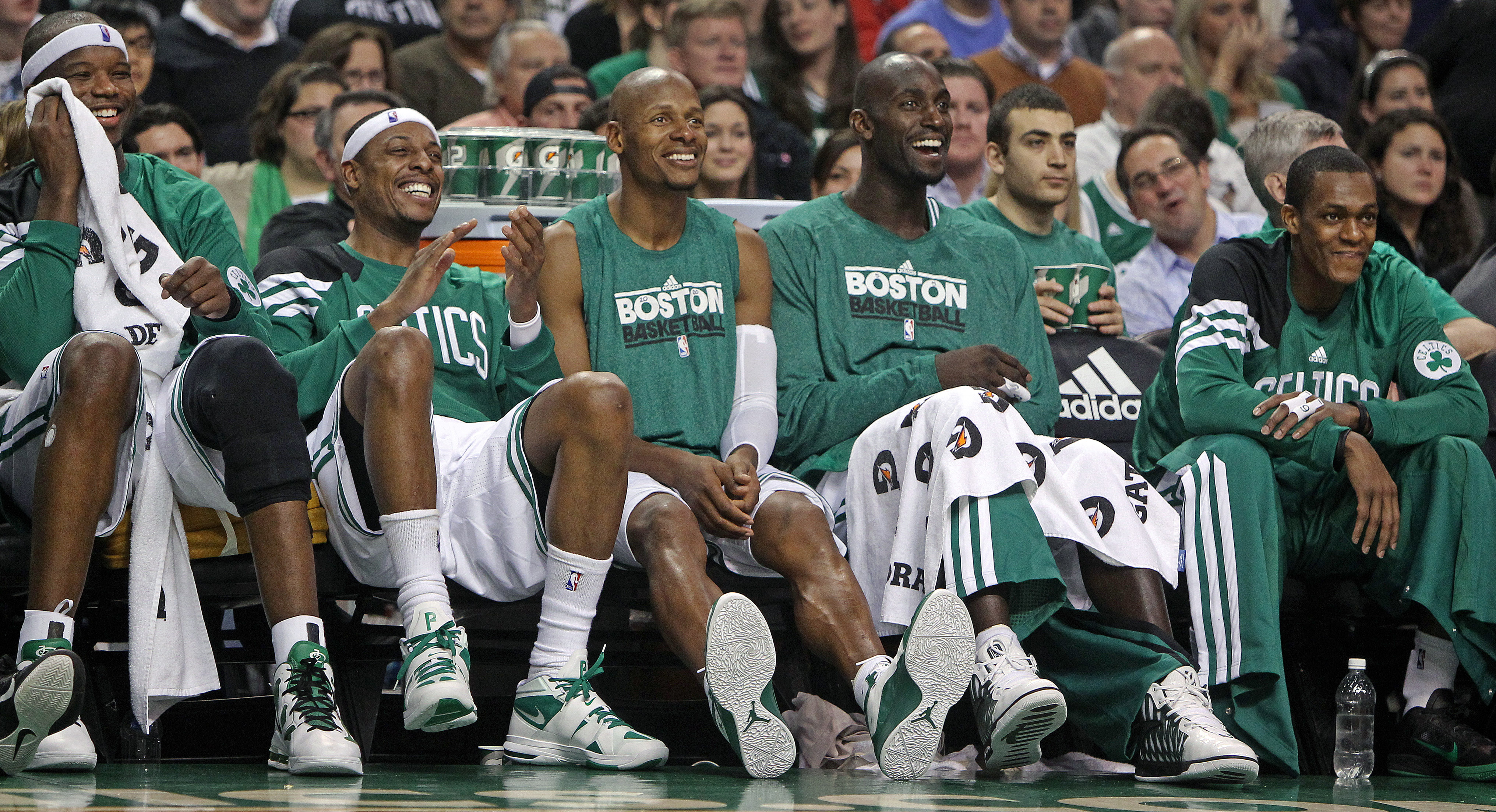 Jermaine O'Neal was a guest on the Ryen Russillo Podcast and discussed his experiences during the college recruiting process.
During the interview, he mentioned how the University of South Carolina wanted Garnett, Allen, and O'Neal to play college basketball for the Gamecocks. With all three prospects playing high school basketball in-state, it seemed to be a reasonably easy pitch to make.
"They had this pitch to create this new Fab Five," O'Neal said. B.J. McKie, who starred at Irmo High School, played for South Carolina from 1995 to 1999. O'Neal referenced another unnamed player the school mentioned in their pitch.
The pitch ultimately did not work. Garnett opted to skip college and go straight to the NBA. He was the No. 5 overall pick in the 1995 NBA Draft. Allen spurned the Gamecocks for the University of Connecticut, where he played for three years.
The Gamecocks had a unique pitch for Jermaine O'Neal
Since Garnett and Allen rejected South Carolina, O'Neal says the school was "all in" on him. Growing up in Columbia, he was very familiar with the University of South Carolina, which he says is 10 minutes from his childhood home. On the podcast, he told a story of an interesting tactic the school used to recruit him.
He took an official visit and attended one of the team's games. According to O'Neal, the athletic program had someone dressed as a scarecrow, similar to character in The Wizard of Oz. "He ran around with a sign saying 'Jermaine, there's no place like home,' and it became a slogan," said O'Neal.
The school later featured the slogan on bumper sticks and billboards to get the big man to choose South Carolina. Maryland and Kentucky also made strong pushes for him.
O'Neal ultimately did not choose South Carolina either, deciding to turn pro as well. The school went all out with its pitch to three in-state high school basketball stars, and it failed. They lost to more prominent college programs and the NBA, if that's any consolation.
Stats courtesy of Basketball Reference
RELATED: How Good Was Jermaine O'Neal During His NBA Career?