Jermaine O'Neal Drops the Truth About Why Larry Bird Dominated Magic Johnson in 1 Key Area
As players, it's remarkable how similar Larry Bird and Magic Johnson are when putting their accolades side-by-side. It's fitting, considering they entered the NBA together after playing in what is still the highest-rated college basketball game in television history. But for all the similarities in their playing resumes, if not their styles, former Indiana Pacers All-Star Jermaine O'Neal said there is one area where one player holds a clear advantage.
O'Neal spent five years with the Indiana Pacers while Bird was the president of basketball operations, so there may be some bias at play. But he also spent 18 years in the NBA and saw a great deal of the good, the bad, and the ugly the league has to offer.
But it's worth exploring just how close the playing records of Bird and Magic are when placed side-by-side.
Larry Bird and Magic Johnson are still inseparable
For as different as they were — Magic Johnson from the urban environment of Lansing, Michigan, and Larry Bird from the farmland setting of French Lick, Indiana — they became linked from the beginning of their playing careers almost to the end.
Bird played for one team, the Boston Celtics, from 1979–92. Johnson was a Laker from 1979–91 and then came back for a cameo in 1996 after four seasons in an HIV-imposed retirement.
They are both Hall of Famers, three-time NBA MVPs, 12-time All-Stars, and 10-time All-NBA selections. Each played 13 NBA seasons. Finally, both played on the legendary Dream Team that competed for the United States at the 1992 Olympic Games in Barcelona.
Bird holds an edge with three All-Defensive nods and the 1979–80 Rookie of the Year. Magic counters with five titles to Bird's three, a 3–2 advantage in Finals MVPs, and a 2–1 lead in All-Star Game MVP awards.
Head-to-head in the NBA Finals, Bird's Celtics won the first battle in 1984, but Magic's Lakers came back with championships in 1985 and 1987.
It's almost spooky how closely aligned their careers are.
O'Neal sees Larry Bird with an explicit edge, but not on the court
Both Larry Bird and Magic Johnson found their way back to the NBA in retirement. That includes time as head coaches and time directing personnel decisions in the front office.
That is where O'Neal believes the two icons separate themselves. During an Aug. 10, 2021, appearance on the Basketball Time Machine podcast, he said Bird differentiated himself as a coach and executive. After his playing days were over, much of Bird's trademark trash-talking was gone. He didn't need to be the star of the show anymore.
"He was more laid back. You know he talked occasionally, but he was a really laid-back, very quiet person. You can tell he's from a small town, so you know he doesn't have that; he's not the Magic type where Magic comes into the room, and everybody knows Magic's there because he's so vocal."

Jermaine O'Neal
Great players don't have a strong history of becoming great coaches or general managers; this is true across most team sports. These were the two areas where Bird had a clear advantage over Johnson.
Magic Johnson was first to the coaching ranks, but Bird upstaged him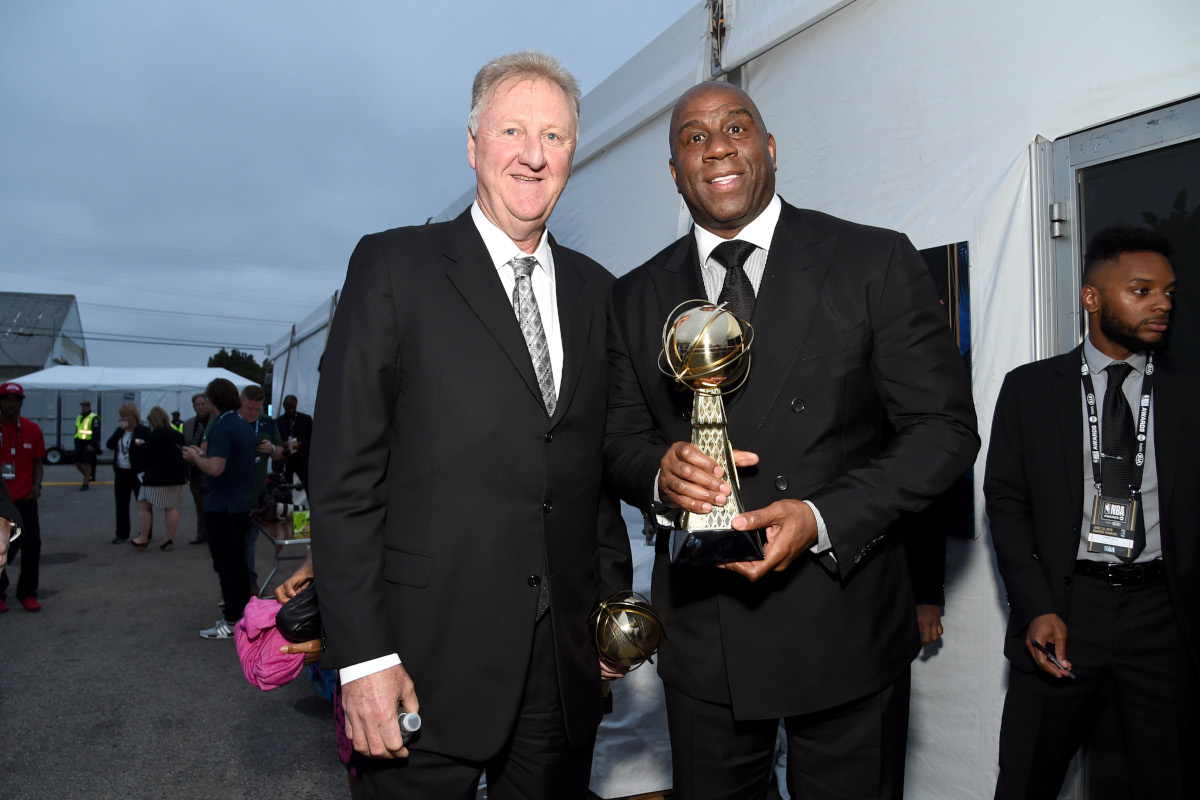 Late in the 1993–94 season, it was becoming clear that the Lakers would miss the playoffs for the first time in 18 years. General manager Jerry West turned to Magic Johnson to take over the 28–38 team.
The team responded with five wins in its first six games under Coach Magic. But it didn't last; LA lost its last 10 games, and Johnson announced he would finish the season before moving on.
Larry Bird broke a vow he made as a player. He signed a three-year contract to lead the Pacers in 1997 and committed to quit after it expired. Indiana won 58 games in Bird's first season. He was Coach of the Year, and they pushed the Jordan dynasty in Chicago seven games in the Eastern Conference Finals.
After an NBA Finals appearance in 2000, Bird announced he was quitting during the series. It was three years, after all. He returned in 2003 as president of basketball operations and in 2012 became the first NBA MVP to also win Coach and Executive of the year honors.
In February 2017, Johnson returned to the Lakers as president of basketball operations. But after arriving with much fanfare, he abruptly resigned in April 2019. He again cited a desire to return to his regular life but later claimed general manager Rob Pelinka betrayed him.
They are two of the greatest the NBA ever saw, but Larry Bird was better able to be behind the scenes. Magic Johnson had trouble avoiding the spotlight, for better or worse.
Statistics courtesy of Basketball Reference.