Jerry Jones' 2021 Cowboys Draft Pick Had to Privately Message an NFL Legend After Making Surprising Comments Fans Took the Wrong Way
Owner Jerry Jones and the Dallas Cowboys are probably hoping they selected some future stars in the 2021 NFL draft. However, one player they selected has already had to do some damage control: former Oregon State defensive back Nahshon Wright.
After landing with the Cowboys, Wright had to privately message NFL legend and current free agent Richard Sherman. He did this so he could clear up some comments he made that fans and others potentially took the wrong way.
Jerry Jones and the Cowboys took Nahshon Wright in the 2021 NFL draft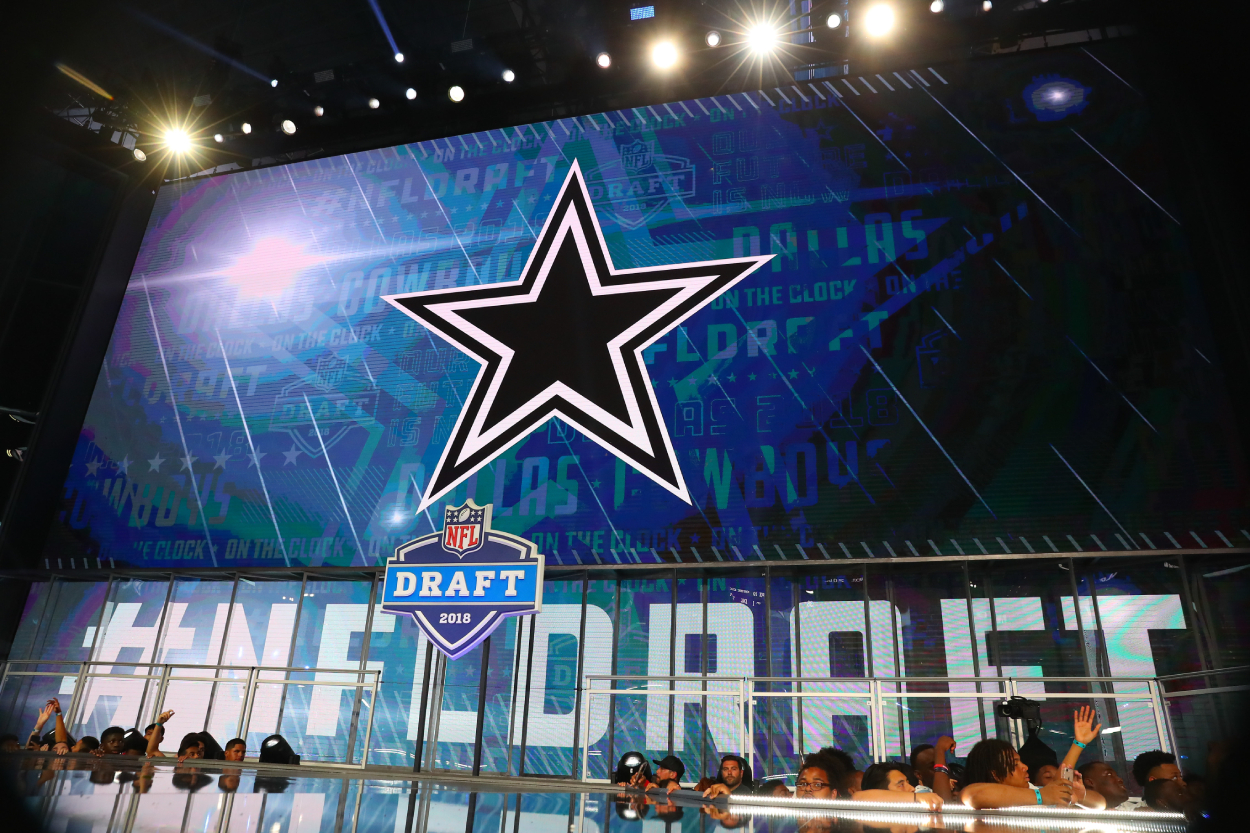 Owner Jerry Jones and the Cowboys were busy during the 2021 NFL draft. After trading the 10th pick to the Philadelphia Eagles, Dallas took former Penn State linebacker Micah Parsons with the 12th overall pick.
The team then took former Kentucky defensive back Kelvin Joseph in the second round before selecting three players in the third round: former UCLA defensive lineman Osa Odighizuwa, former Iowa defensive lineman Chauncey Golston, and Wright.
According to his Oregon State bio, Wright was a junior college star in 2018 and helped lead his school to a state championship. He then played for Oregon State in 2019, where he started in 10 of 12 games and recorded three interceptions.
During the COVID-19-shortened 2020 season with Oregon State, Wright started in six games and recorded 30 total tackles, one sack, and two interceptions, which earned him All-Pac-12 Honorable Mention honors from the coaches. It also led to him going to the Cowboys in the third round of the draft.
Nahshon Wright had to message Richard Sherman privately
After going to Jones and the Cowboys in the draft, Wright said he considered himself to be "a more athletic and agile Richard Sherman," according to ESPN.
Sherman responded with a GIF on Twitter, and Wright then messaged the former All-Pro to explain what he meant.
"I actually reached out to him because after I said it I kind of seen what people perceived it as," Wright said, per ESPN. "I wanted to reach out to him personally and kind of clear it up and just tell him that I actually modeled myself after him, I emulate my game after him."
Wright said that Sherman responded to his message quickly and wasn't offended by his comments.
"We kind of have a mutual respect," Wright said, per ESPN. "For me, I think it was just genuine confidence in myself and looking up to someone like that. He played under [Cowboys defensive coordinator] Dan Quinn. So now I have the opportunity to play under him and hopefully do the same things that Richard Sherman did. So we spoke, and we have a mutual respect. And he told me if I ever needed help I can reach [out] to him."
Wright also added that he tries to "emulate" Sherman's "mental process."
"The way he kind of slows the game down for himself. It's kind of like playing chess," Wright said, per ESPN. "So being able to see the formation, know the call, know what you have and just execute. He has done a great job with that, and hopefully he continues to do that."
If Wright can become anything close to what Sherman has become, Jones and the Cowboys may have gotten the steal of the 2021 NFL draft.
Richard Sherman is an NFL legend
Expecting Wright, a third-round pick, to develop into the next Sherman may seem like a tall task. Sherman, though, became the legend he is after getting drafted in the fifth round of the 2011 NFL draft.
Within two seasons, Sherman became a first-team All-Pro on the Seahawks. He ultimately earned those honors in three consecutive seasons from 2012 through 2014 and earned four straight Pro Bowl selections from 2013 through 2016. Sherman also led the NFL in interceptions with eight in 2013 and helped the Seahawks win the Super Bowl that same season before leading them to the Super Bowl again the following year.
The former Stanford star has since played for the San Francisco 49ers each of the last three seasons. In 2019, he ended up earning his fifth Pro Bowl selection while on the Niners and played in another Super Bowl.
Overall, Sherman has recorded 484 total tackles in his career, has defended 115 passes, and is No. 1 among active players in career interceptions with 36.
Jones and the Cowboys have landed some draft steals in the past, as Dak Prescott was a fourth-round pick. Wright, on the other hand, may never become the next Sherman for Jones and Dallas, but if he can just accomplish some of what Sherman has, he has a chance to become an NFL star.
Stats courtesy of Pro Football Reference