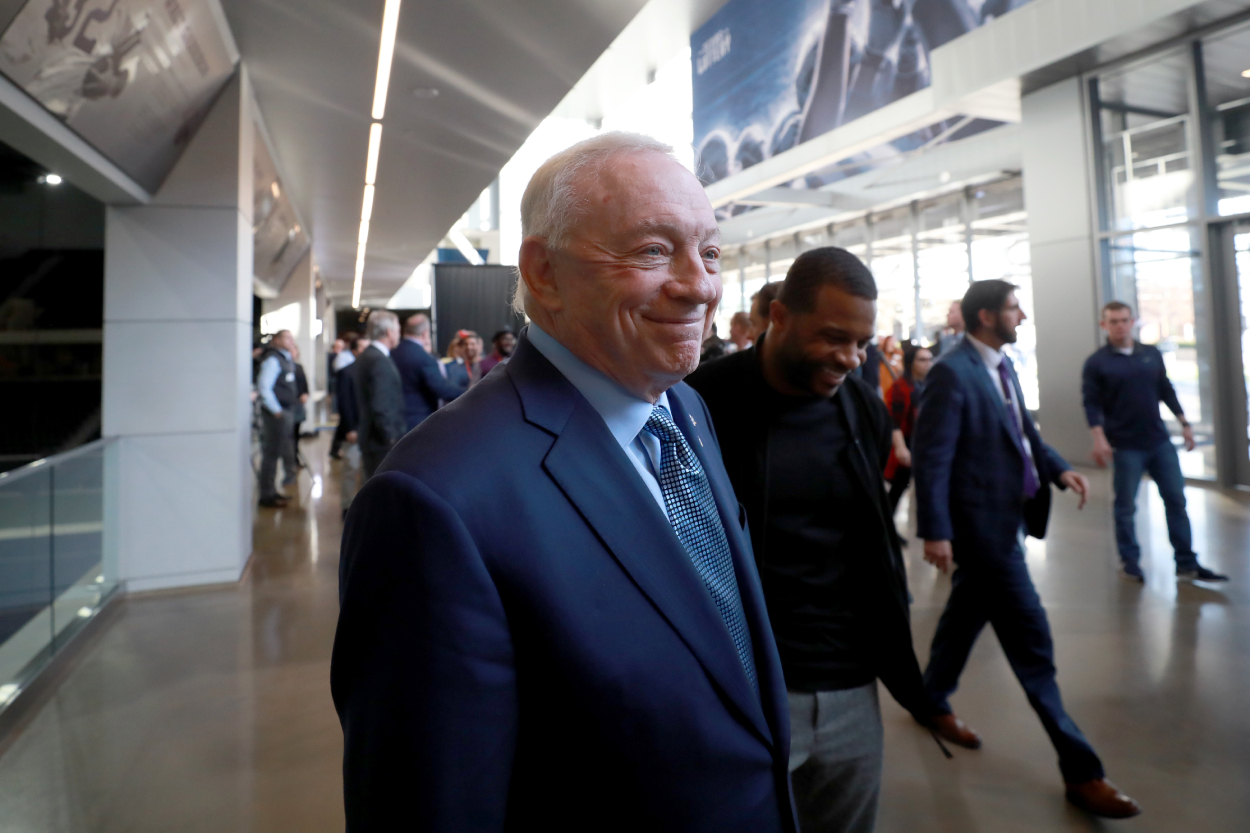 Jerry Jones and the Cowboys May Soon Add a Former Top NFL Draft Pick to Help the Team's Lackluster Defense
Owner Jerry Jones saw his Dallas Cowboys' defense struggle significantly during the 2020 NFL season. However, they may soon add a former top NFL draft pick to help on that side of the ball. That former top pick is safety Malik Hooker.
Jerry Jones saw his Dallas Cowboys team have a disappointing season in 2020. Sure, it had a lot to do with Dak Prescott going down with injury, but the team's defense was also atrocious, as the Cowboys allowed 29.6 points per game. So, it would make a lot of sense for Dallas to go after some top free agents who play on that side of the ball this offseason. Well, according to a report, they appear to be interested in a former first-round draft pick. That former pick is safety Malik Hooker.
Malik Hooker had a disappointing start to his career with the Colts
Prior to entering the NFL, safety Malik Hooker was a star for the Ohio State Buckeyes. In 2016, the only year he started at Ohio State, Hooker had 74 total tackles and seven interceptions, three of which he returned for touchdowns. Hooker ultimately earned Consensus All-American honors that year and later went to the Indianapolis Colts with the No. 15 overall pick in the 2017 NFL draft.
Since getting drafted, Malik Hooker has played well at times but has struggled to stay on the field. He recorded 22 total tackles and three interceptions in seven games in his rookie season before recording 44 total tackles and two interceptions in 14 games in 2018. During the 2019 season, Hooker then had 51 total tackles and two interceptions in 13 games before only appearing in two games in 2020 and recording seven total tackles.
So, what has led to all this missed time? According to the IndyStar, Hooker tore his ACL and MCL in his rookie season before dealing with hip and foot injuries in 2018 and then suffering a torn meniscus in 2019. Then, in 2020, in what looks like his final season with the Colts, Hooker suffered a torn Achilles, per ESPN.
This injury history has led to Hooker becoming a free agent this offseason, and it now appears that the Cowboys are interested.
Jerry Jones' Cowboys are reportedly interested in the former Buckeye
According to CBS Sports' Patrik Walker, the Cowboys reportedly plan to host Malik Hooker. This is in addition to them also reportedly having an interest in Keanu Neal and Damontae Kazee.
"The goal is to sign at least two of the three, contingent upon what happens with incumbent free safety Xavier Woods," Walker wrote. "… They're hoping [Kazee] doesn't leave the building without a deal next week, but their insurance against losing out on him and/or Neal is Hooker. … Hooker is the same age as Kazee and with a similarly high upside, but the Cowboys want to dig a little deeper into the medical situation on Hooker. That's understandable, of course, but if he gets the green light medically and is healthy in 2021, he could be a Day One impact player in Dallas."
Well, that's interesting, especially since Hooker, clearly, has a ton of upside. So, if Jerry Jones and the Cowboys do, in fact, add Malik Hooker, would he make a difference?
A healthy Malik Hooker can significantly help the Cowboys' defense
An area where the Cowboys' defense struggled in 2020 was forcing interceptions. They tied with five other teams for 23rd in the NFL with 10 total interceptions.
Donovan Wilson played well at one of the Cowboys' safety positions last season, as he had 71 total tackles, 3.5 sacks, and two interceptions, but they need someone to play beside him. Hooker can certainly force the turnovers that the Cowboys failed to force in 2020. Again, he recorded seven picks and three pick-sixes in his one season as a starter in college. For the Colts, he had seven interceptions in 36 games. If Hooker can stay healthy, he can help the Cowboys in an area where they significantly struggled.
However, his health is, in fact, the big question mark. The Cowboys don't want to invest in Hooker and then see him get hurt during the season. That's not a situation any team wants to be in, especially with the smaller salary cap in 2021 due to COVID-19.
A healthy Malik Hooker, though, can help the Cowboys' defense in a big way. We'll see what Jerry Jones' team decides to do about the former Ohio State star.
Stats courtesy of Sports Reference and Pro Football Reference