Jerry Jones and the Dallas Cowboys Need to Make a Trade for Nick Foles Before Another Team Does
The Dallas Cowboys received a scare during a late July practice when quarterback Dak Prescott hurt his shoulder.
The injury was not serious, but it had to concern Cowboys owner Jerry Jones, who has seen his team go in the tank over the years when one of his quarterbacks was hurt.
Jones's solution could be simple: trade for Chicago Bears backup quarterback Nick Foles.
Why Jones should trade for Foles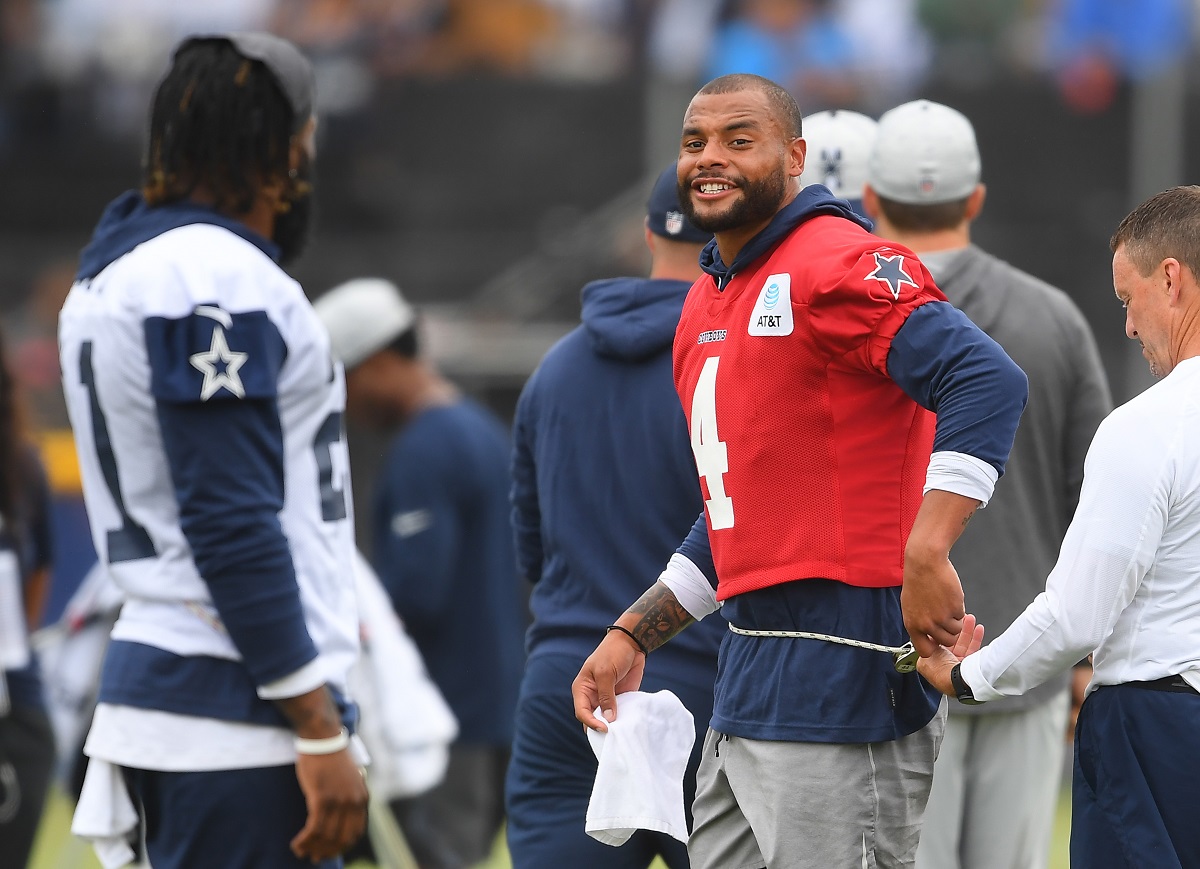 Jerry Jones is all too familiar with losing his starting quarterback to injury. It happened last year when Prescott broke his ankle in a game against the New York Giants, ending his season — and basically the Cowboys', as well.
The team was devastated by the loss and couldn't recover from it. Despite all of that, however, the Cowboys were one victory away from winning the NFC East and making it to the playoffs under former Cincinnati Bengals starter Andy Dalton.
Dalton is now in Chicago, and Jones needs an experienced starter in case Prescott goes down again. His solution is also in Chicago: Nick Foles.
Foles is projected to be the third-string quarterback in Chicago behind Dalton and rookie quarterback Justin Fields.
Jones may be willing to trade away a few late-round 2022 draft picks and a couple of veteran players for Foles, who could immediately make a huge impact on Dallas' backup quarterback situation. The package may depend on Chicago's needs at certain positions.
Why Nick Foles is the perfect backup quarterback
As some may recall, Foles was the starting quarterback with the Philadelphia Eagles when they won the Super Bowl in 2018. He was also the Super Bowl MVP.
He came in for then-starter Carson Wentz, who went down with a stress fracture in his back. Foles was brilliant in the playoffs and looked so good that many people, including Hall of Fame quarterback Brett Favre, though that he should take Wentz's spot as starter.
"I actually thought that they should have kept Nick Foles rather than Carson Wentz just based off of production and where they got to," Favre said. "They won a Super Bowl with Foles. And that was a little bit surprising."
But when push came to shove, Eagles management stayed with Wentz, and Foles ended up with the Jacksonville Jaguars in 2019. In 2020, Foles signed with the Bears. Unfortunately, he only played four games because of a hip injury, which may explain why Dalton was brought into training camp.
Foles' recent injury history may give Jones a reason to pause, but Bears head coach Matt Nagy knows teams are looking at his backup quarterback on the trade market: "You're talking about a Super Bowl MVP and a guy that's started a lot of games. He's had a really interesting career in so many ways that I just think that he deserves that. I mean, anybody that's had the career he has is somebody that's always going to be — for all teams, as a third-string guy — teams are going to look at guys like him."
Foles would be ideal for the Cowboys because of his experience and familiarity with the division. He knows how to beat most of these teams already, so his transition wouldn't be that hard.
Jones is familiar with quarterback injuries
Jerry Jones went through the injury bug several times with former Cowboys quarterback Tony Romo.
Romo, who is now with CBS Sports, was injured in training camp back in 2016, and then backup quarterback Dak Prescott, a rookie out of Mississippi State, took his place and led the Cowboys to the playoffs. He also won NFL Rookie of the Year.
Although Romo recovered from his back injury, it was too late. Prescott became the Cowboys starter permanently.
Just like last year when Prescott was hurt, when Romo was out for the season in 2015, the team fell apart. That was a team that many NFL experts thought was built for a Super Bowl run, but Romo's injury derailed those dreams.
If this team has any hopes of making it to the Super Bowl, it needs Prescot to stay healthy. But just in case he does injure himself again, the Cowboys need an insurance policy, and Nick Foles could be just what they need to save their season.
RELATED: Michael Irvin Says He Wasn't Getting Political When He Discussed the COVID-19 Vaccine: 'I Only Care About a Ring'