Jerry Jones Delivered an Excuse-Filled Message to Explain the Cowboys' Embarrassing Thanksgiving Day Loss
Despite all the hype surrounding the Dallas Cowboys heading into this year's Thanksgiving Day special, they were again unable to get the job done, extending their turkey day losing streak to three. The high number of penalty flags thrown were a central talking point after the game. However, Cowboys owner Jerry Jones went one step further with his excuse-making.
The controversial owner blamed the Cowboys' injuries for causing the loss.
Jerry Jones double-downs on his excuse-making, blames injuries for the Cowboys' loss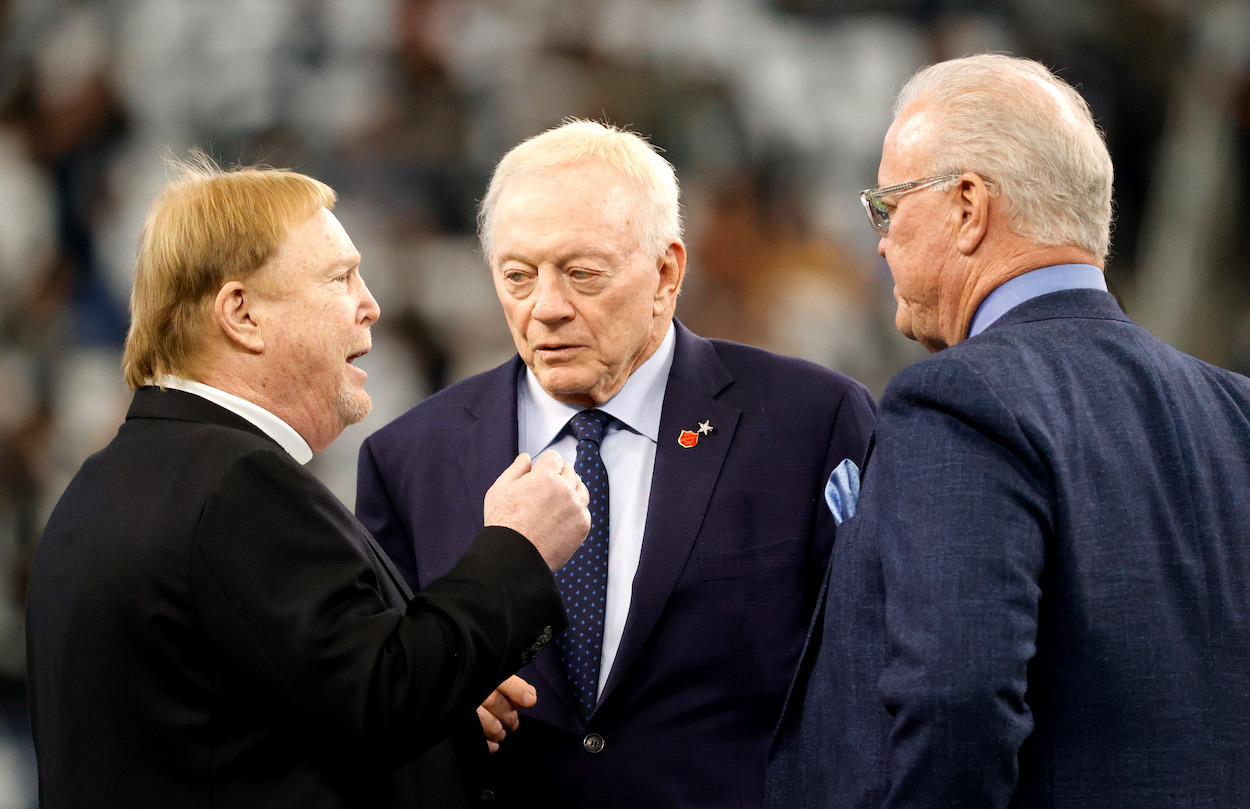 Heading into the Week 12 matchup, the Cowboys were undoubtedly operating short-handed, primarily on the offensive side of the ball. Wide receivers Amari Cooper and CeeDee Lamb were both ruled out while running back Ezekiel Elliott was attempting to play through an injury.
This lack of elite targets didn't seem to affect quarterback Dak Prescott all that greatly. He still finished the game with an impressive 375 passing yards and two touchdowns. However, the receivers at the end of his passes were made up of new faces. Noah Brown and Cedrick Wilson, for example, combined for 13 catches and 157 receiving yards. That's not an outcome many Cowboys fans were expecting heading into the afternoon.
With all that said, despite Prescott's ability to make things work with his backup pass-catchers, Jerry Jones didn't pass up the opportunity to add an excuse to his long list of previously made excuses. After bashing the officiating, Jones took the time to highlight his team's missing WRs.
"You have to look forward. Yesterday is as dead as Napoleon. It's gone," Jones said. "And so we have to look at how to improve. The sky is not falling. When you look at the six games ahead that we have, the cavalry is coming. We've gotta take a deep breath and remember that this time of year is where you're dealing with attrition. You're normally dealing with a depleted situation in your personnel. Here we come with fresh legs."
Jerry Jones needs to stop making excuses
Jones always has something to say after every Cowboys game, win or lose. However, this was a time where he needed to find a way to keep his mouth shut.
The Cowboys just lost a home game, on national television, on Thanksgiving. No one wants to hear about the poor Cowboys and all their injuries. Every team deals with injuries. The good teams find a way to overcome them.
The Raiders, for example, were dealing with their own injury issues during the game. Tight end Darren Waller had to leave early with a knee injury. It's currently unknown how severe the injury is for Waller.
The Cowboys need to get their momentum back
The Cowboys have lost three of their last four games and are quietly opening the door for someone to knock them off their NFC East pedestal. The Philadelphia Eagles and Washington Football Team are on two-game winning streaks and only a few games behind Dallas.
If the Cowboys are serious about winning the NFC East and getting back into the postseason, they need to bunker down and focus more on winning and less on excuse-making. That starts at the top with Jerry Jones.
All stats courtesy of Pro Football Reference.