Jerry Jones Didn't Notice the 49ers Fans in Dallas? Really?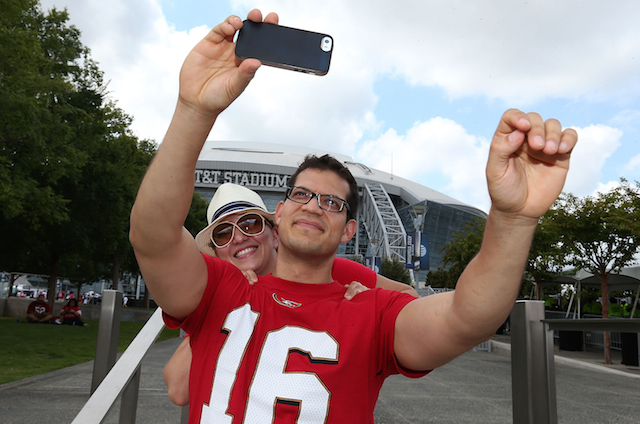 The Dallas Cowboys' season opener did not go according to plan for the home team. Not only did the Cowboys fall behind the San Francisco 49ers 28-3 in the first half en route to a 28-17 loss, but AT&T Stadium was shockingly, unbelievably, and even embarrassingly filled with fans cheering against 'America's Team.'
The crowd was announced at 91,174, and various estimates put the number of 49ers fans at anywhere from 30 percent to even 50 percent of the attendance. In other words, while we knew the 49ers had planned to move to a new stadium for the 2014 season, we were unaware that it would be located in Arlington, Texas.
Despite the chants of 'Let's go Niners' ringing through the stadium, to say nothing of fans yelling 'DE-FENSE' when interception-prone Tony Romo's offense had the ball, Cowboys owner Jerry Jones claimed not to notice.
When Jones was asked about the 49ers fans making up approximately half of the crowd, he professed ignorance. "Well, I don't remember there being half of them. Did you count?" said Jones. "Listen, I'm interested in football and what went on with the game … I'm not even sure I know what you are talking about, to tell you the truth." Really, Jerry? Really?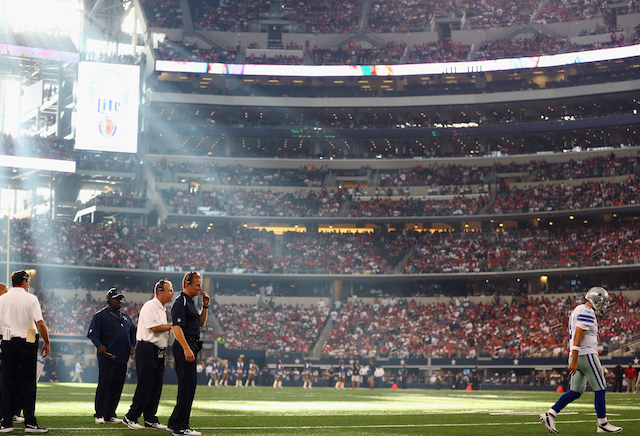 Even a color blind person could have noticed the 49ers fans' invasion of North Texas thanks to the sound. Even a deaf person would have had no trouble recognizing the Cowboys' home field disadvantage because of the red jerseys and t-shirts all over Jerry World. At one point, I was tempted to check the color balance on my television because there was so much red tint in the crowd.
"Nothing went through my mind," the Dallas owner told reporters. "I was looking at the game."
To 'look at the game,' don't you have to see the backdrop of thousands of people on the other side of the field? If you're brilliant enough to be an NFL general manager (okay, well, that's probably a whole different article, but let's pretend) –  shouldn't you be observant enough to take in the fact that there are a whole lot less iconic star logos on the shirts looking back at you than usual?
So, no, a reporter doesn't have to count every Kaepernick jersey or 49ers hat in the stadium to know that the opposing fans were a formidable and overwhelming presence. It's impossible to believe that Jones simply never took notice of 20,000, 30,000, or 40,000 people rooting against his ball club in his own building … which begs the question: why not be honest about it?
When the elephant in the room — after your team plays what's for all intents and purposes a 'road game' in the friendly confines of home — is obvious to every person except you, something's wrong. So take it like a man, be honest, and admit that your team has more problems than just turnovers.
"Well, I don't remember there being half of them." Maybe you're right, Jerry. Maybe there were more than half. But don't pretend you didn't even see them, because we're not buying it.