Jerry Jones Potentially Revealed His 'Dream' for the Cowboys' 2021 NFL Draft…to a Prospect Not Even on His Team Yet
The Dallas Cowboys have several needs to address in the 2021 NFL draft if they hope to improve from last season's 6-10 record. However, Dallas Cowboys owner Jerry Jones potentially has a dream outcome for his team heading into the annual event, and he may have just let a big-time prospect know all about it. That prospect is former Florida Gators tight end, Kyle Pitts.
Kyle Pitts had a great career with the Florida Gators
RELATED: Former Dallas Cowboys Coach Jimmy Johnson Credits a TV Show For Saving His Life
The Washington Post called him "the best tight end to enter the NFL in years." Kyle Pitts proved on the Florida Gators that he has the potential to become a star.
After catching just three passes in 2018, Pitts had an outstanding year with Florida in 2019. He caught 54 passes for 649 yards and five touchdowns.
During the 2020 season, though, he took his game to another level. Pitts ultimately caught 43 passes in a COVID-19 shortened season. This went along with 770 receiving yards and 12 touchdown catches. His yards-per-catch average also sky-rocketed from 12 yards per catch in 2019 to 17.9 in 2020.
This not only led to Pitts becoming a Consensus First-Team All-American, but he also won the John Mackey Award — which goes to the country's best tight end — and has become a top NFL draft prospect.
Oh, and Jerry Jones' dream selection.
Dallas Cowboys owner Jerry Jones made his interest in Pitts clear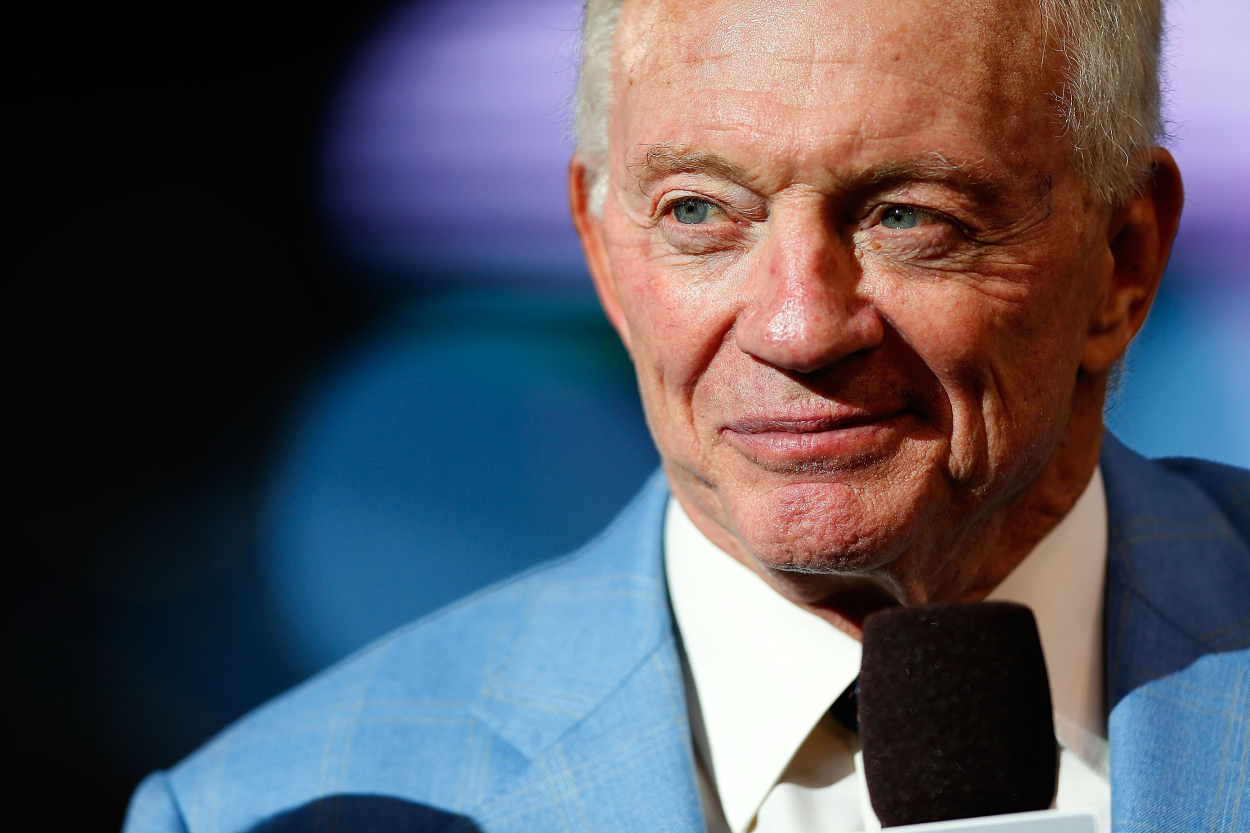 RELATED: Trevor Lawrence Just Went Online to Clear up His Recent Comments, Claims People Have Been 'Misreading' Them
With the 2021 NFL draft just right around the corner, teams have been frequently meeting with prospects in recent days.
In fact, the Dallas Cowboys tweeted a video of their virtual meeting with Pitts, and owner Jerry Jones made his intentions clear.
"I'm excited to have you come into this league, and man, what a pair up we could do with ole Dak Prescott and some of those guys that we've got out there of options to get you the ball. So, we can dream of visions of sugar plums around here," Jones said.
OK, so it seems Jones likes Pitts a lot. However, if the Dallas Cowboys owner wants to turn his "dream" into a reality, he may have to give up some assets to get him.
Jerry Jones would probably have to trade up for Kyle Pitts
RELATED: Tom Brady's Potential Patriots Replacement Has Already Been Texting Josh McDaniels — and It's Not Cam Newton
The Dallas Cowboys have the 10th overall pick in the 2021 NFL draft, and it's hard to imagine Pitts falling that far. Multiple mock drafts have him going anywhere from fourth to sixth.
However, even before the tweeted video of the virtual meeting, Jones' love for the former Florida Gator was already clear.
"We're hearing this thing about Jerry Jones, the owner of the Cowboys and the GM, being infatuated with Kyle Pitts," ESPN's Chris Mortensen reported earlier this month, per an April 8 Sportscasting article. "So I figure he's gonna have to trade up to get Kyle Pitts. I think he'll offer Emmitt Smith and Larry Allen, maybe throw in Michael Irvin. He doesn't need Tony Romo but he has Dak Prescott, he spent $40 million a year on Dak Prescott so why not go get Kyle Pitts, or if he actually falls to 10 you couldn't rule him out."
So, does this mean there's a chance Jones likes Pitts enough to potentially trade a couple of picks for him? It's starting to look that way.
If there is one thing we know for sure, though, it's that an offense with Dak Prescott, Ezekiel Elliott, Amari Cooper, Michael Gallup, CeeDee Lamb, and Kyle Pitts could potentially be a defense's worst nightmare.
It'll be interesting to see if Jones goes for the big move to secure his potential "dream" NFL draft prospect.
Stats courtesy of Sports Reference