Jerry Jones Reportedly Has an Elite QB Not Named Dak Prescott Interested in Coming to the Cowboys
Another offseason, another year with uncertainty surrounding quarterback Dak Prescott's future with the Dallas Cowboys. Prescott is technically not under contract with the Cowboys for the 2021 season, but many people expect Dallas to either place the franchise tag on him this offseason or actually sign him to a long-term deal. However, does Cowboys owner Jerry Jones actually have another quarterback interested in coming to Dallas? One report suggests just that, as Seahawks quarterback Russell Wilson, who has recently been involved in trade rumors, reportedly has an interest in Dallas.
Dak Prescott's future with the Cowboys is uncertain
RELATED: Are Cowboys Stars Ezekiel Elliott and Dak Prescott Friends off the Field?
Dak Prescott has proven to be worth much more than the fourth-round pick that the Cowboys used to select him in 2016. After winning the AP Offensive Rookie of the Year award, earning Pro Bowl honors, and leading the Cowboys to a playoff berth in 2016, Prescott then earned another Pro Bowl selection and led the Cowboys to the playoffs again in 2018.
However, while the Cowboys only went 8-8 in 2019, Prescott became one of the best QBs in the league that year. He threw for 4,902 yards, 30 touchdowns, and 11 interceptions. Then, in 2020, he was on pace to have a record-breaking season. Prescott threw for for 1,856 yards, nine touchdowns, and four interceptions in four games and part of another, but he ultimately suffered a season-ending injury in Week 5.
Still, despite not playing for most of the 2020 season, Prescott has proven to be a great quarterback. He deserves his money, too, and after receiving the franchise tag in 2020, it appears that he would like a long-term deal. In fact, Ian Rapoport and Tom Pelissero of NFL.com reported that, according to sources, the Cowboys "will make a push to sign their quarterback to a long-term contract prior to the March 9 deadline for applying the franchise tag."
If they don't reach a deal, though, Dallas is reportedly expected to place the franchise tag on Prescott for a second season.
However, while Dak Prescott is certainly a great QB, there's another quarterback that's even better than him who reportedly has an interest in playing for the Cowboys.
Russell Wilson appears to be unhappy with the Seahawks
RELATED: Why Jerry Jones Needs to Ditch Dak Prescott and Bring Russell Wilson to the Dallas Cowboys
Russell Wilson is a seven-time Pro Bowl selection and has led the Seahawks to two Super Bowl appearances. This includes the 2013 season when they won it all. He has also led the Seahawks to the playoffs in every season he has been in the league but one and is coming off a campaign where he threw for a career-high 40 touchdown passes.
However, he appears to be unhappy. Rumors have been swirling about teams reportedly contacting the Seahawks to see if they are willing to trade Russell Wilson. He also said this when asked about the Seahawks potentially receiving those calls.
"I definitely believe they've gotten calls, for sure," Wilson said on the Dan Patrick Show on Feb. 9, according to NBC Sports. "I think anytime you're a player that tries to produce every week and has done it consistently, I think people are going to call for sure. I think it's part of the process."
Patrick then asked him if he is available.
"I'm not sure if I'm available or not. That's a Seahawks question," Wilson said, per NBC Sports.
Wilson's biggest grievance with the Seahawks appears to be with the play along the offensive line. He also noted to Patrick that he would like to be more involved in personnel decisions.
So, could the Seahawks actually trade Russell Wilson?
Russell Wilson reportedly has an interest in Jerry Jones' Dallas Cowboys squad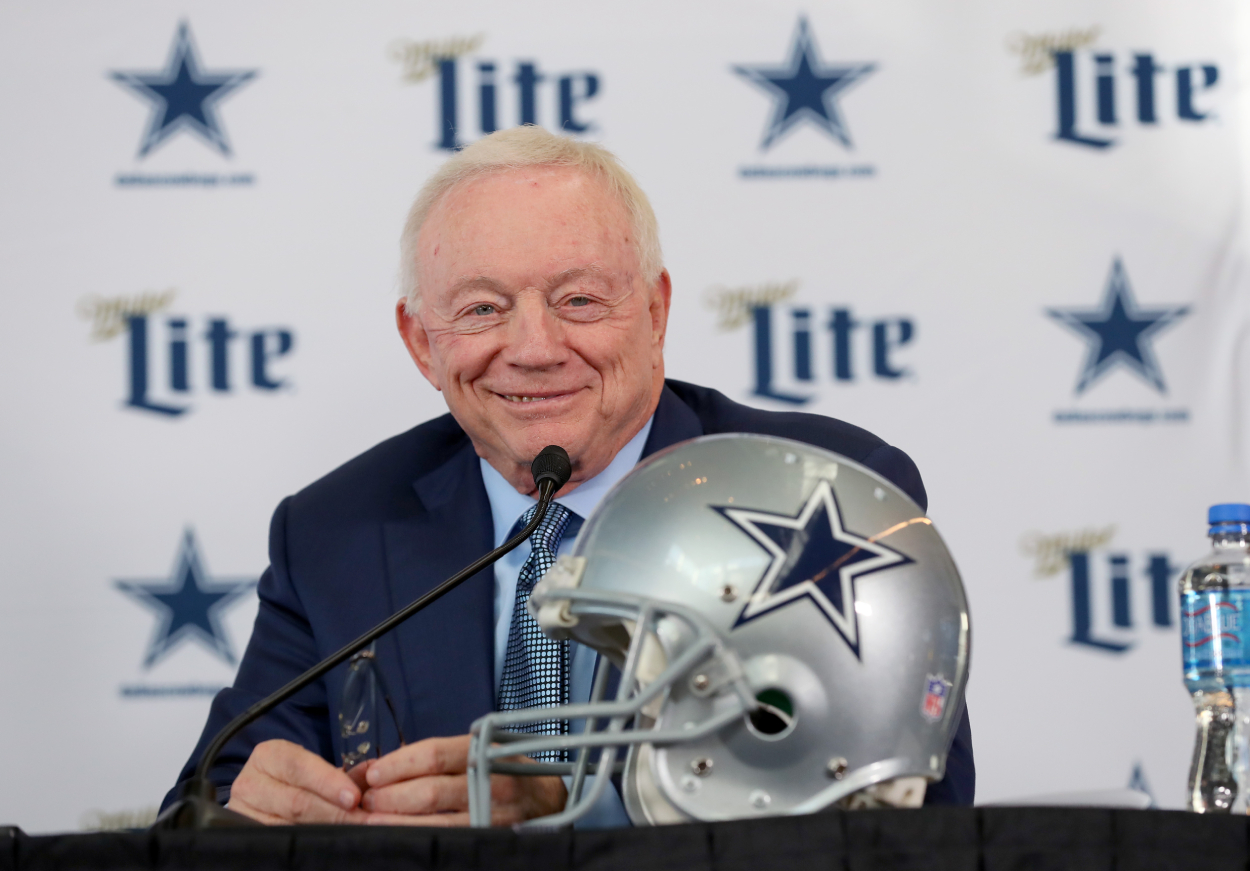 RELATED: Cowboys Owner Jerry Jones Is Still Married to His College Sweetheart
Dan Patrick recently reported that the Seahawks aren't too happy about their QB voicing his frustrations to the media, per Sports Illustrated. They still aren't expected to trade Russell Wilson, though, but if they do, could it be to Jerry Jones' Dallas Cowboys team?
"Throughout this period of time where I've been aware that things aren't 100% great for Wilson and the Seahawks, the one team that keeps coming up when I've tried to gather information about where he could go or where he'd like to go, the Cowboys are the one team that's been mentioned more than any other," ProFootballTalk's Mike Florio said during a Feb. 12 appearance on 105.3 The Fan, per Sports Illustrated.
He also said, "I suspect that Russell has an eye on Dallas."
Let's be honest, many people expect the Cowboys to bring Dak Prescott back for 2021. The Seahawks also aren't expected to trade Russell Wilson. These reports are still interesting, though. A potential Prescott-Wilson swap would change the entire landscape of the NFL.
Whether this happens or not, this will be an interesting offseason for Jerry Jones and the Cowboys, and the rest of the NFL in general. Get your popcorn ready.
Stats courtesy of Pro Football Reference