Jerry Jones Gets Mocked by Pat McAfee for His Handling of the Dak Prescott Situation
The Dallas Cowboys have had an awful season so far. Jerry Jones has seen his team fall to a lousy 2-7 on the year, as their star quarterback, Dak Prescott, has been out with a season-ending injury that he suffered in Week 5. However, with the Dallas Cowboys having that horrible record, many have questioned whether they would select a quarterback with a top pick in the 2021 NFL draft, based on the fact that they are in the running for one of those top picks. Jones has since said that Prescott is their quarterback, but his comments have led to a stern message sent out by Pat McAfee.
The Dallas Cowboys have failed to lock up Dak Prescott to a long-term deal
RELATED: Cowboys Owner Jerry Jones Is Still Married to His College Sweetheart
Since going to the Cowboys in the fourth round of the 2016 NFL draft, Prescott has proven to be one of the best young quarterbacks in the NFL.
During the 2016 season, he earned the AP Offensive Rookie of the Year award as he led the Cowboys to the playoffs with a 13-3 record. He had 3,667 yards, 23 touchdowns, and four interceptions that year, too. Prescott then continued to prove how talented he is before ultimately having an incredible season in 2019. Prescott threw for 4,902 yards, 30 touchdowns, and 11 interceptions that season.
However, the Cowboys failed to lock him up to a long-term extension. They instead placed the franchise tag on him for the 2020 season, as he is earning $31.4 million this year, per Spotrac. Prescott then got off to a great start in 2020, as he was leading the NFL in passing yards with 1,856 yards through four games and in part of another. He also had nine touchdown passes and four interceptions.
Prescott went down with a season-ending injury in Week 5, though. This has led to the Cowboys ultimately falling to 2-7, as they are now in the running for a top draft pick.
So, with there being some stellar QBs in the 2021 draft class like Trevor Lawrence and Justin Fields, could the Cowboys part ways with Prescott and draft a young guy?
Jerry Jones said that Dak Prescott is their quarterback
RELATED: The Dallas Cowboys Are Potentially Adding a Former All-Pro To Their Roster
Many people view Trevor Lawrence and Justin Fields as franchise, once-in-a-lifetime type quarterbacks. So, if the Cowboys have a chance, why wouldn't they want to take one of those guys? However, Jones shot down that idea when recently asked about it.
"Don't get me wrong, if we earn it, I'll take it," Jones said when discussing a high draft pick on 105.3 The Fan, according to Sporting News. "You ask me if it's crazy (to take a quarterback) and I'm answering you, yes. We're playing games here, guys. It's not the thing to be talking about at all. You know, Dak is our quarterback."
So, does this mean that the Cowboys will finally lock up Prescott with a long-term deal?
Pat McAfee mocks Jerry Jones after his recent comments about Prescott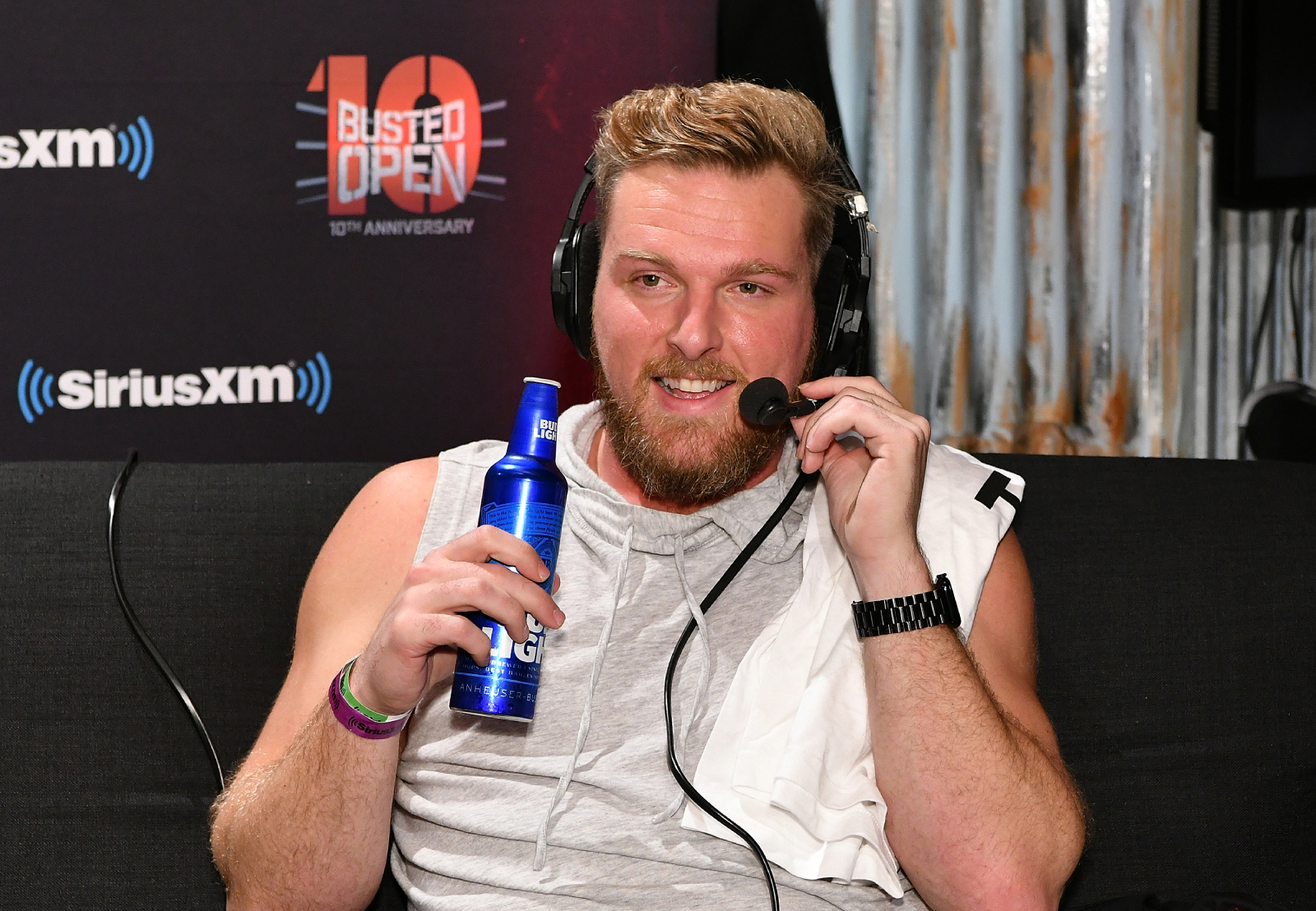 RELATED: Dak Prescott Once Crushed the Hopes of Jerry Jones' Former Team
After Jones' recent comments, former NFL punter Pat McAfee weighed in on the topic.
"It is interesting to hear Jerry go, 'Dak is our quarterback,' because Jerry said that last year, Jerry said that I think the year before, 'Dak is our quarterback. Dak is our quarterback. I just want to win games. Dak is our quarterback.' And no long-term deal was ever signed," McAfee said on the Nov. 11 episode of The Pat McAfee Show. "Dak is making a lot of money (because of the franchise tag), but that long-term wealth hasn't been figured out between Jerry and Dak."
McAfee continued: "Jerry comes out and says, 'Dak's our quarterback for the future,' that means he's going to have to pay him. With the salary cap going down, how the f*** is he going to pay Dak while paying everybody else? … What's the future of the Dallas Cowboys? It has Dak Prescott in it, we just learned, but everything else around it, how will they be able to figure it out? Nobody knows. Which is awesome that the nationally televised game every single weekend that involves the Dallas Cowboys will continue to be a reality show for years to come."
It's clear that McAfee disagrees with how Jones and the Cowboys have handled the Prescott situation, and who really does agree with the way that they have handled it?
The Cowboys have two options this offseason: pay Dak Prescott or start the rebuild with another young QB. We'll see what they end up choosing.
Stats courtesy of Pro Football Reference