Jerry Jones Got Brutally Honest About Dak Prescott's Intense and Reckless Play Style: 'I Worry About It'
The Dallas Cowboys are coming off a spectacular bounce-back win in Week 10. After embarrassingly losing to the Denver Broncos the week prior, Dak Prescott and the Cowboys steamrolled to a commanding 43-3 victory over the Atlanta Falcons. While owner Jerry Jones was presumably thrilled to see his team rebound in such a promising way, that didn't stop him from criticizing his franchise quarterback just a tad.
Prescott played a lights-out game against Atlanta, firmly cementing his name back in the MVP conversation (+750 odds to win it, per Odds Shark). However, Jerry Jones was less-than-thrilled seeing his star player act recklessly during the game's closing moments.
Jerry Jones is worried about Dak Prescott's reckless play
The Cowboys were up 36-3 during the closing seconds of the third quarter when Prescott took it upon himself to score another touchdown. The star quarterback rolled to his left on fourth-and-2, picked up the first down, and then lowered his shoulder into a Falcons defender at the goal line.
Prescott forced his way into the endzone, extending the Cowboys' lead by another six points. However, it wasn't without significant risk. After the game, owner Jerry Jones didn't mince words. Plays like that worry him.
"I worry about it," Jones said Tuesday on 105.3 The Fan. "We got to realize that at the end of the year, what this is about is being standing. Warren Buffett one time said the hardest thing about accumulating wealth is to be there to spend it."
Prescott has dealt with several injuries dating back to last season. He missed most of 2020 with a broken ankle, part of training camp with shoulder soreness, and a start against the Minnesota Vikings here in 2021 with a calf injury. Jones expressing frustration in Prescott's desire to operate recklessly still is understandable.
Stephen Jones, Cowboys' Executive Vice President, went a step further and told Prescott not to make a play like that again.
"Let's don't do that," Stephen Jones said. "But certainly, I mean, that's Dak. At the end of the day, we have to protect Dak from Dak, but he's the ultimate competitor."
Jerry Jones' concern is justified
Jones paid Prescott $160 million this past offseason. The Cowboys' entire organization is married to Prescott. Without him, their offense and subsequent Super Bowl chances would completely crumble.
Therefore, it makes sense that Jones is feeling a little shaky at the idea of his franchise quarterback welcoming contact with opposing defenders during random blowout wins. The risk to reward ratio is too extreme in a case like that.
With that said, as Stephen Jones highlights, Prescott's intense competitiveness and desire to lead by example is what makes him so unique. It's about finding the balance between letting Prescott be Prescott, and keeping him standing.
Dak Prescott and the Cowboys can take advantage of a weak NFC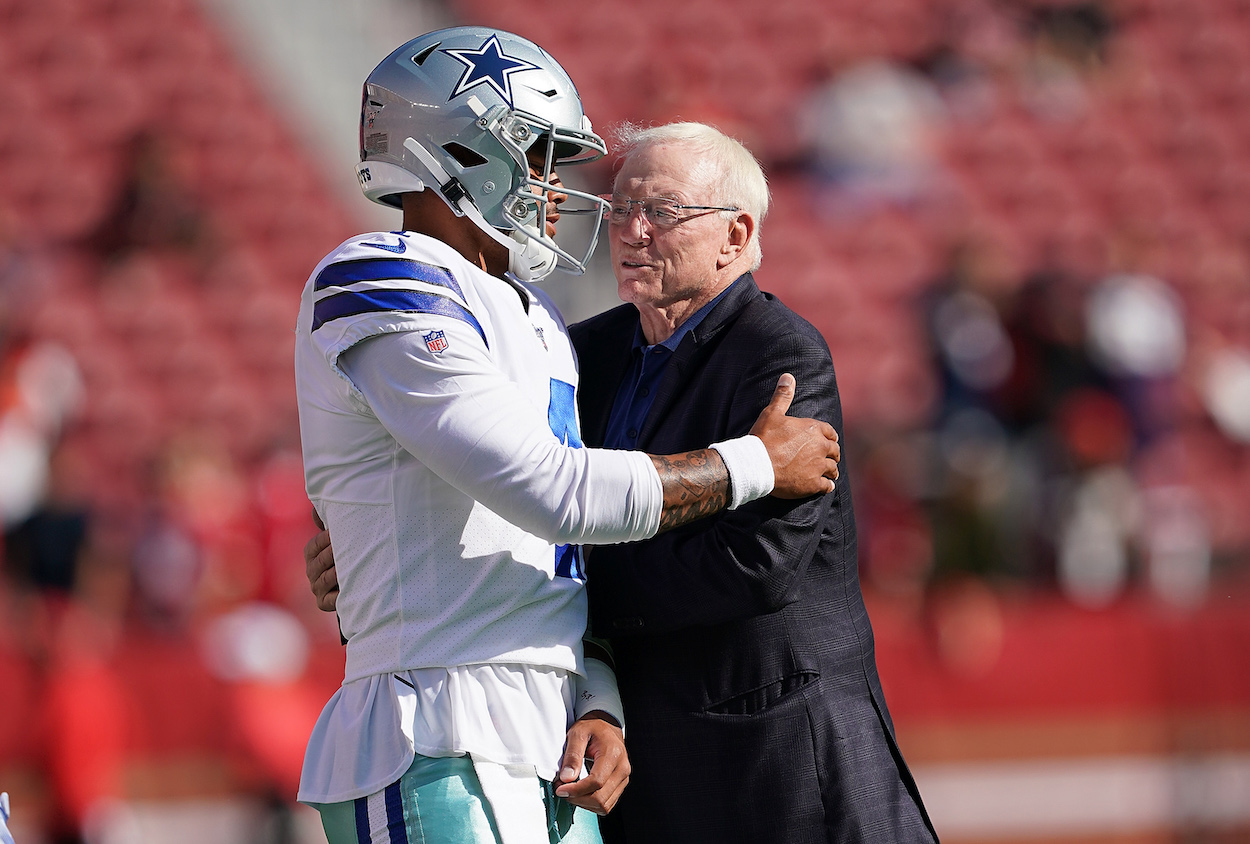 The NFC has been a complete mess this season. Whenever a team starts emerging as a Super Bowl favorite, they typically experience a soul-crushing, momentum-halting loss.
The Los Angeles Rams just lost to the San Francisco 49ers. The Tampa Bay Buccaneers just lost to the Washington Football Team. The Green Bay Packers look dominant when Aaron Rodgers is under center. However, his off-the-field drama could cause issues.
With all that in mind, 2021 is the perfect year for Prescott and the Cowboys to take advantage of. As long as Prescott stays healthy and upright, Dallas can easily make a deep playoff run in a few months.
Like Sportscasting on Facebook. Follow us on Twitter @sportscasting19.