Jerry Jones, Jimmy Buffett, and Bob Dole Have a Weird Pre-Fame Connection
Even the most casual NFL fan is acquainted with the name Jerry Jones. Since buying the Dallas Cowboys in 1989, he has turned the franchise into one of the most recognizable brands in all of sports. In recent years, Jones has gained notoriety as one of the worst owners in the NFL, with many fans calling for him to step down from his leadership position.
Yet for all of the attention Jones has received over the years, many people don't know that much about his personal history. Jones' college years, in particular, shed light on the man he is today. Let's look at Jones' college career, including the weird pre-fame connection he has to Jimmy Buffett and Bob Dole.
Jerry Jones' time at the University of Arkansas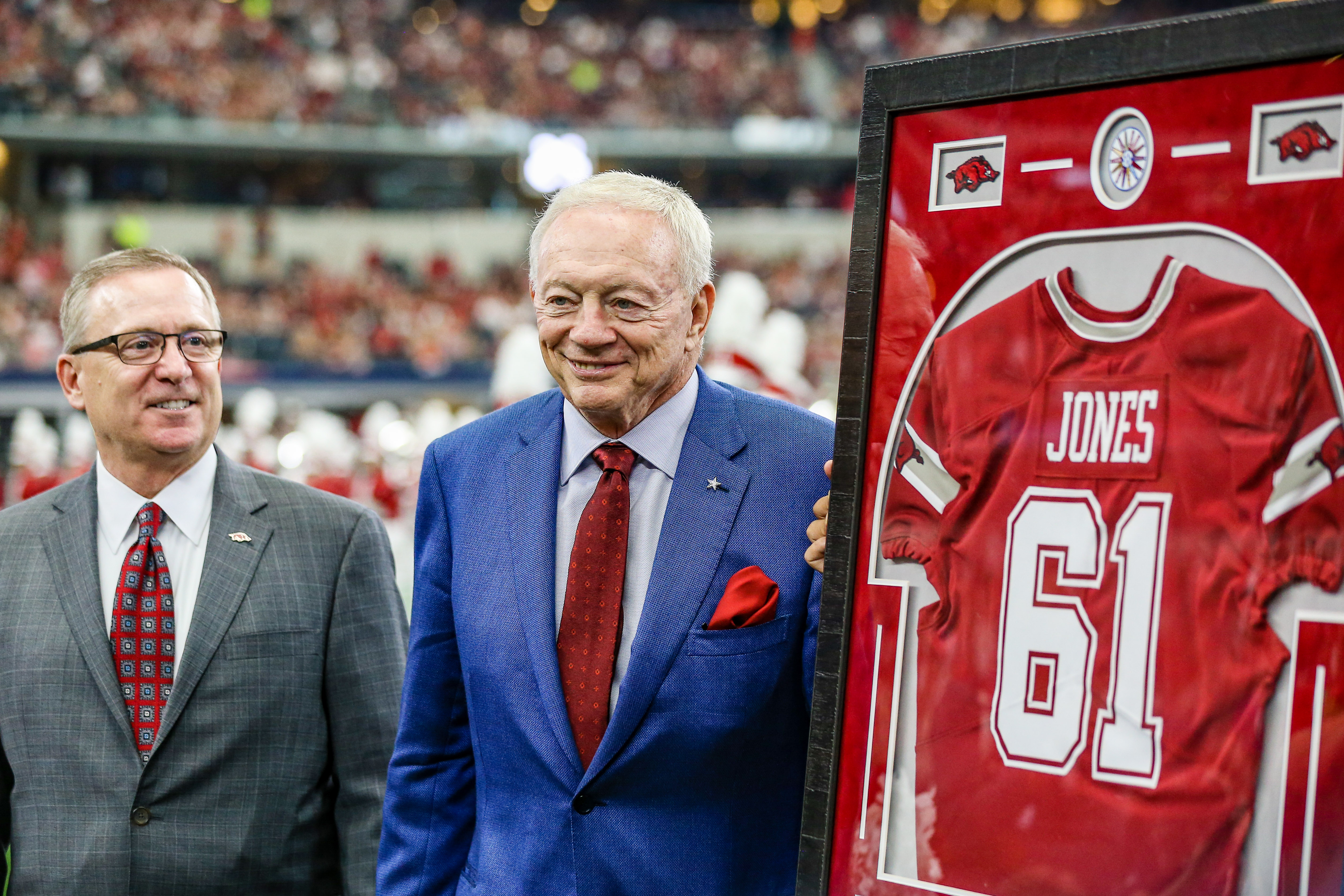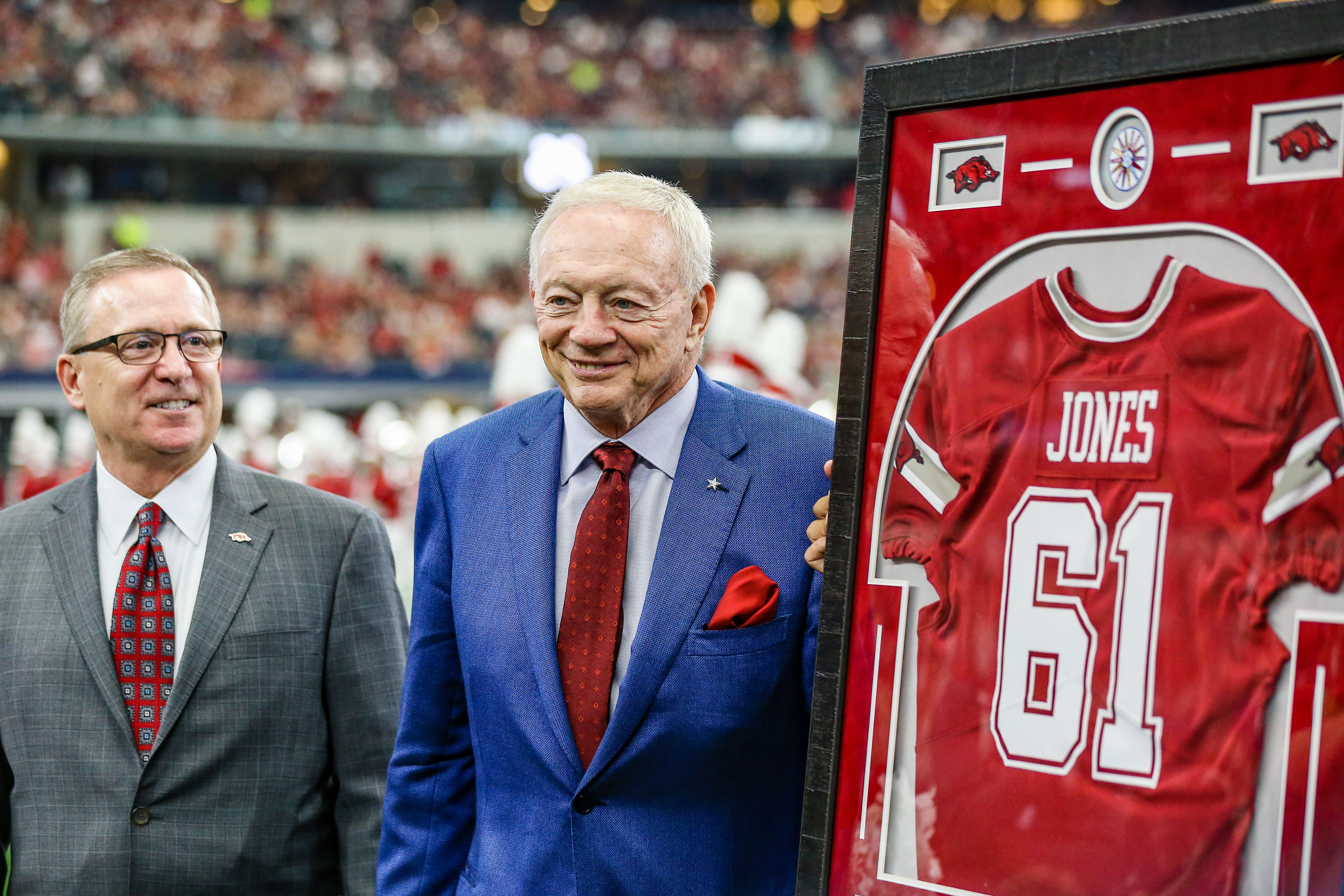 Jones attended college at the University of Arkansas, in Fayetteville, Arkansas. He graduated in 1965 with a business degree and later earned a Master's degree there, according to the university website. During his college years, Jones was also a member of the university's football team. In fact, he attended the school on a football scholarship.
Despite being slightly undersized, at 6-feet and 182 pounds, Jones played as a guard on the Razorbacks' offensive line. He earned respect for his tenacity, and in 1964 he became co-captain of the team. That year, Jones played a key role in propelling the Razorbacks to their 11-0 record. This included a national championship victory over Nebraska in the 1965 Cotton Bowl.
Perhaps fittingly, that win, which to this day accounts for Arkansas' sole national championship, marked Jones' last appearance in a Razorbacks uniform, according to Bleacher Report. He wasn't destined to continue his football career professionally. But Jones' experiences with the Razorbacks clearly played an influential role in Jones' future pursuits.
A member of the Kappa Sigma fraternity
Another important aspect of Jones' time at the University of Arkansas was his participation in fraternity life. Jones was a member of Kappa Sigma. The fraternity traces its roots back to the year 1400, when students at a university in Bologna, Italy founded it. Kappa Sigma has evolved in countless ways since. But it remains one of the most respected fraternities in the world.
Jones has remained a loyal supporter of Kappa Sigma, turning up for various fundraisers and historic events over the years. For instance, in 2007, Jones visited Kappa Sigma pledges at Baylor University, notoriously instructing them to wash his bus. In 2015, he reportedly returned to the University of Arkansas campus to celebrate Kappa Sigma's 125th anniversary at the school, reports Pig Trail Nation.
The next year, the Arkansas chapter of Kappa Sigma found itself briefly embroiled in scandal. Following unspecified allegations, the fraternity's national office temporarily suspended the Fayetteville chapter, according to the Arkansas Democrat-Gazette. An official investigation found no violations. So, the suspension was lifted likely to the relief of Jones and other Kappa Sigma alumni.
Jones' link to seemingly unrelated celebrities
One of the largest and most influential fraternities in the world, Kappa Sigma boasts scores of high-profile members. That's how Jones can boast of interesting pre-fame links to figures like musician Jimmy Buffett, actor and activist Robert Redford, politician Bob Dole, and media mogul Ted Turner.
Naturally, Kappa Sigma has also seen plenty of NFL players pass through its ranks over the decades. Some of them have gone on to establish Pro Football Hall of Fame careers, like offensive lineman Dan Dierdorf and defensive end Ted Hendricks. Following his induction in 2017, Jones can also count himself a member of that elite group.