Jerry Jones Just Revealed a Haunting Reality About Dak Prescott's Current Health Status: 'I Would Be Probably a Little Concerned, a Little Concerned if We Were Playing This Week'
Dak Prescott and the Dallas Cowboys are coming off one of their best wins of the season, knocking off the New England Patriots via a game-winning CeeDee Lamb touchdown catch. The Cowboys improved their record to 5-1 on the season; everything is going along swimmingly in Jerry Jones land.
However, this isn't actually the case.
Prescott injured his calf during the Week 6 win over New England, which is more serious than initially perceived.
Jerry Jones sheds some light on Dak Prescott's calf injury
Prescott's performance against Bill Belichick and the always-competitive Patriots' defense during Week 6 was one for the history books. Prescott passed for 445 yards and three touchdowns, further establishing himself as a legitimate MVP candidate this season.
However, Prescott didn't leave unscathed. He injured his calf and went for an MRI the following day, which revealed a calf strain.
A muscle strain is obviously far less concerning than a muscle tear or ligament/tendon damage. However, that doesn't mean Prescott is 100%. Cowboys owner Jerry Jones was asked about the injury, and his reply sounded less-than-optimistic.
"I think the fact that the bye is there, my feeling is that ought to take care of it in terms of enough time for it to get to where he can really compete normally. So, I think I would be probably a little concerned, a little concerned if we were playing this week. But the fact we got two could help it in terms of me, my mind, Dr. Jones being comfortable."

Jerry Jones via The Dallas Morning News
The Cowboys' bye week comes at a perfect time
As Jones mentions during his response, the Cowboys' bye occurring in Week 7 is a saving grace. If the Cowboys didn't have an extra week to rest and recover, Prescott would likely have missed a game.
With so much going right for Dallas at the moment, the last thing they need is their starting quarterback missing time due to injury.
The Cowboys plan to have Prescott rest and do rehab work throughout the week, followed by another evaluation heading into Week 8. Head coach Mike McCarthy says he's "optimistic" Prescott will be able to line up under center against the Minnesota Vikings (Pro Football Talk). However, Dallas is yet to completely rule out the possibility of their starting QB missing further time with this newfound injury.
The Cowboys aren't built to win without Prescott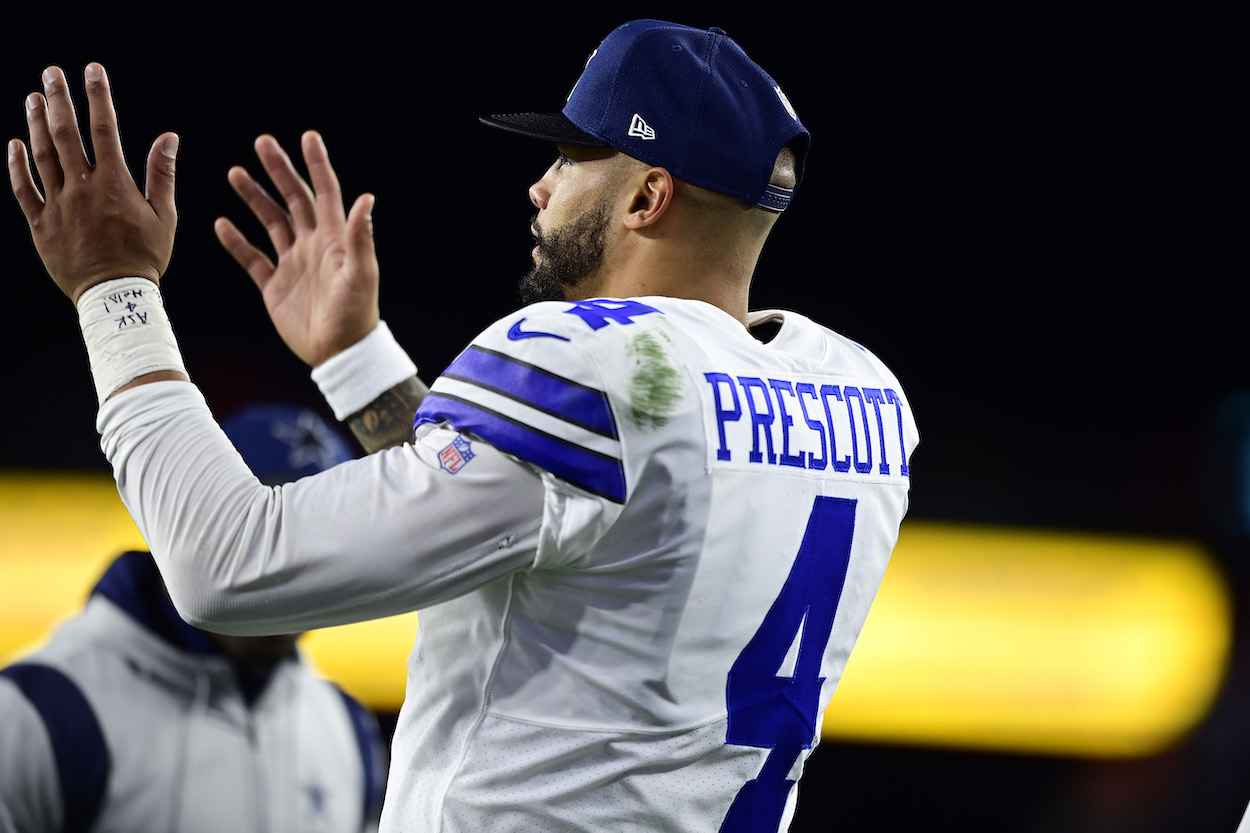 Once upon a time, you could make the argument Prescott was a product of Dallas' well-built offense. Between Ezekiel Elliott, Amari Cooper, and a strong offensive line, Prescott's responsibilities were limited.
Those days have since passed. Prescott is currently the heart and soul of Jerry Jones' Cowboys. Without him, their playoff dreams will evaporate.
There's no reason to panic quite yet when it comes to Prescott's calf and overall health. However, it's something to monitor over the next 10 days. His practice status will give fans a good idea of how he's progressing and what his status should look like come Week 8.
If Prescott cannot play against the Vikings, the Cowboys will turn to backups Cooper Rush and Will Grier. Neither player can be relied on to win an NFL football game, to put it bluntly.
All stats courtesy of Pro Football Reference.
RELATED: Drew Brees Drops a Major Truth Bomb on the Rest of the NFL Regarding Dak Prescott and the Cowboys' Scorching Hot Start