Jerry Jones Needs to Prove His Worth After the Untimely Dak Prescott Injury
Jerry Jones and his Dallas Cowboys are in store for another disappointing year after losing star quarterback Dak Prescott to a right thumb injury in the 19-3 Week 1 loss to the Tampa Bay Buccaneers. To make matters worse, the Cowboys offense only mustered three points even with the 29-year-old quarterback in the game.
After not missing a single game his first four seasons, Prescott is going to be out for an extended period for the second time in three years, and everybody is now looking to the wealthy Cowboys owner and general manager to figure out how to fix the sinking ship. After all, he has the final say on personnel, and all team decisions go through him.
Jones is a known risk-taker, willing to gamble on players regardless of the backlash. This course of action hasn't worked out in recent years and has ultimately led the Cowboys into the current ditch. It's now his responsibility to fix it all.
Ezekiel Elliot's contract has been a hindrance to the Cowboys
Ezekiel Elliott burst onto the NFL scene during his rookie season and immediately labeled himself as a top running back in the league. As time has gone on, however, his level of play has not only dipped, but he has also become a liability for the Cowboys. 
Prior to the 2019 season, Elliott demanded a new contract with the team. Jerry Jones caved, giving the All-Pro running back a six-year, $90 million dollar extension with $50 million guaranteed that keeps him on the books through the 2026 season.
This deal was a mistake at the time and has only gotten worse with each passing season. The 2020 campaign was a rough year for the Ohio State product as he rushed for only 979 yards, a career-low six touchdowns, and a career-high five fumbles lost. Elliott narrowly managed to eclipse 1,000 rushing yards, but his production still doesn't equate to what he is being paid.
With the rise of fellow running back Tony Pollard, many hoped the Cowboys could find a trade partner for Elliott or potentially cut him, neither of which were realistic options. Jones would be hard-pressed to find a team willing to take on Elliott's contract, and his dead-cap hit in 2022 would be over $30 million if cut. His contract has been a massive obstacle for the Cowboys when it comes to freeing up cap space to extend players, sign free agents, and draft prospects.
The Cowboys roster is in disarray after losing three key players this offseason
Defensive end Randy Gregory was expected to return to the Cowboys on a five-year, $70 million dollar deal this offseason. However, he claimed Jerry Jones and the team negotiated in "bad faith," leading to him signing the same deal with the Denver Broncos.
Then, the Cowboys decided to move on from star right tackle La'el Collins. The 29-year-old has been the starting right tackle since 2015, but issues between him and management led to Terence Steele taking his role for much of the 2021 season. And despite having three years left on his deal, Collins was released this offseason.
Lastly, there's the Amari Cooper trade that shouldn't have happened but did because of poor cap management caused by Elliott's lucrative contract. Initially, the Cooper trade made sense as he had his worst statistical season since joining the Cowboys. He helped boost the offense to another level but failed to help it reach a Super Bowl — or even an NFC Championship Game.
Plus, with the emergence of CeeDee Lamb, the hope was for him to seamlessly fill the void. But after the season opener, it's clear the offense is missing another weapon. Lamb was targeted a team-high 11 times but only hauled in two receptions for 29 yards. 
The Cowboys are still without Michael Gallup, who will return at some point and is expected to play a big role in the offense. But the current pass-catching core of Lamb, Noah Brown, Dennis Houston, and Dalton Schultz isn't getting the job done.
This is Jerry Jones' problem to fix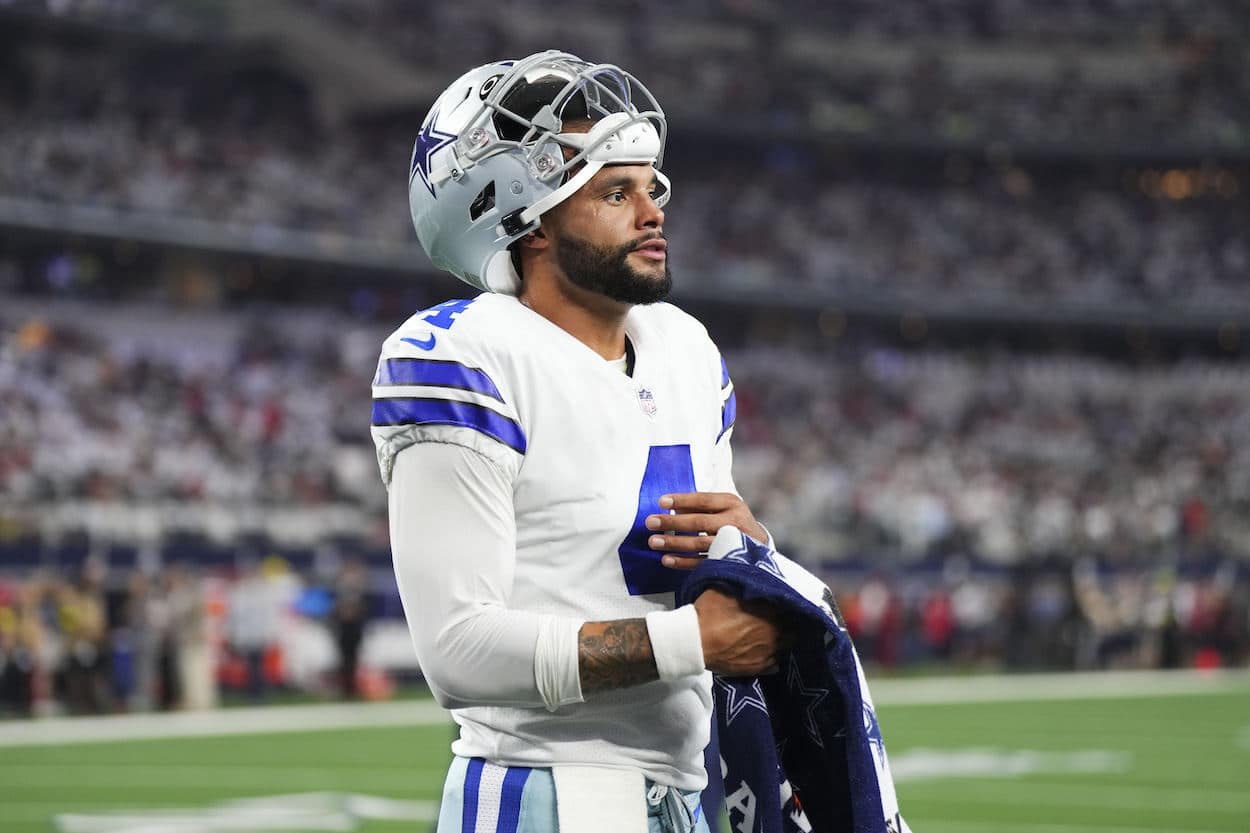 Even with Prescott out, Jones is unlikely to go out and get another quarterback to aid the Cowboys offense for the time being. He insists Cooper Rush is the answer in the meantime with Will Grier serving as the backup amid the Jimmy Garoppolo and Gardner Minshew II rumors. Both Cowboys quarterbacks reside on the practice squad and didn't make the initial 53-man roster back in August.
The Cowboys have had a talented roster the past five years but can't seem to catch a break, and Jones can't get out of his own way.
Sunday, they face off against the Cincinnati Bengals, who are coming off a crushing 23-20 overtime loss in Week 1. Three of their next four games are against divisional opponents, and the other is against the Los Angeles Rams on the road. This stretch will give Jones and Cowboys fans all the information they need about whether Rush and Grier are capable of leading the team for the foreseeable future.
Regardless, this is Jones' problem to fix. He's the general manager and has the final say on all team decisions. He approved the decisions to let Gregory walk, release Collins and trade Cooper away. And this is the result: a disorganized and inferior roster.
The market features valuable quarterbacks who could be more viable options than throwing Rush out there. Jones will have to act fast or else the Cowboys will be doomed to a second losing season in three years under head coach Mike McCarthy.
Like Sportscasting on Facebook. Follow us on Twitter @sportscasting19 and subscribe to our YouTube channel.
RELATED: 2022 NFL Quarterback Grades: Patrick Mahomes Is Perfect While Dak Prescott Puts the 'D' in Dismal to Bookend Week 1