Jerry Jones' NFL Draft Vision Gets a Strong Reaction From a Cowboys Legend: 'It Would Be Insane'
Over the past couple of weeks, it has become increasingly clear who Dallas Cowboys owner Jerry Jones wants his team to select in the 2021 NFL draft: former Florida tight end Kyle Pitts. This is despite Dallas still needing to fill several holes on defense after allowing 29.6 points per game last season. However, Pitts has been regarded as one of the best tight end prospects in years. So, can we really blame Jones?
The love Jones has for Pitts as a prospect, though, has ultimately received a strong reaction from a Cowboys legend. That legend is Michael Irvin.
Dallas Cowboys owner Jerry Jones really wants to draft Kyle Pitts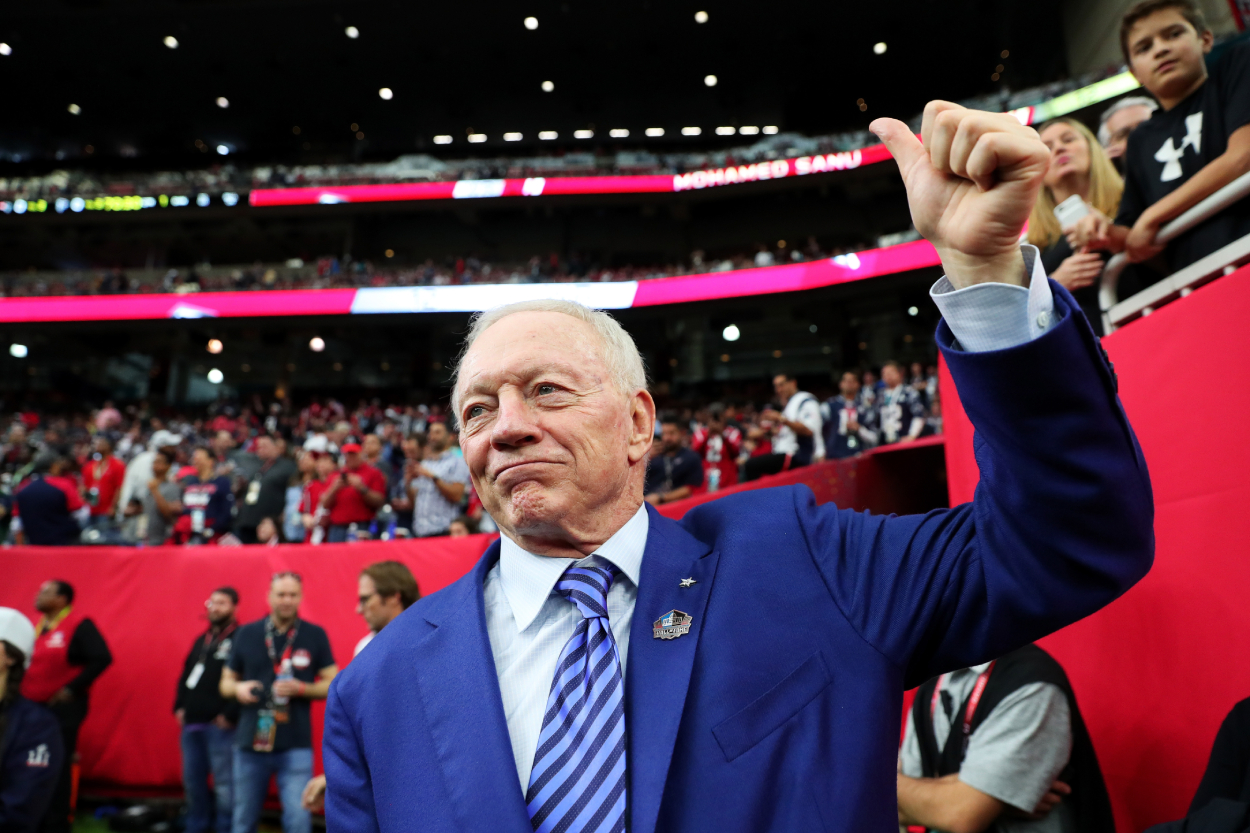 RELATED: Jerry Jones Potentially Revealed His 'Dream' for the Cowboys' 2021 NFL Draft…to a Prospect Not Even on His Team Yet
Kyle Pitts is projected to potentially go in the top five of the 2021 NFL draft, and the Cowboys have the 10th overall pick. However, Dallas Cowboys owner Jerry Jones hasn't canceled out the possibility of his team still somehow selecting Pitts.
Earlier this month, ESPN's Chris Mortensen reported on the network's draft special that Jones has been "infatuated with Kyle Pitts." He also noted that Dallas would have to trade up to get him.
"I think he'll offer Emmitt Smith and Larry Allen, maybe throw in Michael Irvin," Mortensen said. "He doesn't need Tony Romo but he has Dak Prescott, he spent $40 million a year on Dak Prescott so why not go get Kyle Pitts, or if he actually falls to 10 you couldn't rule him out."
Additionally, the Cowboys recently tweeted a video of a virtual meeting the team had with Pitts. In the video, Jones seemed to be over the moon about the former Gator possibly becoming a Cowboy.
"I'm excited to have you come into this league, and man, what a pair up we could do with ole Dak Prescott and some of those guys that we've got out there of options to get you the ball. So, we can dream of visions of sugar plums around here," Jones said.
Michael Irvin reacted to Pitts potentially going to the Cowboys in the draft
RELATED: Dak Prescott and the Cowboys Just Brutally Gave the Eagles a Painful Reminder of Their $33.8 Million Mistake
Cowboys legend Michael Irvin recently appeared on ESPN's Get Up, and he reacted to Jones' vision of Pitts joining the Cowboys' offense.
"He's a phenomenal talent; he's really a wide receiver playing the tight end position," Irvin said on the April 23 episode. "And a guy that, when I study him, he talks about how much he loves learning, all the nuances of blocking and everything. The kid seems like he really wants to be great. It would be insane to have him. As much as Dallas needs as much defense as they need, it would be insane to have him. I heard you guys earlier talk about there's not enough balls to go around. That may be true in some sense, but this kid would be up the pecking order if he did come to Dallas."
Irvin then used the Kansas City Chiefs as an example to point out how difficult it can be to defend offenses with a great wide receiver and an excellent tight end.
"I'm telling you, as a wide receiver, it's much more difficult to stop a great tight end with a great wide receiver than it is to stop two great receivers," Irvin said. "… It's hard to double those two elements on a football field."
However, despite Pitts having Irvin's approval, the Cowboys legend doesn't seem to approve of his former team trading up into the top five for the future NFL star.
"I would say, 'Wow. Boy, they must have a lot of confidence in [defensive coordinator] Dan Quinn's ability to get this defense going,'" he said when discussing the possibility of the Cowboys trading up into the top five.
How good is 2021 NFL draft prospect Kyle Pitts?
RELATED: Jerry Jones Has an Old Friend Wanting to Come to the Cowboys in 2021
A large portion of Cowboys nation seems to be behind Dallas drafting Kyle Pitts. So, how good is he? The Washington Post called Pitts "the best tight end to enter the NFL in years," and they might be right.
Kyle Pitts is a 6-foot-5-inch, 245-pound elite athlete who ran a 4.44 40-yard dash at his pro day. He also dominated at Florida.
In 2019, Pitts caught 54 passes for 649 yards and five touchdowns for the Gators. However, in 2020 he proved to be one of the best college football players in the country, as he caught 43 passes during a coronavirus-shortened season. He also gained 770 receiving yards and caught 12 touchdown passes, as his yards-per-catch average jumped up from 12 yards per reception in 2019 to 17.9 last season.
Pitts is a can't-miss prospect. But will Dallas Cowboys owner Jerry Jones go out of his way to not miss him?
Stats courtesy of Sports Reference