Jerry Jones' Outrageously Bold Goal Involving Tony Romo Will Disastrously End in Failure
Dallas Cowboys owner Jerry Jones spent nearly a decade watching Tony Romo sling touchdowns and battle through injuries. Who would have guessed an undrafted quarterback from Eastern Illinois would grow into a perennial Pro Bowler in the post-Troy Aikman era?
The time may eventually come where the Cowboys retire Romo's No. 9 and place him in their Ring of Honor. However, Jones has a bigger goal for his former star quarterback, but he'd best prepare for a disappointing result.
Jerry Jones wants to see Tony Romo in the Pro Football Hall of Fame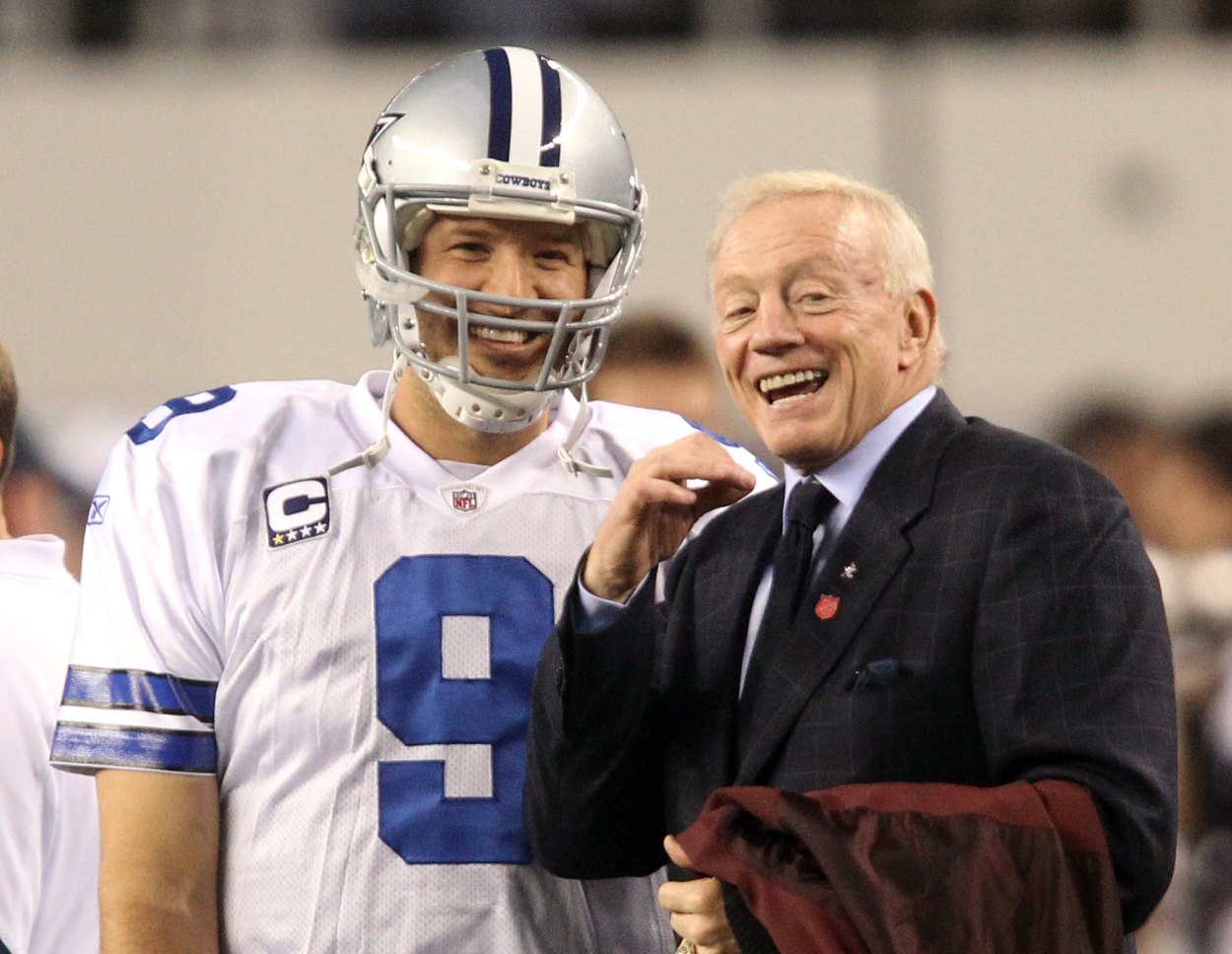 More and more members of the Cowboys have found themselves in the Pro Football Hall of Fame in recent years. Jones received his bronze bust in 2017, and ex-Cowboys receiver Drew Pearson and head coach Jimmy Johnson officially entered the Hall earlier this year.
Jones also wants to eventually see Romo take the stage in Canton, Ohio. According to the Dallas Morning News, the longtime owner recently appeared on 105.3 The Fan in Dallas and endorsed the four-time Pro Bowler for the Hall of Fame.
"Well, I think there's no question in my mind that Tony is skilled, at a skilled level, and had accomplishments statistically that were there. The fact that we did not have a Super Bowl during that time is always going to be in the conversation as to where Tony Romo will rank — not rank, but where he's acknowledged."

Jerry Jones
Romo is eligible to enter the Hall of Fame next year. His longtime Cowboys teammate, DeMarcus Ware, is also a first-year candidate and will likely be enshrined within the next couple of years.
Romo almost certainly won't enter the Hall as a player
Pro Football Reference uses an advanced metric known as similarity score to do exactly what it reads on the tin. By comparing statistics and their best seasons, PFR can best identify which players best resemble each other.
According to PFR, Romo's career was most similar to Los Angeles Rams veteran Matthew Stafford, longtime Jacksonville Jaguars standout Mark Brunell, and the recently-retired Alex Smith. Of those three, the only one who even has a remote chance at the Hall of Fame is Stafford, and his key to a bronze bust is winning a Super Bowl before he retires.
With respect to Jones, there's nothing about Romo's career which even screams someone close to being a serious contender for the Hall of Fame. At his best, he was a Pro Bowl-caliber starter who completed 65.3% of his passes for 34,183 yards, 248 touchdowns, and 117 interceptions.
That's far from someone deserving of enshrinement, though. The statistics aren't enough on their own to propel someone with a lack of postseason success into the Hall of Fame. Romo never even reached an NFC Championship Game, a failure Cowboys fans are reminded of whenever they think about Dez Bryant's infamous no-catch in the 2014 NFC Divisional Round.
Although he and Romo don't have similar scores on PFR, let's invoke Matt Hasselbeck's name for a second. The three-time Pro Bowler went 5-6 in the playoffs and brought the Seattle Seahawks to a Super Bowl appearance in February 2006. Romo went 2-4 in the postseason and never made it past the second round.
If Hasselbeck isn't a Hall of Fame quarterback, then neither is Romo.
Romo could always wind up reaching the Hall of Fame as an announcer
The odds are stacked against Romo entering the Hall of Fame as a player, but not from him eventually earning enshrinement because of his broadcasting career.
The Pete Rozelle Radio-Television Award allows those who work in the broadcast world, primarily play-by-play and color commentators, to enter the Hall of Fame. For example, Fox's Joe Buck earned the honor last year after over 25 years of calling NFL games.
Several iconic color commentators, including John Madden and former Monday Night Football voice Don Meredith, have entered the Hall by way of the Pete Rozelle Award. If Romo — a widely popular and critically acclaimed commentator for CBS — keeps at his gig for another couple of decades, he may find himself at the podium in the 2040s.
There is no guarantee that Jones, who turns 79 in October, would be around to watch his former quarterback receive such an honor. For now, though, he's willing to endorse Romo for a spot in the Hall.
Like Sportscasting on Facebook. Follow us on Twitter @sportscasting19.