Jerry Jones Painfully Admitting Dak Prescott Is Slumping Is Concerning News for the Cowboys' Super Bowl Odds
The Dallas Cowboys are fresh off a crucial Week 14 win over the Washington Football Team. However, everything is not sunshine and rainbows quite yet. Despite the win, the Dallas offense surprisingly struggled to move the ball consistently. It was Micah Parsons and the defense who ended up stealing the showing, forcing three fumbles and an interception.
For most of the year, it's been Dak Prescott and the star-studded Cowboys offense who have guided the way for Dallas. Between Amari Cooper, CeeDee Lamb, Michael Gallup, Ezekiel Elliott, and Tony Pollard, Prescott has an ungodly amount of weapons at his disposal.
Yet, it's the offense that's causing concern in Dallas at the moment.
Cowboys QB Dak Prescott is struggling
Prescott was considered a top MVP candidate during the first half of the season. However, he's looked like a completely different player the past few weeks.
He passed for a measly 216 yards (and two interceptions) during the Cowboys' embarrassing November 21 loss to the Kansas City Chiefs, and his December performances haven't looked much better. Despite beating the New Orleans Saints and Football Team, Prescott combined to throw three interceptions compared to just two touchdowns during the two games. He failed to surpass 300 passing yards in both wins and recorded a sub-80 passer rating in both games as well.
For a player who was paid like one of the top passers in all of football, this is obviously not what the Cowboys want to be seeing right now. The playoffs are right around the corner, and the Cowboys need Prescott at his best if they're to outduel the Los Angeles Rams, Tampa Bay Buccaneers, and Green Bay Packers of the world. 200 yards and a touchdown or two simply isn't going to cut it against those teams.
Jerry Jones got brutally honest about Dak Prescott's recent struggles
Cowboys owner Jerry Jones has long been a stout defender of Prescott. He went as far as to blame the entire team's wide receiver room earlier last week to justify his recent struggles. However, it appears even Prescott's most prominent supporters are starting to come to terms with the fact that he's in a significant slump.
"I don't want to say 'slump,' but that's probably fair," Jones said. "But it's such a multi-faceted evaluation that I would say that our offense is definitely away from where we were playing five and six games ago from the standpoint of production. What the opposing defenses has to do with it needs to be considered."
Jones still did his best to soften his words. However, the crux of his statement was clear. Prescott is in a "slump," and everyone knows it.
What does this mean for the Cowboys' playoff odds?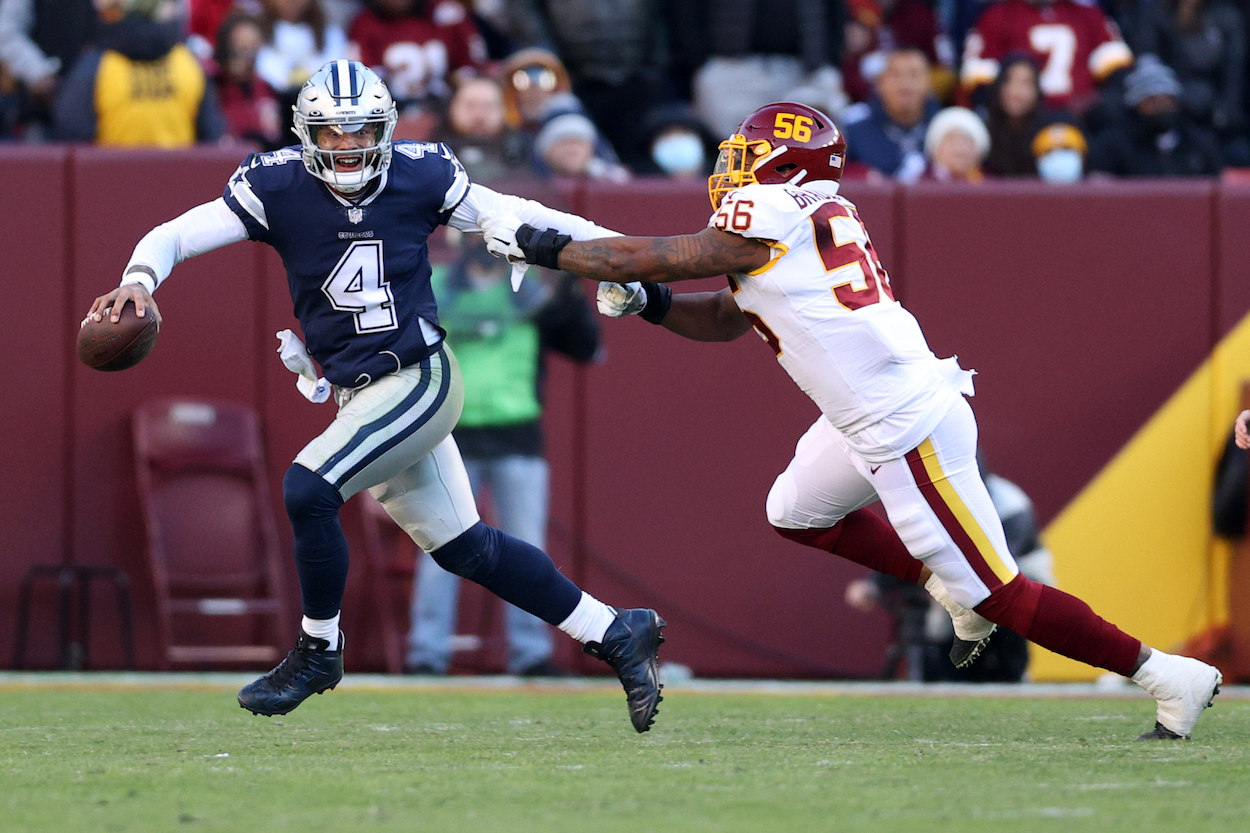 Three full games clear of the Football Team and Philadelphia Eagles in the NFC East, the Cowboys are nearly a lock to win their division and make the postseason. Prescott's recent struggles won't be enough to change that. However, that doesn't mean they won't impact the team's chances of actually making a deep run.
As previously stated, the NFC is filled to the brim with elite quarterback play. No matter how you slice it, the Cowboys will eventually need their quarterback to out-throw the opposition. Maybe the Cowboys' steadily improving defense plays well enough to buy Prescott a game or two. However, it's impossible to imagine Dallas knocking off Brady or Rodgers if Prescott isn't at the absolute top of his game.
Jones is confident in Prescott, claiming he "will figure it out" moving forward. However, only time will tell. The Cowboys have three divisional games and a showdown with the Arizona Cardinals to round out their regular season schedule — the clock is ticking on Prescott.
All stats courtesy of Pro Football Reference.