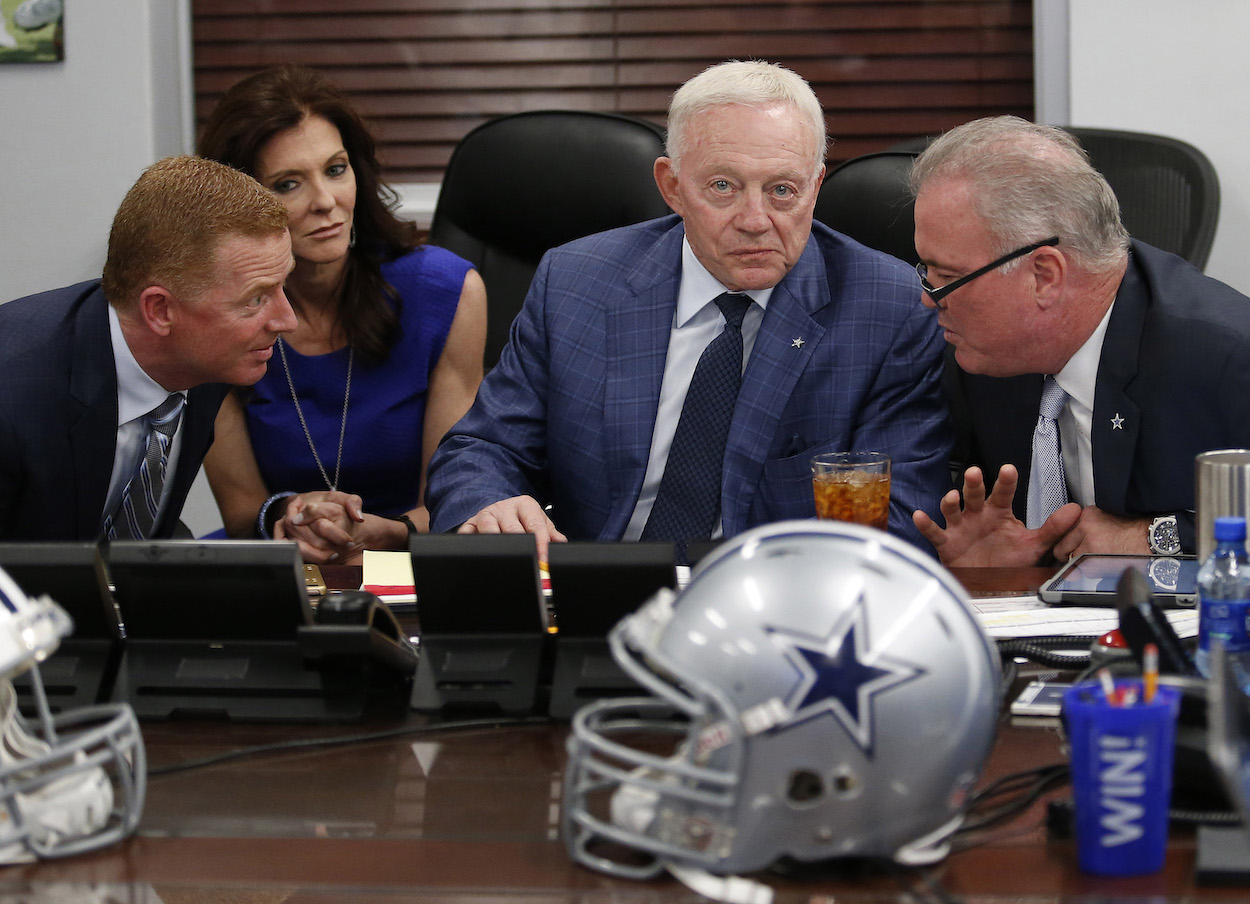 Jerry Jones Deeply Regretted Settling for Dak Prescott Instead of Trading Up for a Monumental Draft Bust
Before Jerry Jones settled for Dak Prescott in the 2016 NFL draft, he tried multiple times to trade up for a monumental QB bust.
Jerry Jones officially gave Dak Prescott the keys to the Maserati that is the Dallas Cowboys by gifting him a four-year, $160 million contract extension earlier this month. But although Prescott has made Jones look like a genius for scooping him up in the fourth round of the 2016 NFL draft, the Cowboys owner and general manager deeply regretted not trading up for Paxton Lynch in the first round instead.
Yes, the same Paxton Lynch who started only four games for the Denver Broncos and lasted just two years in the NFL. It turns out the Cowboys' greatest draft triumph of the last few years wasn't even supposed to happen, which is the most Jerry Jones thing ever.
Jerry Jones and the Cowboys settled for Dak Prescott in 2016
Heading into the 2016 NFL draft, the Cowboys were in the market for a Tony Romo replacement at quarterback. Romo was about to enter his age-36 season, and retirement was quickly approaching.
After Jared Goff and Carson Wentz went off the board No. 1 and No. 2 overall, Jerry Jones decided to punt on a quarterback at No. 4 and go with Ezekiel Elliott out of Ohio State. The pick turned out to be a wise one, as Elliott rushed for 1,631 yards in 2016 and made the Pro Bowl in his rookie season.
Jones then punted on a quarterback three more times before settling for Dak Prescott out of Mississippi State in the fourth round. The Cowboys grabbed Prescott with the 135th overall pick in the draft, and it turned out to be one of the biggest steals of 2016.
Jerry Jones wanted to trade up for a monumental draft bust in 2016
On the surface, it seemed as if the Cowboys didn't like any of the quarterback prospects available until Prescott was still on the board in the fourth round. But there's much more to the story.
In Peter King's latest Football Morning in America column, the NBC Sports reporter revealed an untold story about the Cowboys' 2016 draft. It turns out Jerry Jones tried his best to trade up for Paxton Lynch in the first round, and he had no intention of drafting Prescott in the first place.
Here's King telling the wild draft story:
With starting quarterback Tony Romo 36 and coming off an injury, Dallas wanted to draft his successor. The Cowboys hoped that would be Paxton Lynch of Memphis, but to do that, they'd have to trade back into the first round from overall pick number 34 to get him. For 67 minutes beginning in mid-round, VP Stephen Jones worked the phones with nine teams trying to get a mid- to late-round pick so they could acquire Lynch. Seattle was interested, but wanted Dallas' second- and third-round picks, 34th and 67th overall, in exchange for the Seahawks' 26th overall pick. Dallas offered a second and fourth, 34th and 101st overall. Much angst in the room. "No way with Seattle," Stephen Jones said, turning to his father in the room after his second call with Seahawks GM John Schneider. "They want our two and three. Thoughts?"

Silence. Dallas didn't up the offer, and so Seattle traded with Denver for a slightly better package of picks. And the Broncos chose Paxton Lynch.

Peter King, NBC Sports
But that's not all. King also explained that the Cowboys tried to trade up again later in the draft, this time for Connor Cook out of Michigan State. They contacted the Cleveland Browns about moving up from the 101st overall pick to the 100th to grab Cook, but the Raiders beat Dallas to a deal.
Incredibly, Lynch and Cook only wound up playing a combined six games in the NFL. They've both been out of the league for a few years now.
Jerry Jones immediately regretted how the Cowboys handled the 2016 NFL draft
After the 2016 NFL draft, Peter King met Jerry Jones in his office, and Jones stated his regrets after leaving the draft with Prescott instead of Lynch or Cook.
"When I got up this morning, I second-guessed the hell out of myself for not giving the three," Jones told King. "I have always paid a premium for a premium. So many times my bargains have let me down. I'm not gonna go jump from Dallas's tallest, so let's put this in perspective. But if I had to do it all over again? I'd give the three."
Little did Jones know passing on a trade for Lynch would turn out to be one of the smartest decisions of his career as the Cowboys GM.