Jerry Jones Says the Cowboys Will 'Have a Lot of Prayer' Before Playing a Top NFC Contender in 2021
It's finally time for that annual tradition where Dallas Cowboys fans think their team has a chance to win a Super Bowl when — in reality — they're not even a contender. The Cowboys certainly have high expectations this year since they improved their defense and will bring back Dak Prescott from injury. But they shouldn't be considered one of the best teams in the NFC just yet, and owner Jerry Jones appears to know it.
In fact, Jones recently joked that his team will "have a lot of prayer" before playing a top NFC contender this upcoming season: Tom Brady and the Tampa Bay Buccaneers.
The Dallas Cowboys play Tom Brady and the Buccaneers in Week 1
Jerry Jones' Cowboys team doesn't get an easy start to its 2021 campaign, as Dallas faces the reigning Super Bowl champion Tampa Bay Buccaneers in the NFL's season-opening game.
The Cowboys had a rough year in 2020. Their defense was atrocious, allowing 29.6 points per game, and, after a hot start, their offense wasn't great either. Dak Prescott ultimately went down with a season-ending injury in Week 5, which led to Dallas going 6-10 overall and missing the playoffs.
The Buccaneers, on the other hand, had the GOAT in Tom Brady last season, and he ultimately led Tampa to an 11-5 record and a magical postseason run. The Bucs beat the Washington Football team in the wild-card round before beating Drew Brees and the New Orleans Saints in the divisional round, Aaron Rodgers and the Green Bay Packers in the NFC Championship Game, and Patrick Mahomes and the Kansas City Chiefs in the Super Bowl.
Tampa now returns all 22 of its Super Bowl-winning starters, as well as Leonard Fournette and Antonio Brown, which will give Jones' Cowboys a difficult challenge in Week 1.
Jerry Jones said the Cowboys will 'have a lot of prayer'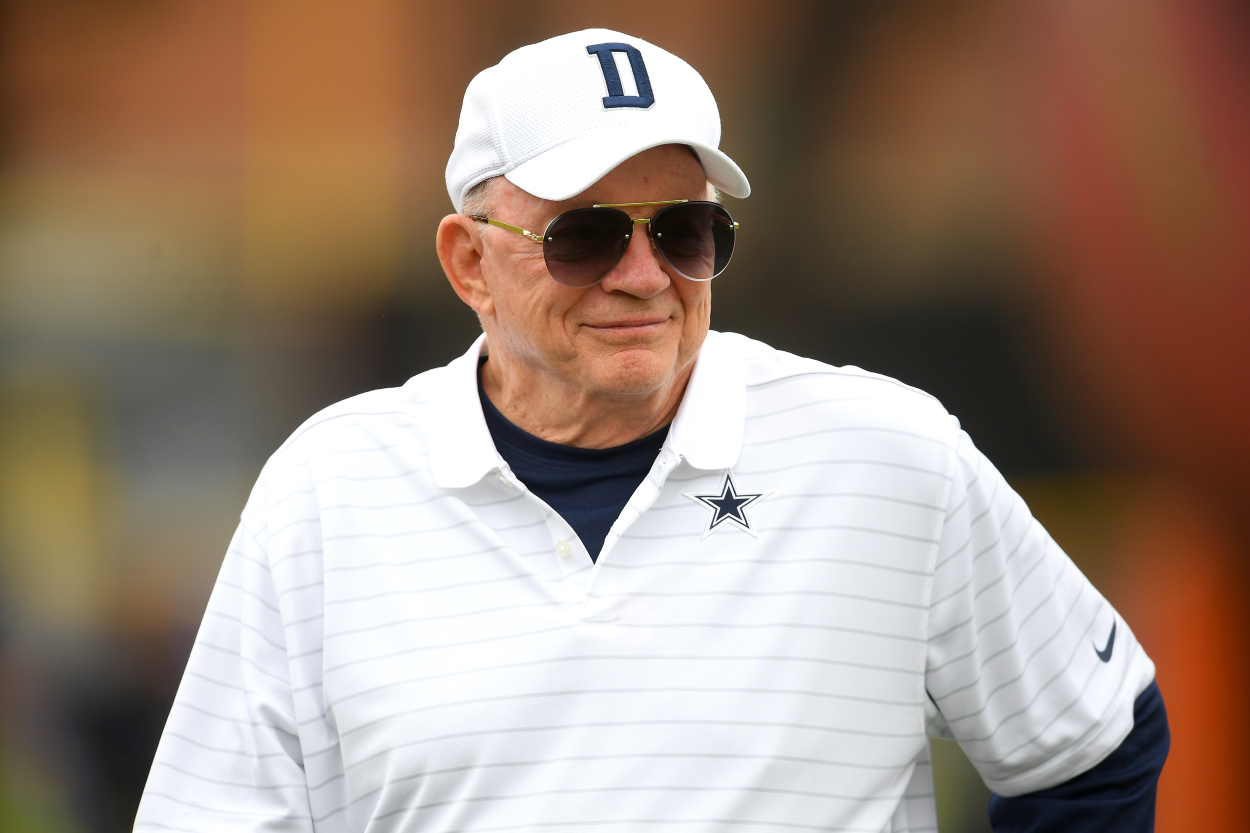 The Cowboys ultimately play in the season-opening game against the Buccaneers on Sept. 9, and Jones seems to know just how much of an underdog his team is heading into it.
"We're going to have a lot of prayer, so we could get the courage to show up," Jones said on Back Together Saturday, per NFL.com. "Let me tell you this: world champion Tom Brady, Tampa, great atmosphere — what a better opportunity to step up there and be David against Goliath."
The Cowboys may not quite be David, as they aren't the worst team in the NFL, but Jones has a point. No one will expect his squad to win in Week 1, so they can go in with the intentions of wanting to pull off an upset.
Is it possible, though?
Can the Cowboys beat Tom Brady and the Buccaneers?
As mentioned earlier, Tampa Bay returns all its main pieces from its Super Bowl-winning team. The Buccaneers also added Giovani Bernard, a running back who will help Tom Brady in the passing game. So, they're going to be pretty difficult to stop.
And while the Cowboys' offense will be explosive with Prescott back, Tampa's defense was a top-10 unit in the NFL last season and held the Chiefs to nine points in the Super Bowl. Prescott may have a tough go of it in Week 1.
The Cowboys, though, will still get to see what their new-and-improved defense looks like against a top-ranked offense. Dallas hired a new defensive coordinator in Dan Quinn this offseason and has added players like linebacker Micah Parsons and defensive backs Keanu Neal, Damontae Kazee, and Malik Hooker. So, those players will certainly give Dallas a chance to win in Week 1, but it's hard to see them being able to stop Brady and the Bucs entirely.
Jerry Jones' team should certainly have an improved squad this upcoming season, but the Buccaneers are the best of the best. The Cowboys' chances aren't great, but, hey, neither were David's when he faced Goliath.
Stats courtesy of Pro Football Reference