Jerry Jones Should Focus on Dallas Cowboys Instead of Trolling Eagles Fans
Dallas Cowboys owner Jerry Jones is not your everyday NFL boss.
Most outside fans couldn't even tell you who owns the Carolina Panthers or New York Jets, for instance. Everybody. Literally, almost everybody knows who Jones is.
He has a larger-than-life persona. From his heavy-handed meddling with the team to his Bond Villian-esque mega yacht. He's a media personality as much as he is an owner. He's also known to throw down some smack talk every now and then.
Just ask fans of the Philadelphia Eagles.
Jerry Jones talked some major trash to fans of the Philadelphia Eagles
Jones was clearly having a good time during Super Bowl media days a few weeks ago. Maybe he felt a bit snarky because his Cowboys weren't in the big show. Perhaps he was just in "offseason mode" and decided to let down his hair a bit.
Either way, the Cowboys owner was talking to John Clark, a sports anchor from Philadephia. Jones starting to talk about the NFC East and how he's as big a fan of the division as anyone. Specifically, Jones mentioned each of the team's fan bases and how die-hard they all are.
"I happen to know it's the most sought-after television viewing by the networks there is anywhere, so to me it's a privilege to be a part of the East," Jones said.
Clark, clearly trying to get a rise out of the prolific owner, brought up the fact that sometimes in Philadelphia, a Cowboys' loss feels just as good as an Eagles' win. Clark asked Jones about the Philly-Dallas rivalry, which brought out the troll in Jones.
"I know the frauds that the Philadelphia fans are," Jones said. "Behind that there are some hellacious people, and they are good people, and I know it, and they know I know it."
Clearly enjoying himself, Jones said that his favorite thing to do in Philadelphia is to blow kisses at fans that are "really giving it" to him.
The video of that moment is unforgettable.
"We have a good time when we go to Philadelphia," Jones said.
The Dallas Cowboys could be considered frauds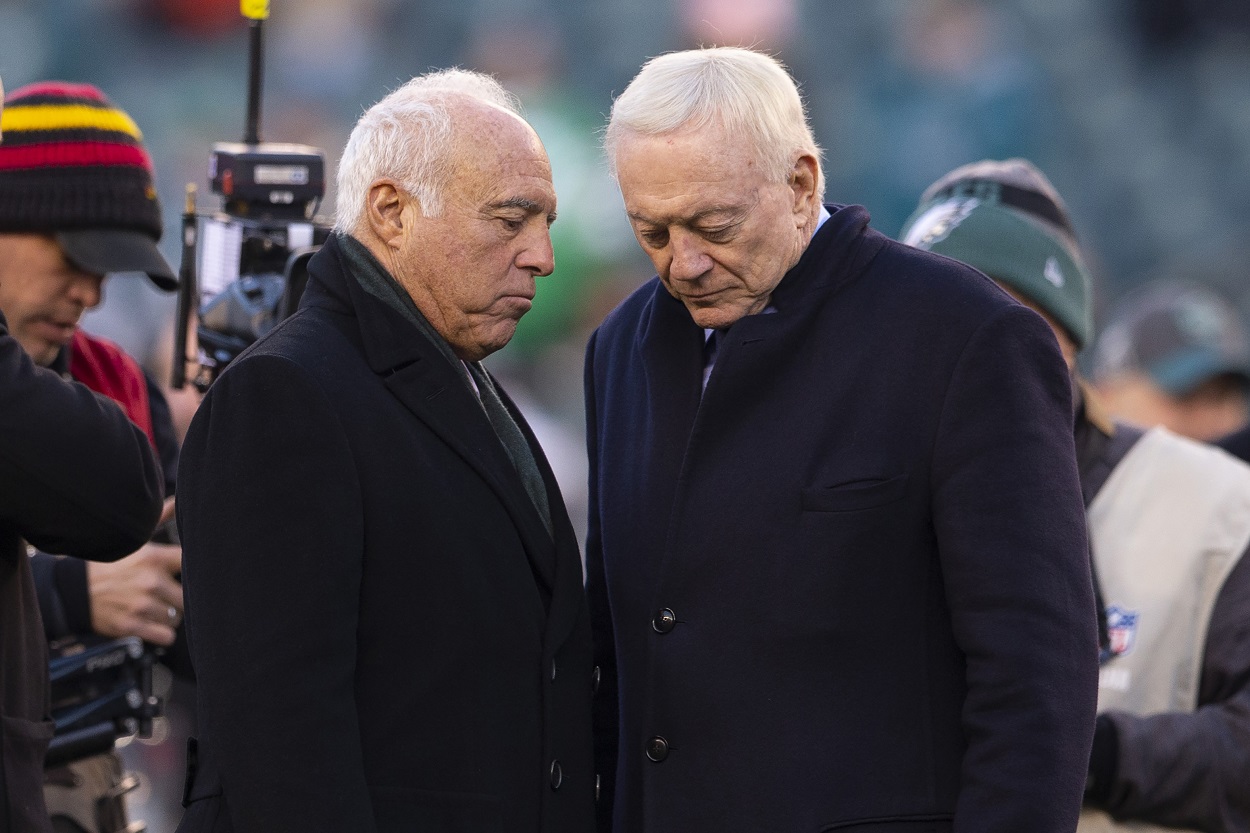 The Cowboys and Eagles have a long and historic rivalry in the NFC East and Jones is right. Lately, the Cowboys have been having fun with the Eagles.
The Cowboys have won their last three games against the Eagles, and that includes a 51-26 win at Lincoln Financial Field that saw Dak Prescott throw for five touchdowns as the Eagles rested their starters for the playoffs.
That extra rest didn't matter, as Philly went on to lose to the Tampa Bay Buccaneers on Super Wild Card Weekend, but Jones and the Cowboys didn't even get a chance to sneer at their rival.
Later that afternoon, the Cowboys were upset by the San Francisco 49ers on their home turf, losing, 23-17, despite being heavy favorites.
It's all fun and games to talk trash during Super Bowl media days, but does Jones really have room to give it to Eagles fans?
He says they're frauds, but what is more disingenuous than calling yourself "America's Team" despite having not been to the NFC Championship Game since 1995.? How big of a fraud do you have to be to have all the talent in the world season-after-season yet consistently underachieve?
Those were strong words from Jones, and yes, he was having fun. Still, all Eagles fans have to do is point to the Super Bowl trophy their team won to conclude the 2017 season.
The last time Dallas won the Super Bowl (1995), Snoop Dogg hadn't released his second album yet. Eminem's debut album hadn't even dropped. He was just a no-name rapper from Detroit at that time.
They both just headlined the Super Bowl 56 halftime show as a nostalgia act.
Jones should focus on the state of the Cowboys instead of trolling Philly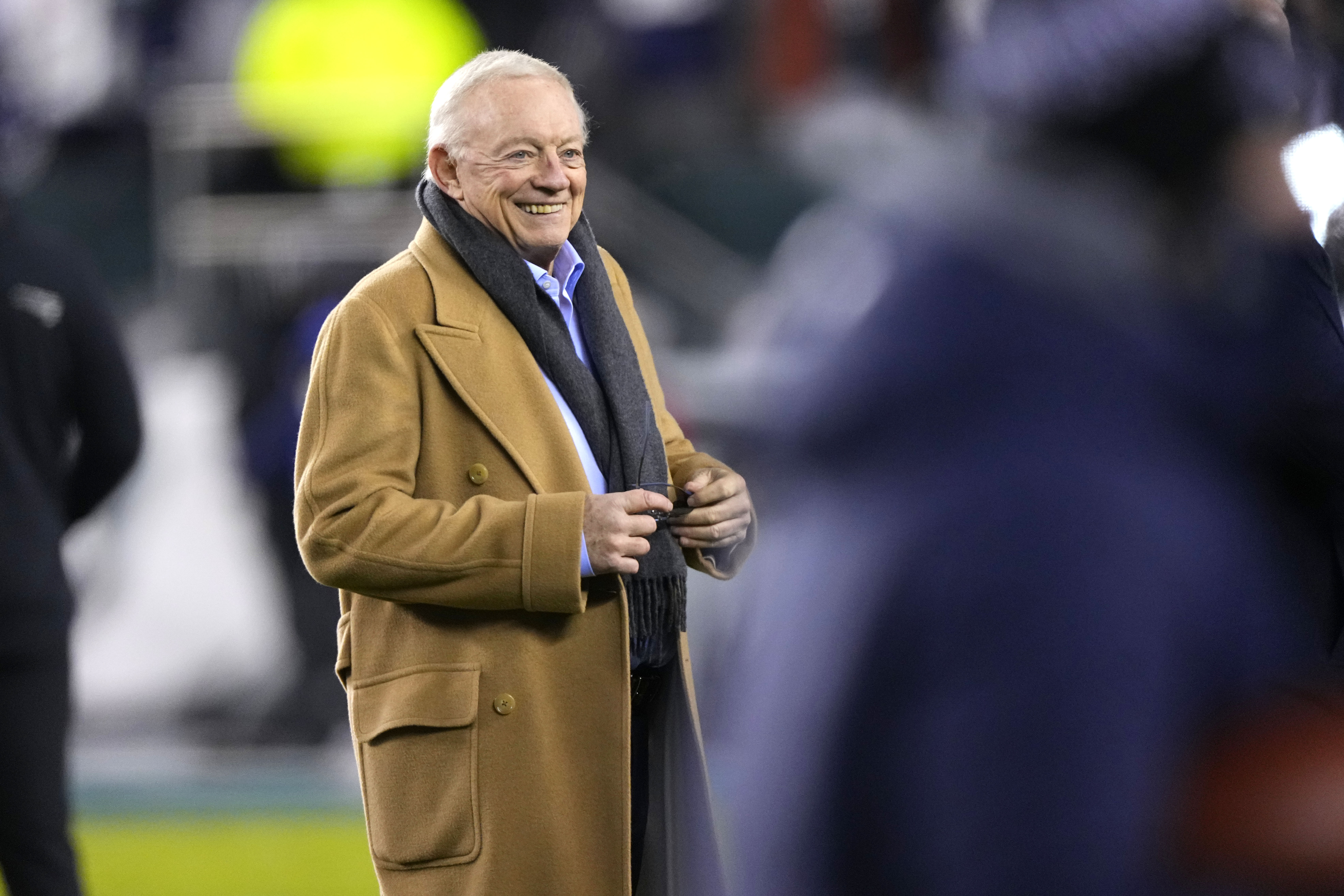 Nostalgia is a great word to describe the Cowboys. As of now, they're a nostalgia act.
They had a dynasty in the early-to-mid 90s that created a generation of die-hard fans, but the days of Troy Aikman, Emmitt Smith, and Michael Irvin are long gone. They're still TV, but they're all wearing suits and talking about the games now.
The most success Dallas has had since that 1995 Super Bowl season has been making it to the Divisional Round of the playoffs. Meanwhile, the Eagles have made it to the NFC Championship game five times in that same time period and made two Super Bowls, winning one.
If Jones wants to talk about frauds, he and the Cowboys have all the characteristics of one, especially as it relates to the Eagles.
Cocky and arrogant without much to show for it?
Jones needs to get his own house in order before throwing stones at Philadelphia.
Stats courtesy of ESPN and Pro Football Reference. Contract information via Spotrac
RELATED: Mike McCarthy Responds to Jerry Jones' Non-Committal Attitude About His Future With Dallas Cowboys: 'I've Never Dealt With Anything Like This'