Jerry Jones Subtly Trashed Mike McCarthy's Coaching Following the Cowboys' Humiliating Week 9 Loss: 'That's as Flat as Any Team I've Seen'
Leading up to the Dallas Cowboys' Week 9 showdown with the Denver Broncos, the Cowboys were expected to cruise to another comfortable victory. They were at home, Dak Prescott was back in the lineup, the Broncos had just traded their best player (Von Miller), and the Cowboys were winners of six straight. Even owner Jerry Jones said after the game that everyone was internally confident before the loss.
"I don't think any of us thought we'd come out of there without a victory Sunday," Jones said.
In hindsight, the Cowboys should've given the Broncos a tad bit more respect.
The Cowboys were embarrassed at home
Despite everything being in line for another thrilling Cowboys win, they opened the game extremely flat. Teddy Bridgewater and the Broncos jumped out to a quick multi-score lead, showing no fear as they targeted the NFL's interception leader (Trevon Diggs) deep down the field.
Denver's explosion of offense caught Dallas off guard. The Cowboys looked like they had been punched smack in the face at the start of a boxing match and had little clue how to respond. It wasn't until late that Prescott and company got their act together, pulling the score to a more respectable margin.
However, it was ultimately complete domination by the Broncos. They finished the afternoon with more total yards, more passing yards, more rushing yards, more yards per play, more first downs, and more turnovers forced.
Following the embarrassing home defeat, owner Jerry Jones wasted little time putting his organization on blast.
Jerry Jones pulled zero punches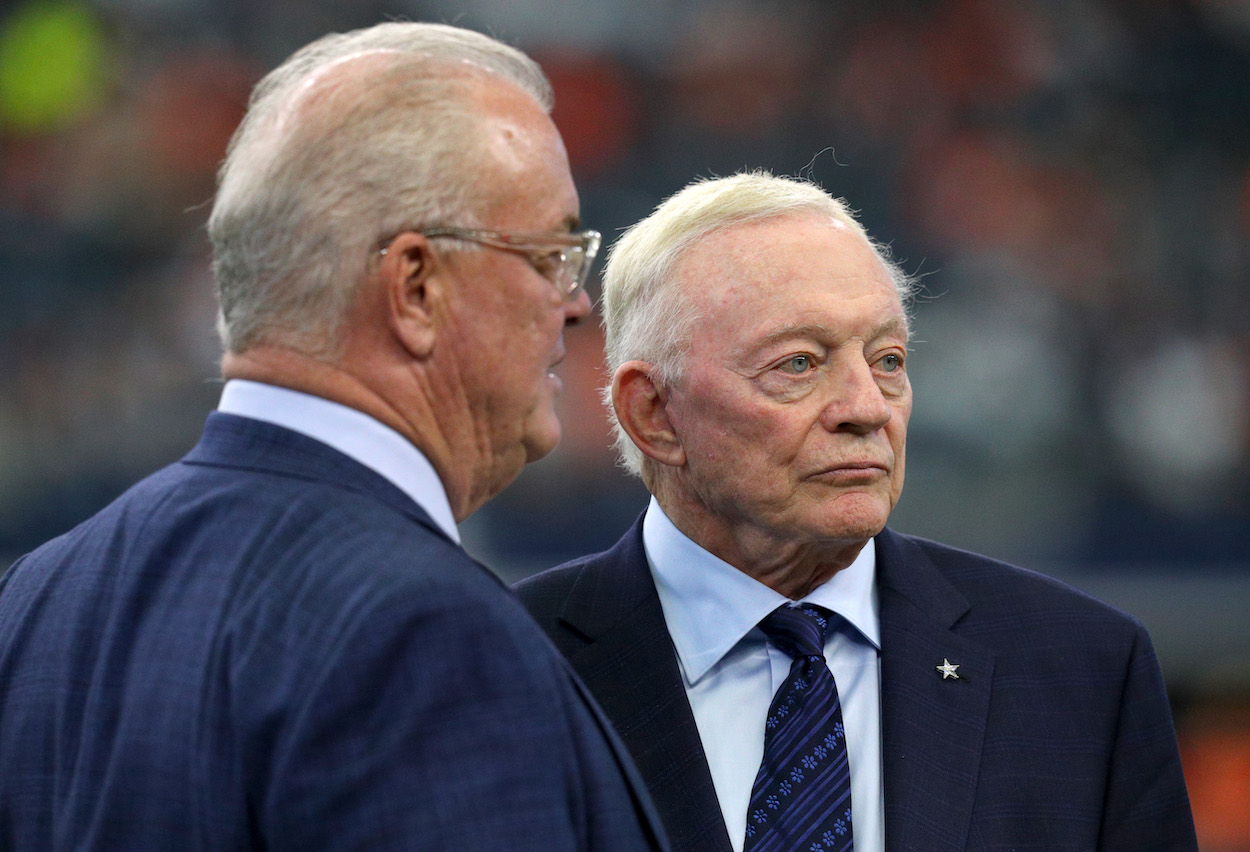 Jones didn't come out and directly bash Cowboys head coach Mike McCarthy following the loss. However, he got pretty darn close. His comments reflected an owner who is frustrated with his team's lack of preparation at the moment.
"That's as flat as any team I've seen," Jones said. "We basically played what seemed to be lackadaisical."
Jones continued to criticize the Cowboys' coaching staff for leaving Prescott in during a fourth-quarter blowout loss.
"We were very careful for the long-range of not playing Dak last week," Jones. "We were very careful. It was a long-range thought. When he is in the game, don't think he is not going to make every play like it's a Super Bowl play, so if you have got concern about the fact of what would it do for your season if he had another injury, that is the time to be concerned about it."
Clearly, Jones — arguably the most influential owner in the NFL — is not pleased with his team's coaching staff at the moment.
Trouble brewing for Jerry Jones and the Cowboys?
The Cowboys are 6-2 and still in firm control of their NFC East. However, this is the team's first real sign of trouble through nine weeks, and it's not exactly responding well.
Bad games happen in the NFL. It's part of the business. However, what will ultimately derail the Cowboys' season is Jones panicking and getting too involved due to a handful of losses. He's been known to meddle in the past.
The Cowboys will remain in Dallas this week for a shot at redemption against the surging Atlanta Falcons. A win would go a long way toward calming Jones' nerves. A loss could spell further trouble for Mike McCarthy and the rest of the Cowboys' coaching staff.
All stats courtesy of Pro Football Reference.
RELATED: Jerry Jones and the Cowboys Were Considering a Massive Deadline Day Trade That Would've Completely Changed the Course of Their 2021 Season