Jerry Jones Thinks It's Fair to Say Dak Prescott Is in a Slump. The Dallas Cowboys QB Doesn't Think So
Dallas Cowboys quarterback Dak Prescott is used to being doubted. He was a fourth-round draft pick, after all. There were four rounds of teams not thinking he was good enough before Dallas decided to take a chance on him coming out of Mississippi State.
Prescott has not been playing up to expectations recently, though, and it has become noticeable enough that owner Jerry Jones has commented on his "slump" of sorts.
Prescott doesn't agree with the slump talk.
Dallas Cowboys QB Dak Prescott doesn't think he's in a slump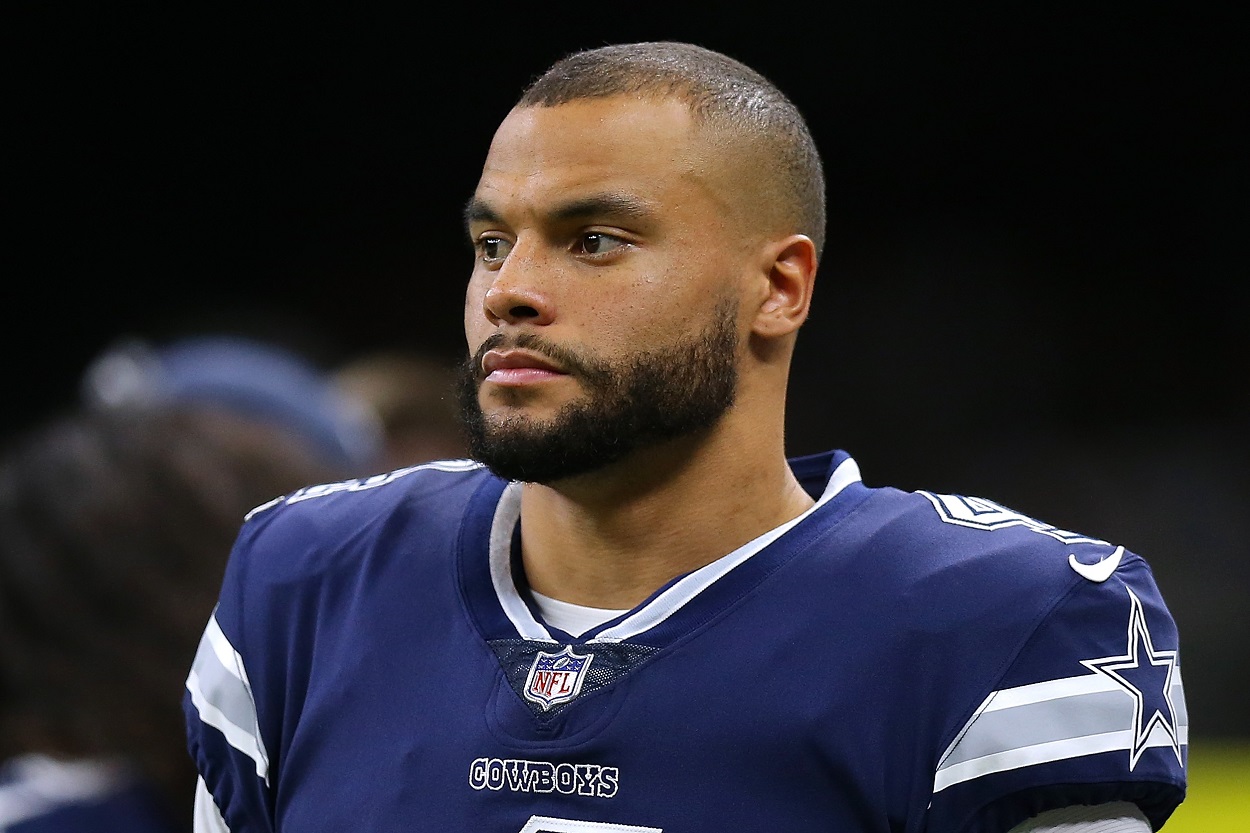 Prescott wasn't responding directly to the owner, but when asked about his recent struggles by the media, the Cowboys quarterback said he disagrees with the evaluations that he's slumping right now.
"I do realize I'm not playing my best ball, haven't been playing it, have made some poor decisions, you could say," said Prescott, according to ESPN. "That's kind of part of it. I wouldn't say it's slump material, but I'm definitely not up to my standards or expectations, and when you play at a high level, that's what you create. So I'm glad people have the same expectations for my game as I do for myself."
Prescott is putting a positive spin on the criticism, and good for him for taking that kind of mindset. Without a doubt, things haven't been great for the Dallas quarterback. The Cowboys have escaped a terrible month of November and are winners of two straight, but Prescott has continued to play an underwhelming brand of football.
He's thrown 24 touchdowns this season but also has 10 interceptions to his name. Five of those interceptions have come in Dallas' last four games. He's also been sacked 11 times in the past five contests, which isn't exactly his fault but it's certainly part of the problem.
Prescott is using the slump talk to motivate himself
A lot of this "slump talk" has come about because Jones was asked about his quarterback's play as of late while talking to 105.3 the Fan in Dallas. He was asked point-blank whether or not he thought Prescott was in a slump.
"I don't want to say that, slump, but that's probably fair," Jones said. "But it's such a multifaceted evaluation that I would say our offense is definitely away from where we were playing five and six games ago from the standpoint of production."
Head coach Mike McCarthy was also asked about his quarterback, though he provided a bit of a stronger defense for Prescott.
"I wouldn't say a quarterback is having a slump. It's different in football. A lot of things go into it," McCarthy said via ESPN. "I don't think Dak is in a slump. I think everything has not gone the way we would like to go are things we can improve on.
Despite his owner and head coach both fielding questions about his struggles, Prescott seems to be taking everything in stride. He's always been thought of as a high-character player, which has made him such a great leader for the Cowboys. That's part of what made it easy for Jones to give him $40 million a year. The other part was his potential to be an elite quarterback, though.
Will he ever be able to ascend to those heights? At the very least, he's using the slump chatter to help motivate him to reach that point.
"I've been doubted my whole life, said I can't do this or can't do that, so in a sense I'm kind of glad it's actually come back," Prescott said. "I'm glad that's the way people feel and there's a lot of that being said right now."
The Cowboys need Prescott to improve to make a Super Bowl run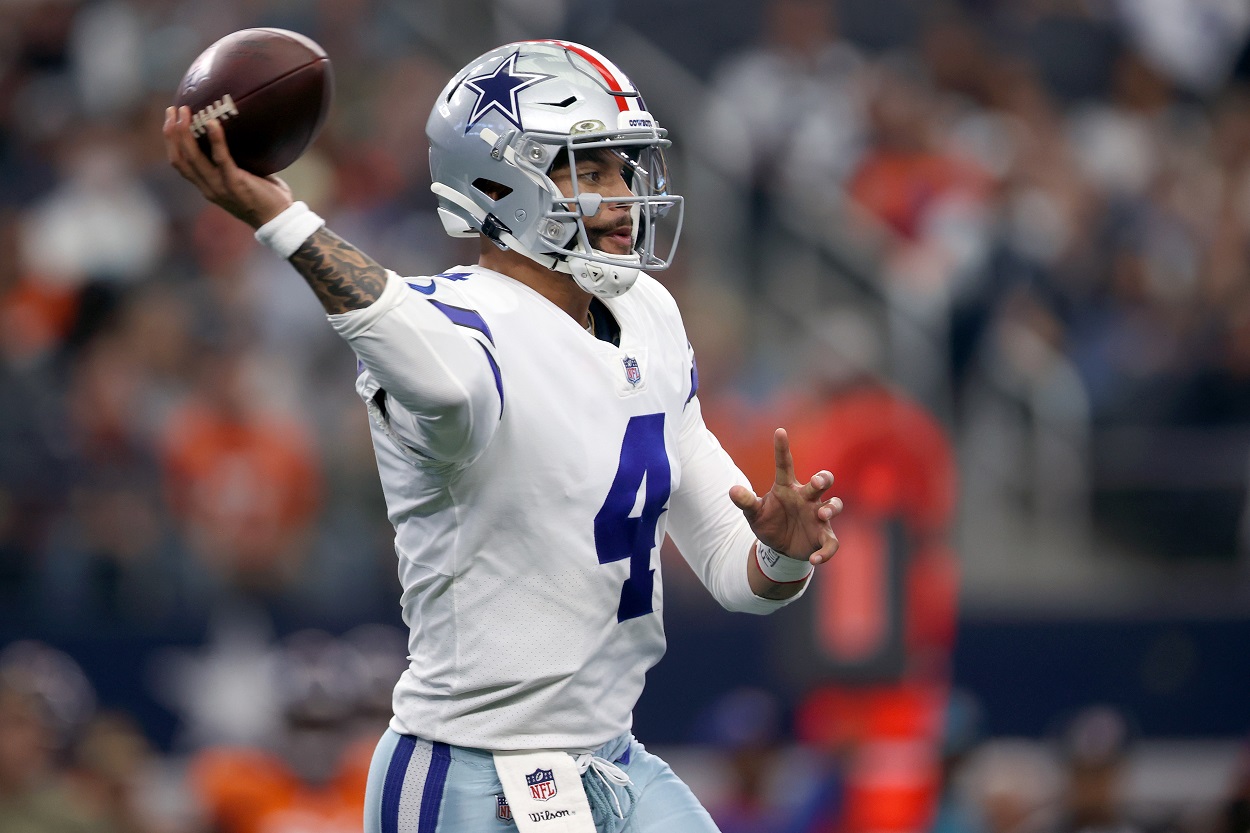 Dallas has a defense that's rounding into form and looks like it could end up being elite.
Dan Quinn is one of the best defensive coordinators in the NFL. Trevon Diggs (nine interceptions) is arguably the best cornerback in the league. Rookie linebacker Micah Parsons (12 sacks) is becoming a bonafide superstar.
The Cowboys are aggressive on defense and incredibly talented. On paper, that's a unit that could win the Cowboys a few playoff games, and who knows what happens after that?
With that in mind, the biggest question mark for Dallas as the playoffs approach is Prescott and the status of the offense.
The Cowboys have high-flying weapons on that side of the ball, so it's not a matter of talent. CeeDee Lamb and Amari Cooper are both top-flight receivers and Dalton Schultz has become a legitimate threat as a pass-catching tight end. When he's healthy, Ezekiel Elliott is one of the best running backs in the NFL. His health has been an issue this season, but his backup, Tony Pollard, has pitched in admirably and has provided the Cowboys with a nice one-two punch.
The Cowboys have all the pieces to be elite on offense as well. Right now it's the play of Prescott that's arguably holding the unit back, though it's worth noting that Elliott doesn't see it that way.
"I mean, there [are] 11 of us out there, so I wouldn't say you could put anything on one player because it takes all 11 guys to make a play," Elliott said. "And I think we all need to play better, the whole offense collectively."
Defense wins championships in the NFL, but this is undoubtedly a league that is run by elite quarterback play. Dallas is paying Prescott like he's elite, but this slump he's in suggests otherwise.
If the Cowboys want to make a legitimate run at the Super Bowl, Prescott will eventually have to out-dual the likes of Tom Brady or Aaron Rodgers. Kyler Murray and Matthew Stafford are also expected to be in the hunt as well, and they both know how to put a ton of points up on the scoreboard.
Maybe he doesn't think he's in a slump, but it's time he turns whatever he calls this thing around. The Cowboys need him to.
Stats courtesy of ESPN and Pro Football Reference. Contract information via Spotrac.