Jerry Jones Trying to Sign LeBron James Wasn't as Crazy as You Think
Dallas Cowboys star LeBron James. That kind of has a weird ring to it, but it almost happened. James recently said that during the 2011 NBA lockout, he began training to play football. He apparently even got a contract from Jerry Jones. So, looking at the situation, could James have actually signed with the Cowboys? It's not as crazy as you think.
LeBron James was a young and explosive athlete
RELATED: LeBron James Is Being Forced to Pay the Lakers a Massive Amount of Money
During the 2011 football season, LeBron James was just 26, almost 27 years old. He was in the prime of his athleticism. James had just come off of his first season with the Miami Heat, where he and the Heat went to the NBA Finals but lost to the Dallas Mavericks.
James was one of the best players and athletes in the entire league at that time. To that point, he had scored 26 points per game or more in every season he had played in, except for his rookie year. James was also averaging 7.1 rebounds and seven assists so far in his career.
Additionally, James had just won the league's MVP award in 2008-09 and 2009-10. So, during the 2011 lockout, James was at the height of his individual success. He was also one of the world's most elite athletes.
Beginning to train for football
RELATED: LeBron James' First Big Three Was Actually Not With Dwyane Wade and Chris Bosh
While recently appearing on Uninterrupted, LeBron James admitted that he actually began training to play football during the 2011 lockout season. The 2011-12 NBA season did not start until Christmas Day 2011. In comparison, the 2010-11 NBA season began on Oct. 26.
"I had no idea how long the lockout was going to be, and myself and my trainer … we really started to actually train to be a football player when it came to like October and November," James said on Uninterrupted. "We started to clock our times with the 40s, we started to add a little bit more in our bench presses and things of that nature, we started to add more sledding to our agenda with our workouts."

LeBron James
He did not just train, though. James' business partner Maverick Carter said on Uninterrupted that James received a contract from Dallas Cowboys owner Jerry Jones. 
So, how could this have worked monetarily?
James signing with the Dallas Cowboys could have worked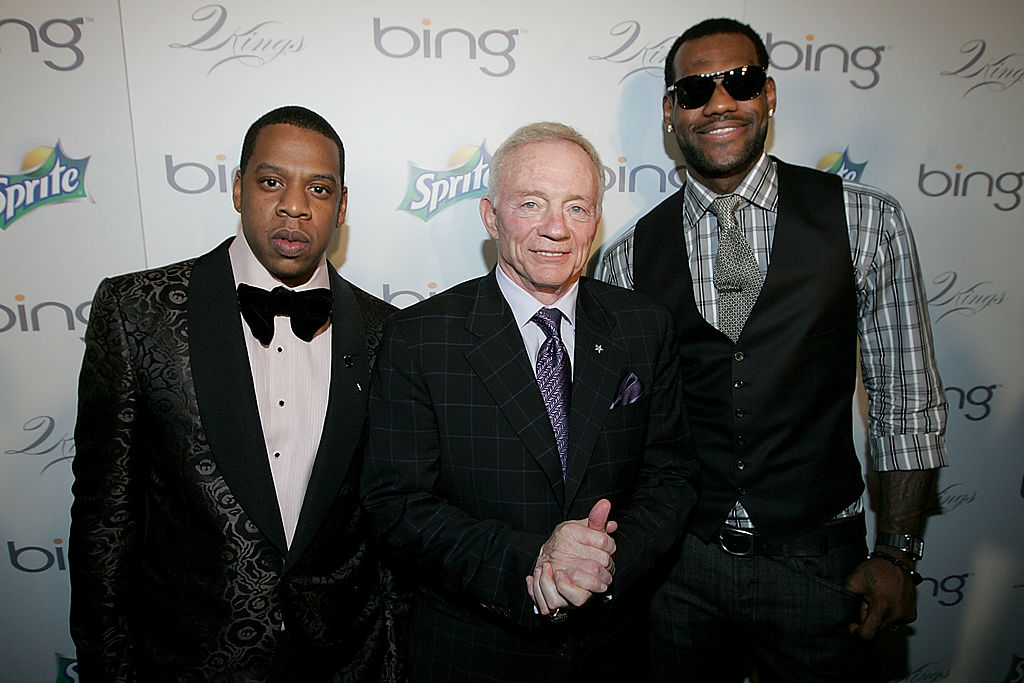 RELATED: Why Do People Still Argue Over Dak Prescott and Carson Wentz?
Even though James had not played football since high school, he probably would not have been an extremely cheap signing for the Cowboys. James was, and still is, an elite athlete. He was perhaps, at the time, a better athlete than anyone who was on the Dallas Cowboys during the 2011 season.
Since he began training in October and November, though, it probably would not have been a contract that lasted the full NFL season. So, that probably would have cut the cost for James quite significantly. However, let's look at what James made playing basketball during the 2011-12 season, especially because James might have asked for a little extra money for a partial-season contract since there is a higher risk of injury in football.
During the 2011-12 season, James made an estimated $12.89 million with the Miami Heat, according to Spotrac. What did the Dallas Cowboys' star players make during that season?
Quarterback Tony Romo made an estimated $9 million in 2011, according to Spotrac. However, guys like Dez Bryant and DeMarco Murray were still really young. Bryant only earned an estimated $1.36 million in 2011, and Murray only received an estimated $1.06 million. Other guys like Miles Austin and Jason Witten made a lot of money, though. Austin earned an estimated $8.54 million in 2011 after earning over $17 million in 2010. Jason Witten earned an estimated $16.39 million in 2011, according to Spotrac.
So, James' salary demands probably would not have been far off from what guys like Witten, Romo, and Austin were making. If Jerry Jones and the Cowboys would have had salary cap issues because of James, though, maybe they could have reworked a guy like Witten's contract? He only made an estimated $4.64 million in 2012. So, maybe they could have allotted more money for that season instead.
Listen, I am not a contract guru. I sometimes don't understand the ins and outs of juggling salary cap restrictions. However, based on what James made for the Miami Heat, what the Cowboys' top stars made that season, and the fact that James would not have been playing for an entire season – a LeBron James-Dallas Cowboys pairing seems like it could have actually happened. That would have been must-see TV too.
All stats courtesy of Basketball Reference; Contract numbers courtesy of Spotrac