Jerry Krause Told a Post-Michael Jordan Bulls Player That They Would Win a 7th Title to 'Wipe out' the Other 6 They Won With MJ
It has been more than a year since Michael Jordan and the Chicago Bulls captivated America once again. The Last Dance documentary gave us all an inside look into the GOAT's success and what his teams went through while winning two separate three-peats. However, when looking back at the series, one person stood out as the clear villain: former Bulls general manager Jerry Krause.
It was clear during and after Jordan's Bulls tenure that he and Krause didn't like each other, and the doc essentially blamed the GM for breaking the team up after the 1997-98 season.
But while everyone involved probably could have handled things better, it appears Krause held onto his resentment toward Jordan well after MJ was gone. Just ask former Bulls player Metta World Peace.
Jerry Krause had beef with Michael Jordan and other members of the Bulls
The disdain Michael Jordan and Jerry Krause had for each other was apparent during The Last Dance, but Krause, who joined the Bulls the year after Jordan, helped build the legendary teams that won six championships. He was essentially the one who put almost all of the pieces in place.
However, he also made various decisions His Airness didn't like, which seemed to have played at least somewhat of a role in their feud.
But it wasn't just MJ who had problems with Krause; neither Scottie Pippen nor Phil Jackson got along with him either. Pippen's issues likely stemmed from his awful seven-year, $18 million contract that he signed with the team in 1991, per CBS Sports, as it was arguably one of the worst deals in NBA history.
Jackson, on the other hand, essentially had Krause to thank for his NBA coaching career, as he went from coaching in the Continental Basketball Association and in Puerto Rico to becoming a Bulls assistant when Krause gave him a chance in 1987. He then later made Jackson the Bulls' head coach in 1989. As CBS Sports noted, though, Krause eventually thought Jackson could have stepped in to keep Jordan and Pippen from causing problems with him; he thought he could have been somewhat of an intermediary, but that didn't happen.
All these problems appeared to have played at least minor roles in Krause deciding to start from scratch and try his hand at building a new dynasty following the 1997-98 season.
And Metta World Peace was supposed to be one of the stars of the new era.
Jerry Krause wanted to wipe away those six titles with a seventh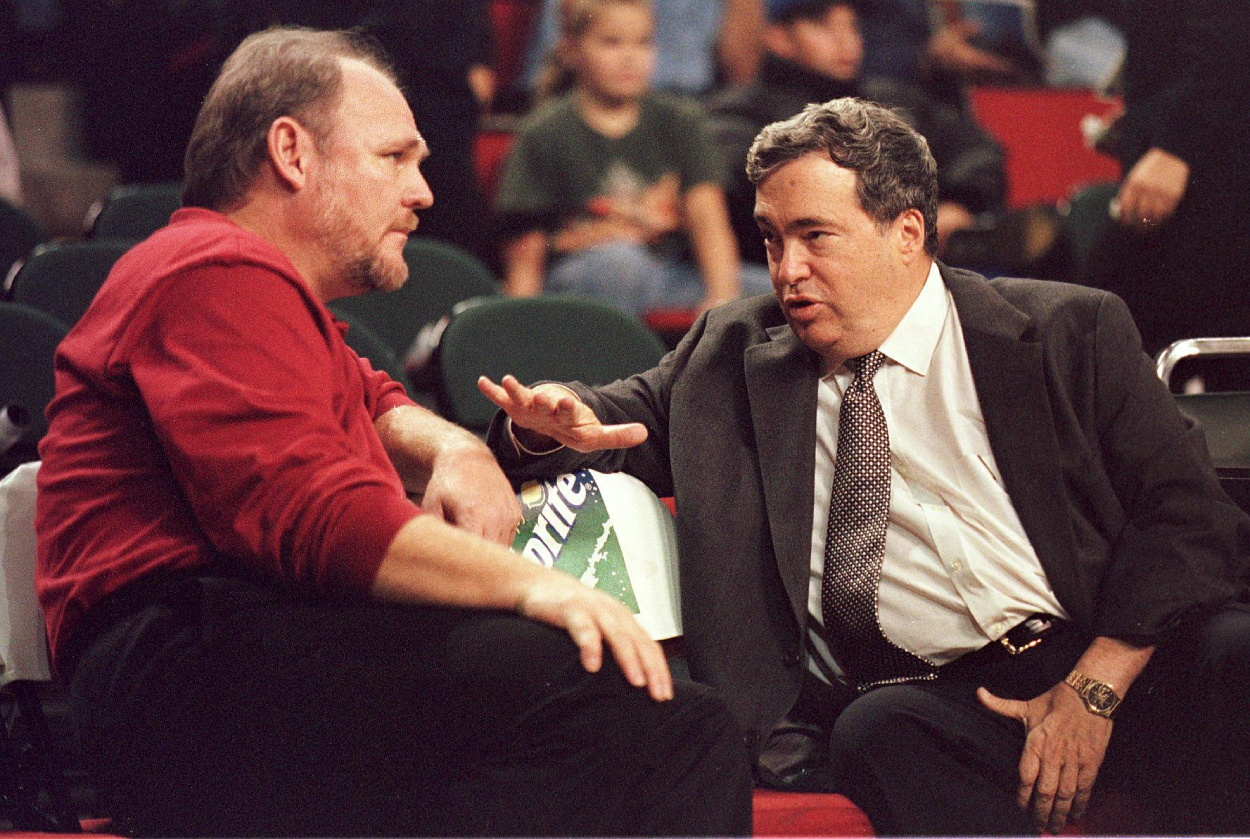 Not long after the departures of Michael Jordan, Phil Jackson, and Scottie Pippen, Jerry Krause and Chicago drafted Metta World Peace, also known as Ron Artest and Metta Sandiford-Artest, with the No. 16 overall pick in the 1999 NBA Draft.
The Bulls went from going 62-20 and winning a championship in 1997-98 to becoming a 13-37 team in 1998-99. But Krause still had high hopes for building a new dynasty when World Peace came to Chicago during the 1999 offseason.
"What I'm saying is, 'I'm gonna win a title here somehow,'" World Peace, who was excited to go to the Bulls because of his love for Jordan, said on the Aug. 9 episode of Club Shay Shay. "That's what I wanted to do. And I remember Jerry Krause — RIP Jerry Krause — he was saying, 'Ron, we're gonna get number seven, and we're gonna wipe out the other six.' Now, I don't wanna wipe out the other six; I just want to get number seven."
Even to this day, Krause doesn't get much credit for helping the Bulls win their titles, so it appears he thought that winning one without Jordan and company would have given him the recognition he deserved.
But it didn't quite work out that way for Krause and the Bulls.
The Chicago Bulls haven't won a title since the Michael Jordan era
As mentioned above, the Bulls went 13-37 in their first year without Jordan, Pippen, and Jackson. Things didn't get much better after that, either, as Chicago missed the playoffs in each of the first six seasons after the Jordan era.
World Peace, who praised Krause for believing in him while on Club Shay Shay, also didn't stay with the Bulls for long. Chicago traded him to the Indiana Pacers in 2002.
Krause then retired in 2003 and didn't get back to the playoffs ever again, but the Bulls still haven't reached another NBA Finals. The furthest they made it was in 2011 when they reached the Eastern Conference Finals.
They have essentially gone from being an NBA powerhouse to a perennial non-contender.
Jerry Krause may have never gotten that title without Michael Jordan, but the Bulls just haven't had anywhere near the success they had with Jordan, Pippen, Jackson, and, yes, Krause. They may have had their differences, but all four men played significant roles in Chicago winning six titles in eight seasons.
Stats courtesy of Basketball Reference