Jerry Krause Ultimately Received the Recognition He Longed for Despite Breaking up the Bulls Dynasty
With "The Last Dance" documentary premiering on Sunday, the world saw how former Chicago Bulls general manager Jerry Krause longed to get credit for building the dynasty. The documentary showed how Michael Jordan, Phil Jackson, and Scottie Pippen certainly got credit. However, Krause rarely got the positive attention he wanted. Krause was ultimately a reason the dynasty broke apart. However, when it was all said and done, he ultimately got the recognition he always wanted.
Jerry Krause built the dynasty
Michael Jordan was already on the Chicago Bulls when Jerry Krause became the general manager in 1985. However, Krause pretty much built the rest of the entire dynasty. Krause, a former baseball and basketball scout, used his scouting abilities to surround Michael Jordan with a great supporting cast.
Krause got Jordan his partner in crime. He got him, Scottie Pippen. Krause actually worked some magic to acquire Pippen in a trade during the 1987 draft. Pippen was sort of an unknown guy then out of the University of Central Arkansas. He, however, later became one of the best players in NBA history. 
"If we had not kept the Scottie Pippen thing as quiet, it never would have happened," Krause said in an interview with The Vertical, according to NBA.com. "That alone is worth keeping a secret for."

Jerry Krause
Over the years, Krause also drafted Horace Grant and traded for Bill Cartwright. He even brought Dennis Rodman to the team, and surrounded Jordan with great shooters like Steve Kerr, according to Sporting News. 
However, hiring Phil Jackson as an assistant coach was one of his greatest moves. This came before he eventually made him the head coach. Krause had a history of wanting Jackson on the team that he worked for. He urged the Baltimore Bullets to draft Jackson in the 1967 NBA draft when Jackson was a player and Krause was a scout, according to the Chicago Tribune. Jackson, as you probably know, ultimately became an 11-time NBA champion as a head coach.
So, when looking at Krause's career, he had a lot to do with the Bulls winning six championships in the 90s. He, however, also had a lot to do with the dynasty breaking up after the 1997-98 season. 
Krause wanted to get the credit he felt he deserved
Krause was ready to rebuild the Bulls a little too soon. He pretty much pushed Phil Jackson out the door. Once that happened, Michael Jordan was done as he retired before coming back and playing with the Washington Wizards for two seasons in 2001-02 and 2002-03.
There already seemed to be a rift between Krause and the team well before the final season, though. Jordan, Jackson, and Scottie Pippen got a lot of the credit for all of the championships while not many people gave Krause any credit for actually building the team.
"Jerry had the little man problem," Mark Vancil, author of Rare Air, said during 'The Last Dance,' according to CBS Sports. "He grew up a little, fat kid. Not a lot of money. He was always the underdog. And he just couldn't control that part of him that needed credit."

Mark Vancil
The rebuild started in 1998-99 but it did not work out too well. The Bulls went 96-282 in Krause's final five seasons, according to the Chicago Tribune.
He ultimately got the credit he wanted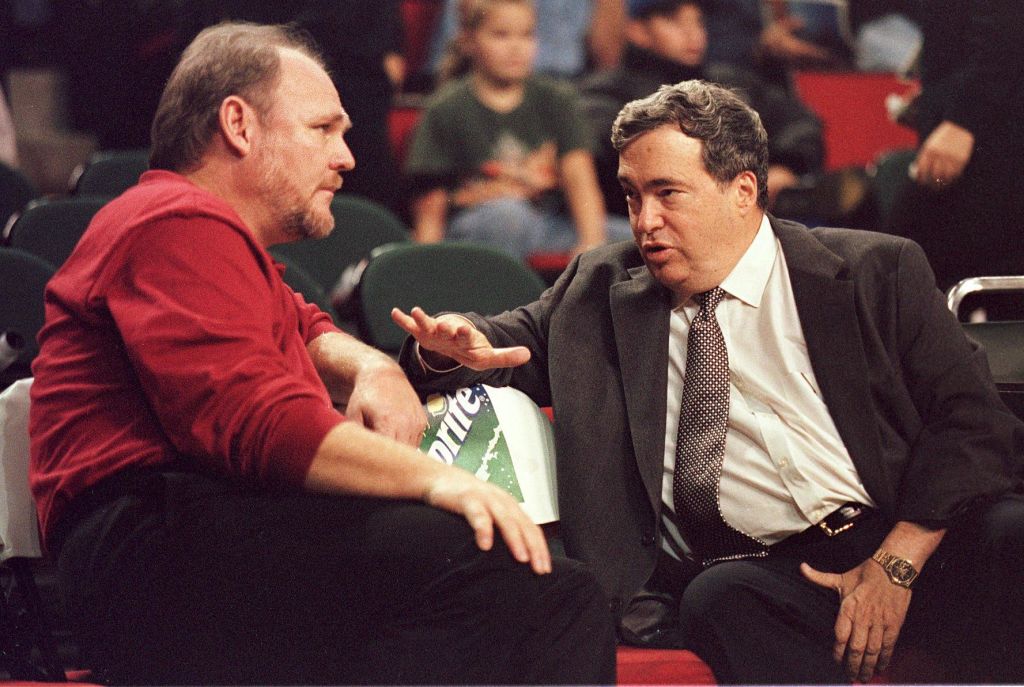 Jerry Krause died in March 2017, according to NBA.com. He, however, was a part of the Naismith Memorial Basketball Hall of Fame's class of 2017. Krause was ultimately inducted into the Hall of Fame shortly after his death in September 2017. 
"He wanted to be in the Hall of Fame very badly," Bulls owner Jerry Reinsdorf said, according to NBA.com "But he didn't want to be in there for himself. He wanted to be in for his grandchildren. And his grandchildren are going to get the enjoyment that he wanted them to get."

Jerry Reinsdorf
Jerry Krause's resume speaks for itself. He was a six-time NBA champion and a two-time NBA Executive of the Year. He also helped discover one of the greatest coaches of all-time in Phil Jackson and one of the greatest players of all-time in Scottie Pippen.
Jerry Krause certainly made some big mistakes but he deserved the recognition that he, unfortunately, didn't live to see himself get. Krause, despite tearing apart the Bulls' dynasty, was one of the greatest talent evaluators and GMs of all-time. He ultimately got the credit he always wanted when he went into the Hall of Fame in 2017.