Jerry Rice's Former Teammate Akbar Gbajabiamila Once Bought Him a Goat for His Birthday Because He Didn't Know What Else to Buy
Have you ever had someone in your life who is absolutely impossible to buy gifts for, no matter the occasion? For me, that's my grandfather. How many items does he really need in his garage?
For former NFL player Akbar Gbajabiamila, he struggled to find something for a football GOAT, Hall of Fame wide receiver Jerry Rice.
So, what did he get Rice, who played with Gbajabiamila in 2003 and 2004 on the Oakland Raiders?
A literal goat.
Akbar Gbajabiamila bought Jerry Rice a goat for his birthday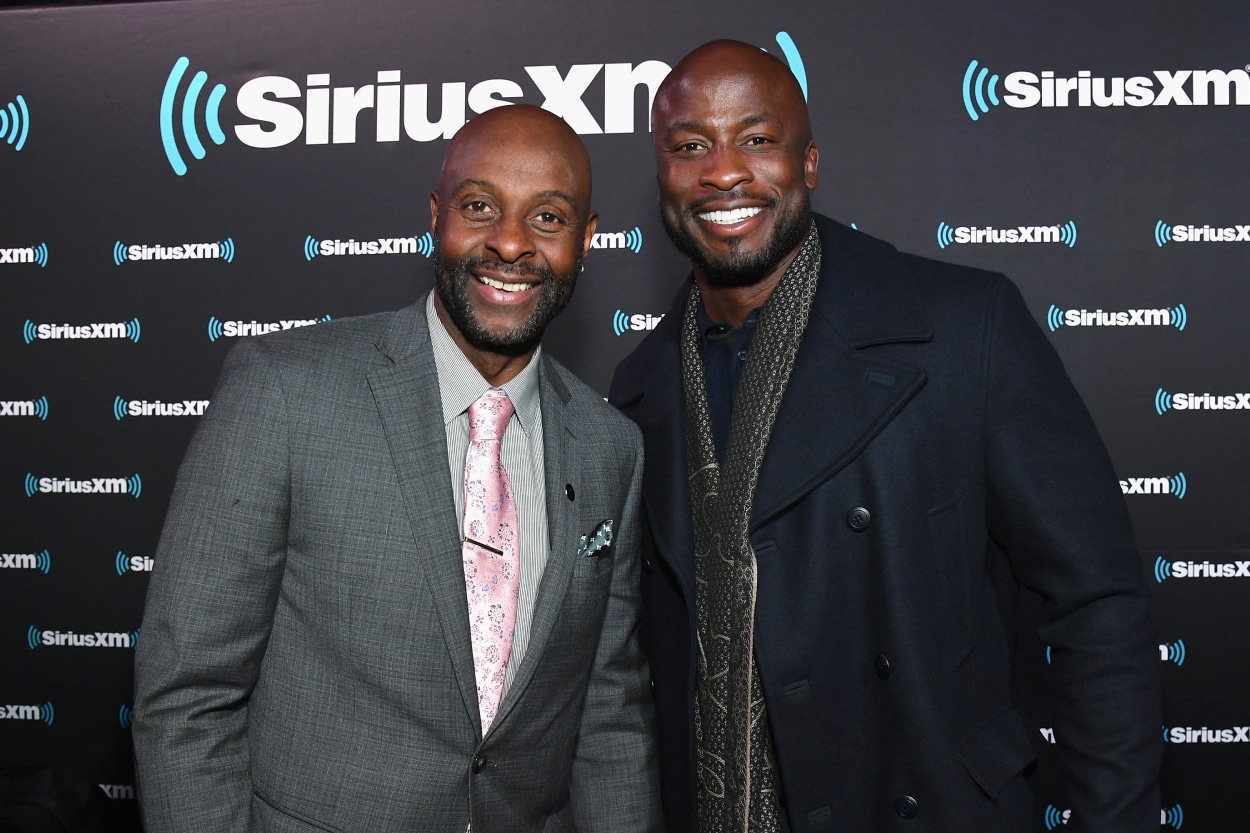 Akbar Gbajabiamila was in the NFL for five years, and he joined the Raiders in 2003, the season after they lost in the Super Bowl to the Tampa Bay Buccaneers. He played with some legends on that team, including Jerry Rice, Tim Brown, Charles Woodson, and Rod Woodson.
Rice was toward the end of his career. After playing on the San Francisco 49ers for 16 seasons, in which he won three Super Bowls and led the NFL in receiving yards six different times, the 13-time Pro Bowler spent three-plus seasons on the Raiders and less than a year with the Seattle Seahawks.
In those two seasons he and Gbajabiamila shared a team, Rice turned 41 and 42 years old. However, his young teammate had trouble finding him a birthday gift during one of those years.
"What do you get the great Jerry Rice for his birthday?" Gbajabiamila said while talking to Sportscasting about Snapdragon Stadium. "… I bought him a goat, like a real goat. This is not too long after he invited me over to his mansion in Atherton. I was like, 'I had never seen a house like that in my life.' I was like, 'My goodness.' I said, 'This is a palace.' So, I figure, 'You know what, this goat can probably just eat the grass at his house.'"
A goat for the GOAT seems fitting. Of course, the acronym for "greatest of all time" wasn't as mainstream back then, so that probably wasn't the meaning behind Gbajabiamila's gesture, but it's still a funny coincidence.
"He was like, 'What do I do with this goat?' 'I don't know, put it in your backyard. You got a big enough backyard,'" Gbajabiamila said.
Not many people can say they bought one of the greatest football players ever a gift. Akbar Gbajabiamila made sure he got Jerry Rice a memorable one.
Like Sportscasting on Facebook. Follow us on Twitter @sportscasting19 and subscribe to our YouTube channel.
RELATED: Cincinnati Bengals TE Drew Sample Looks to Help Cincy Finish the Job After Stunning Run to Super Bowl