Jerry Rice Says Julian Edelman is the Best Wide Receiver in the NFL in 1 Way
Julian Edelman's place among the top receivers in football is often debated. Is Edelman truly a great player, or is he the product of an unstoppable offensive system with quarterback Tom Brady and the New England Patriots? No matter where you rank Edelman with the other top receivers in the NFL, there's one historically great receiver who values him highly for one specific reason: former San Francisco 49er Hall of Famer and legend Jerry Rice. Let's take a closer look at Edelman's 2019, his career overall, and the way in which Rice says Edelman is the best.

Julian Edelman's 2019 season so far
The New England Patriots are 8-1 through nine games heading into a Nov. 17 game against the Eagles, and Edelman is one of their biggest offensive contributors. Here are Edelman's statistical totals:
63 catches
663 receiving yards
Four touchdowns
10.5 yards per reception
In May 2019, the Patriots awarded Edelman with a hefty two-year, $18 million extension. The news pleased Brady, who tweeted "MVP!" upon hearing about it. Tom Brady clearly believes Edelman is one of the best in the game.

Julian Edelman's career history
If Brady's preference for Julian Edelman comes as a surprise, it shouldn't. After all, the two have a lot in common. Brady was the 198th overall pick in the sixth round of the 2000 NFL draft. The Patriots made Edelman the 232nd selection in the seventh round of the 2009 NFL draft.

Edelman's career as a Patriot overall has been a successful one. Here's what he's accomplished in his time as a Pat:
124 games played
562 catches
6,053 receiving yards
10.8 yards per reception
34 touchdowns
Three-time Super Bowl champion
Before being drafted by New England, Edelman played collegiately at Kent State University. Edelman didn't play much at wide receiver in college, but did play a lot at quarterback and running back. During his college career, he threw for 4,997 yards with 30 touchdowns and 31 interceptions. He had a completion percentage of 54.5.

While no one would ever mistake him for Brady, he logged enough time at the position to make clear that he was athletic enough to play quarterback regularly. However, the Patriots saw a potential receiver in Julian Edelman, and according to Jerry Rice, he's elite in at least one way.

Why Jerry Rice says Julian Edelman is the best receiver in the NFL
When it comes to wide receivers, you'd be hard-pressed to find a better judge of them than Jerry Rice. He's the greatest of all-time. That's why his endorsement of Edelman carries so much weight.

On the NFL Network show Good Morning Football, Rice was asked which NFL receiver has the best footwork in the game. His answer was Edelman. Here's what Rice had to say about Brady's favorite receiving target:

"You're not going to be able to cover him," Rice explained of Edelman. "You can't do it. He's going to be able to get separation from you and make the catch. What I like about him, too, is his physicality. He throws his body all over the field."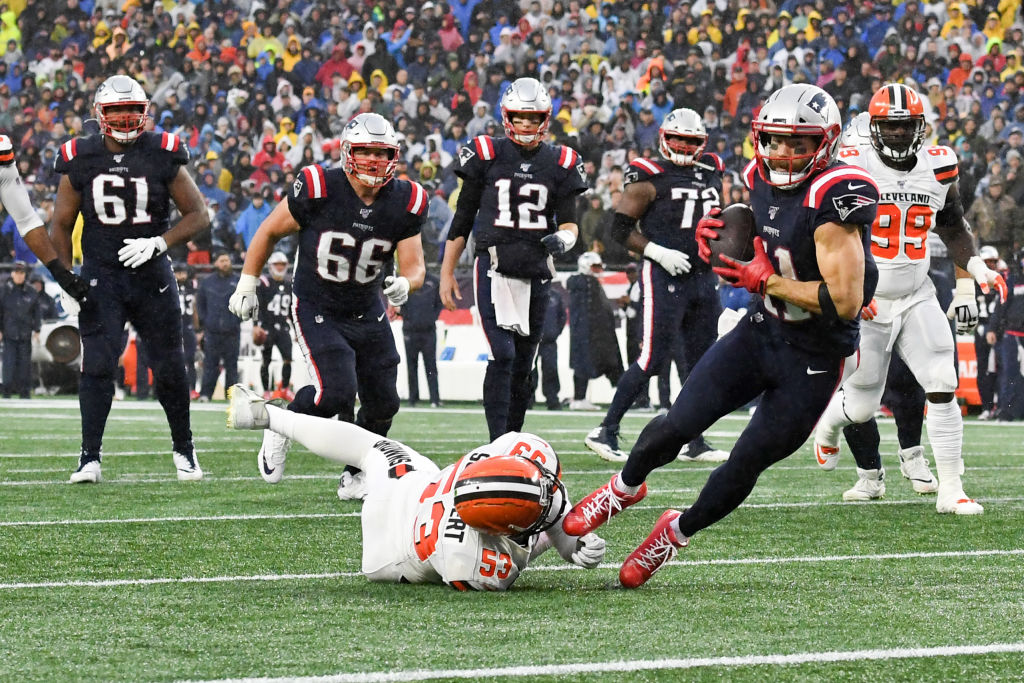 Edelman's superior footwork makes a lot of sense when you take his history as a quarterback into account. Quarterbacks need to have solid footwork. Whether it's mastering a three or seven-step drop or learning how to scramble once the pocket collapses, surviving at quarterback requires a certain degree of nimbleness on one's feet.

Julian Edelman may not be the most athletic wide receiver — that honor probably goes to Odell Beckham Jr. He may not be the best in double coverage — that's probably DeAndre Hopkins. Edelman probably doesn't even have the consistent excellence of a standout receiver like Julio Jones. But according to Rice, Edelman tops them all in his footwork. As far as the Patriots and their fans are concerned, they'd probably tend to agree.