Jerry Rice Gives Kyle Shanahan a Piece of Season-Saving Advice and Warns the 49ers Against Quitting Despite Rough Start
The San Francisco 49ers have some self-reflecting to do. The Niners have lost four consecutive contests after winning back-to-back games to kick off the 2021 NFL season. San Francisco expected to be a contender, but has looked like anything but that over the past few weeks. Hall of Fame wide receiver Jerry Rice revealed the recipe for Kyle Shanahan to turn the season around.
At 2-4, the 49ers' season is in jeopardy
The 49ers looked like a solid football team for about three quarters in 2021.
San Francisco jumped on the Detroit Lions early in the season opener. However, Dan Campbell's scrappy team fought their way back and gave the Niners a 41-33 scare.
The 49ers defeated the Philadelphia Eagles in Week 2, but only mustered up 17 points in an overall ugly game. Things have gone downhill since.
San Francisco has dropped four straight, including matchups against NFC West rivals, the Seattle Seahawks and Arizona Cardinals. The team was competitive in each of its losses but could not figure out ways to get the job done.
The quarterback controversy has dominated headlines as well. Head coach Kyle Shanahan has yet to fully commit to either Jimmy Garoppolo or Trey Lance as the team's official starting quarterback moving forward.
The 49ers have a many questions that need answering, but they're starting to run out of time to get back on track in 2021.
Jerry Rice gives strong advice to Kyle Shanahan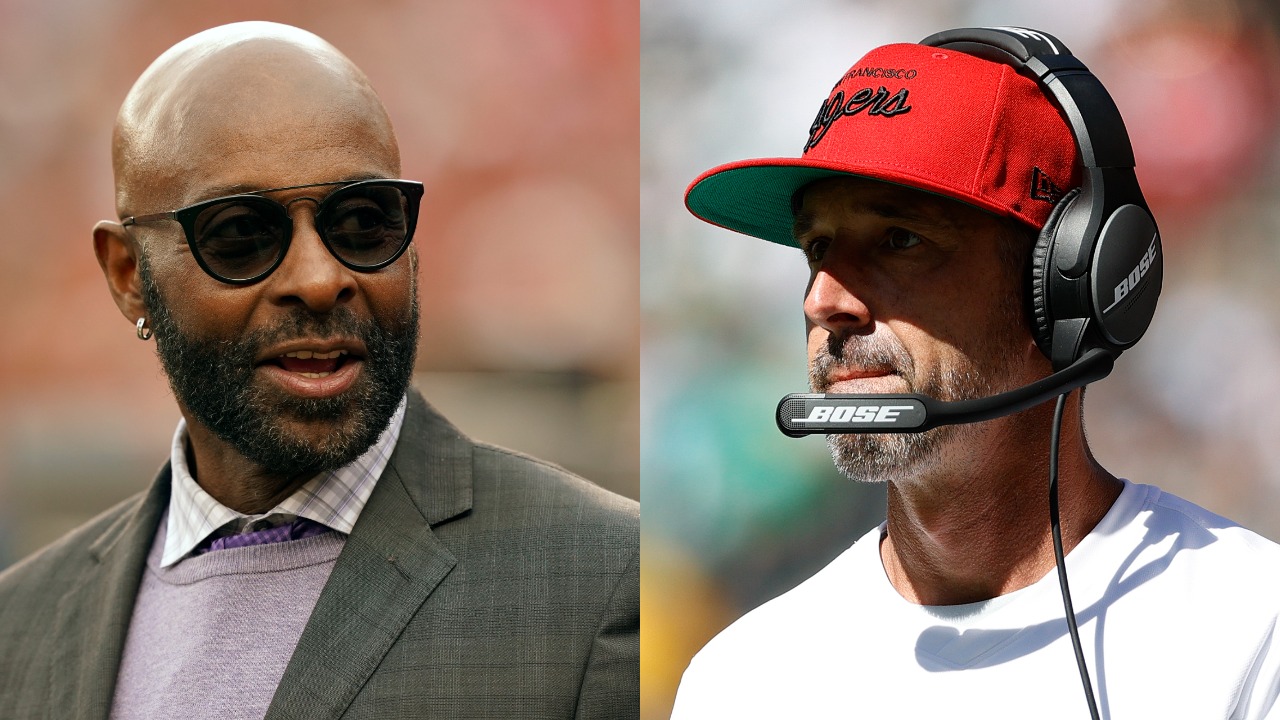 Jerry Rice is one of the most recognizable San Francisco 49ers players in franchise history. He's also arguably the greatest wide receiver of all time. When he talks, people listen.
The Pro Football Hall of Famer joined The Rich Eisen Show to discuss the current state of the 49ers.
"I think they're still searching for an identity," said Rice. "They're 2-4 right now, and somewhere, the players have to take over the team."
Rice referenced legendary Niners head coach Bill Walsh as an example. "He would let the players take over the team. When things are not going right in a ball game, have those veterans step up and pull the team together. Rally, and say what you have to say."
The 13-time Pro Bowler believes this 49ers team is currently lacking that leadership. "The coaches can come up with a game plan. But, the players need to have that work ethic. They have to set the standard."
Rice feels the veterans have to step up, and Kyle Shanahan needs to establish's the 49ers' identity.
"He has to decide if we're going to be a running team or a passing team, and you've got to stick with it," said Rice on Shanahan. "I understand George Kittle is hurt right now, and Jimmy G isn't playing his best football. But, put those players in a position to be successful on the football field."
"Decide on one," he added. "You have to pick one or the other."
The Hall of Famer doesn't want the Niners to give up
The San Francisco 49ers have looked defeated at times this season. They suffered a tough loss at home to the Indianapolis Colts in Week 7. They had plenty of chances to win the game but were unsuccessful.
Jerry Rice believes this team has enough talent on its roster to be competitive the rest of the way. However, they have to want it, or it won't happen for them.
"I'm hoping that they really get hot in November," said Rice. "When you're 2-4, what I don't want to see, is players quitting. No matter what, because you're paid to do a job. You have to take pride in it. Even if the season is not going the way you want it to go, you still have to go out there and continue to want to get better."
As Rice said, it would take a hot streak for the 49ers to end up making the playoffs. The NFC is stacked, and even with the playoff field expanding to seven teams, it's difficult to crack one of those spots.
The Niners have very little room for error. Five of the team's last 11 games are against teams with winning records, including two against the Rams.
Rice thinks the banged-up 49ers still have enough to make the playoffs. "It's always about next man up," he said. "You're going to have injuries in football."
The Niners' legend is challenging the team's internal fortitude. "Their backs are against the wall. I want to see how they come out."
All stats courtesy of Pro Football Reference.
RELATED: A Former 49ers Pro Bowler Calls Out Jimmy Garoppolo for Poor Leadership and Warns That Trey Lance is On His Heels: 'A Lot of Excuses'