Jerry Rice Never Padded His Stats During His 16-Year San Francisco 49ers Career: 'We Don't Do That. Jerry Has Earned Every Touchdown He's Scored'
Upon first glance at Jerry Rice and his 20-year NFL career, you'd have no choice but to assume his numbers were pulled straight from the latest edition of "Madden." Specifically, with the San Francisco 49ers, Rice's Hall of Fame career has him positioned as one of the greatest wide receivers in NFL history — if not the greatest.
Across his entire career, Rice recorded a mind-boggling 1,549 receptions for 22,895 yards and 197 touchdowns. For the 49ers, Rice logged 1,281 receptions for 19,247 yards and 176 touchdowns.
Numbers so large and unfathomable that some football fans have gone as far as to say the 49ers force-fed Rice the ball to boost his statistics. Unfortunately for said fans (and the rest of the NFL), that isn't the case.
Jerry Rice was never force-fed the ball during his 49ers career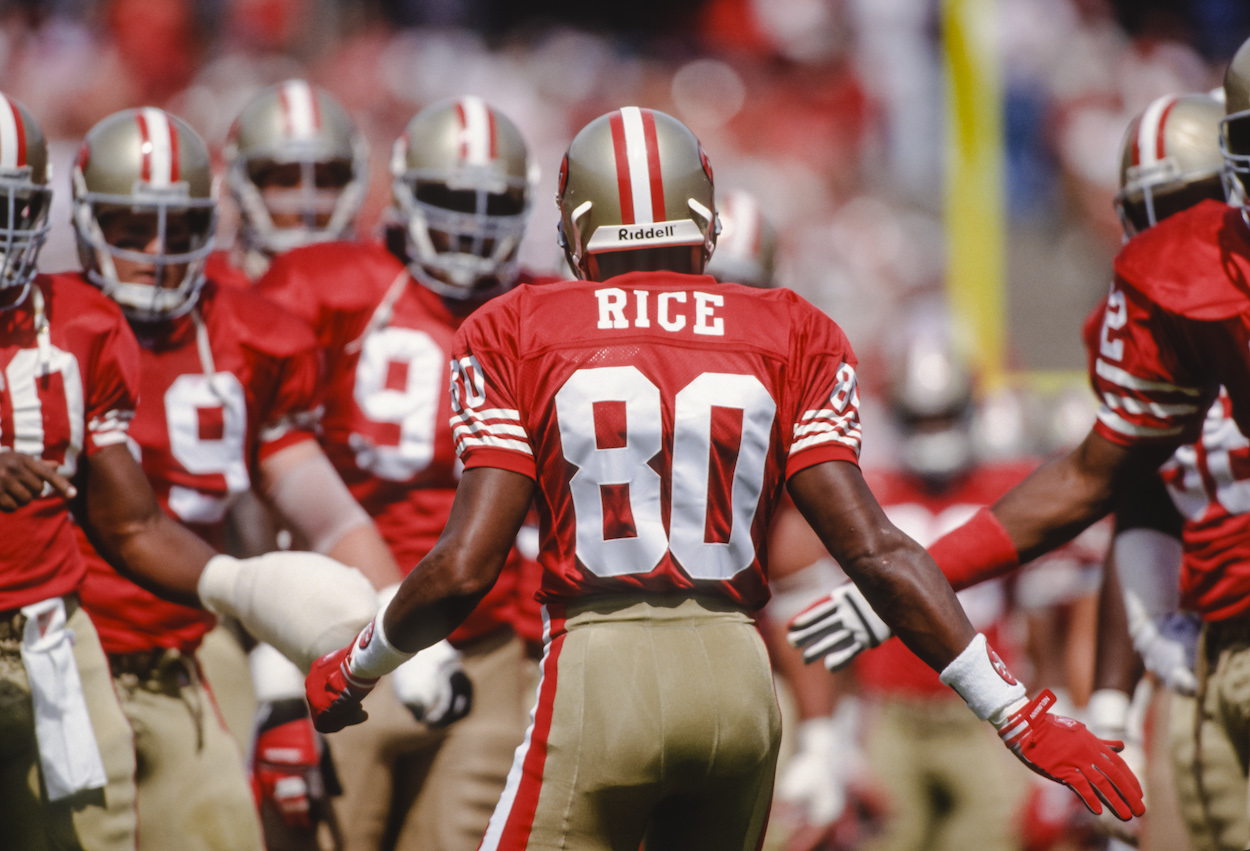 According to Rice's old 49ers head coach Bill Walsh, the team did not pad his stats during the wide receivers' time in San Francisco.
"Some clubs will help receivers by throwing to them any time they're close to the end zone," said Walsh. "We don't do that. Jerry has earned every touchdown he's scored" (Pro Football Hall of Fame).
Unless Walsh was flat-out lying in an attempt to preserve Rice's legacy (not that such a legacy needs any preserving), that's about as intimate an answer as you can get. If anyone knows whether the 49ers liked to over-target Rice near the end zone, it would be the team's head coach.
Stat-padding for WRs has become all too common in today's NFL
As the game continues to progress away from being a run-first league, NFL wide receivers continue to see more and more targets on a per-game basis — especially star receivers. WR is quickly blossoming into the most glamorous position to play, causing many elite high school athletes to prioritize learning the position.
Just looking at the two most recent NFL drafts, a whole slew of receivers were taken in the first round.
Henry Ruggs, Jerry Jeudy, CeeDee Lamb, Justin Jefferson, Jalen Reagor, Jaylen Waddle, Ja'Marr Chase, Kadarius Toney, Rashod Bateman, and DeVonta Smith. The league is filled with young talent at WR, players who want to see as many targets down by the end zone as possible.
For the most part, NFL teams indulge in said practice. Jefferson, for example, saw 125 targets during his rookie season. A total that ranked top-20 in all of football.
Were the Minnesota Vikings going out of their way to over-target their new WR? Maybe, maybe not. However, it's hard to ignore how much the game has changed compared to when Rice was still catching passes.
Jerry Rice's Hall of Fame career looks even more impressive
In hindsight, Rice putting up the numbers that he did in the 80s and 90s is even more impressive than initially perceived.
He didn't have the luxury of being over-targeted like some of today's receivers. Instead, Rice was so good that he found himself wide open a majority of the time, especially around the end zone.
Rice led the NFL in receiving touchdowns on six different occasions during his 16-year 49ers career, a testament to his scoring ability.
Rice was also still cooking up opposing defensive backs at the age of 40. Were the Raiders going out of their way to target a 40-year-old Rice during the closing stages of his NFL career? Probably not.
All stats courtesy of Pro Football Reference.