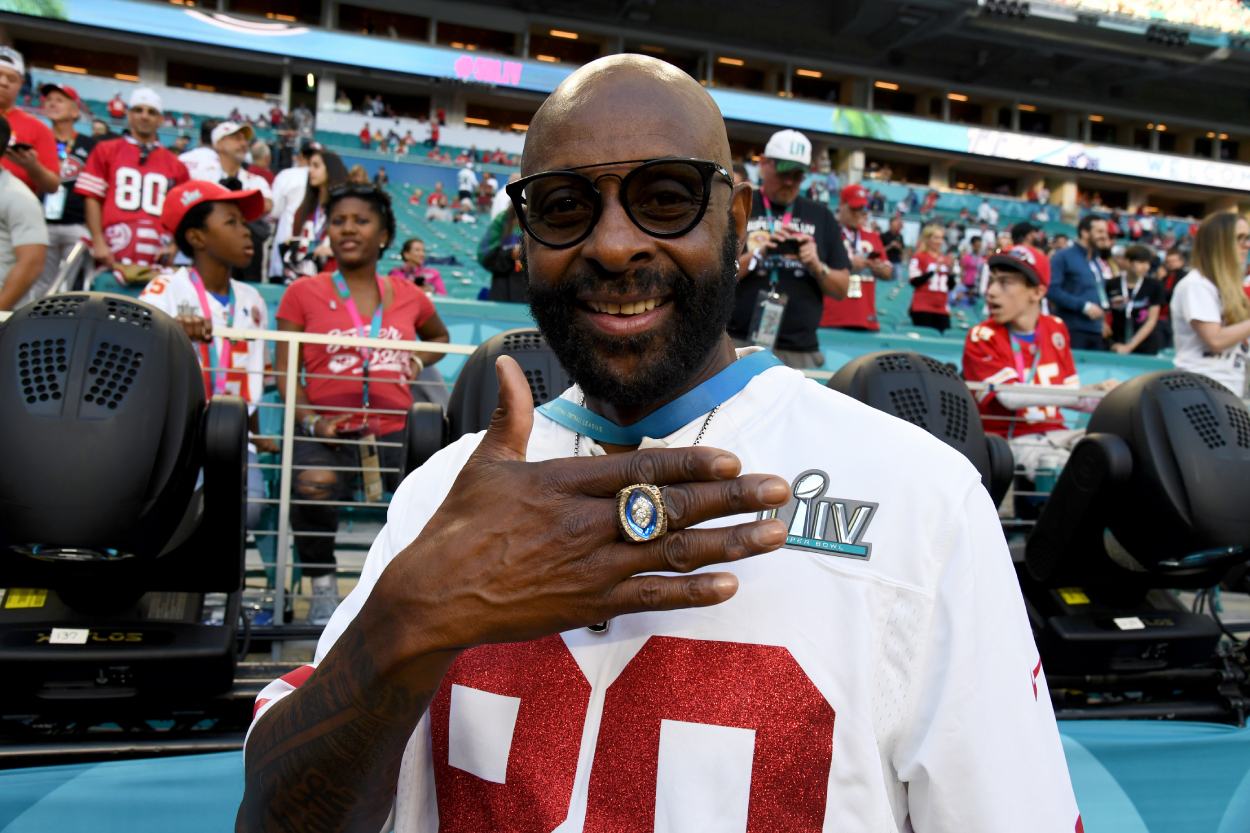 Jerry Rice Sees Plenty of Touchdowns and Dollar Signs if He Played Today: 'I Probably Might Be Able to Like Double Everything'
Jerry Rice is already the greatest receiver in NFL history, so imagine what he'd do if he played in 2021? He thinks he'd be even better.
If the San Francisco 49ers are ravaged by injuries again during the 2021 season, maybe Kyle Shanahan should call Jerry Rice.
Alright, we probably shouldn't expect to see the 58-year-old Rice take the field this fall. But if you ask the Pro Football Hall of Fame receiver, he thinks he'd be at home in the current era of football.
Jerry Rice thinks he'd dominate the NFL if he played today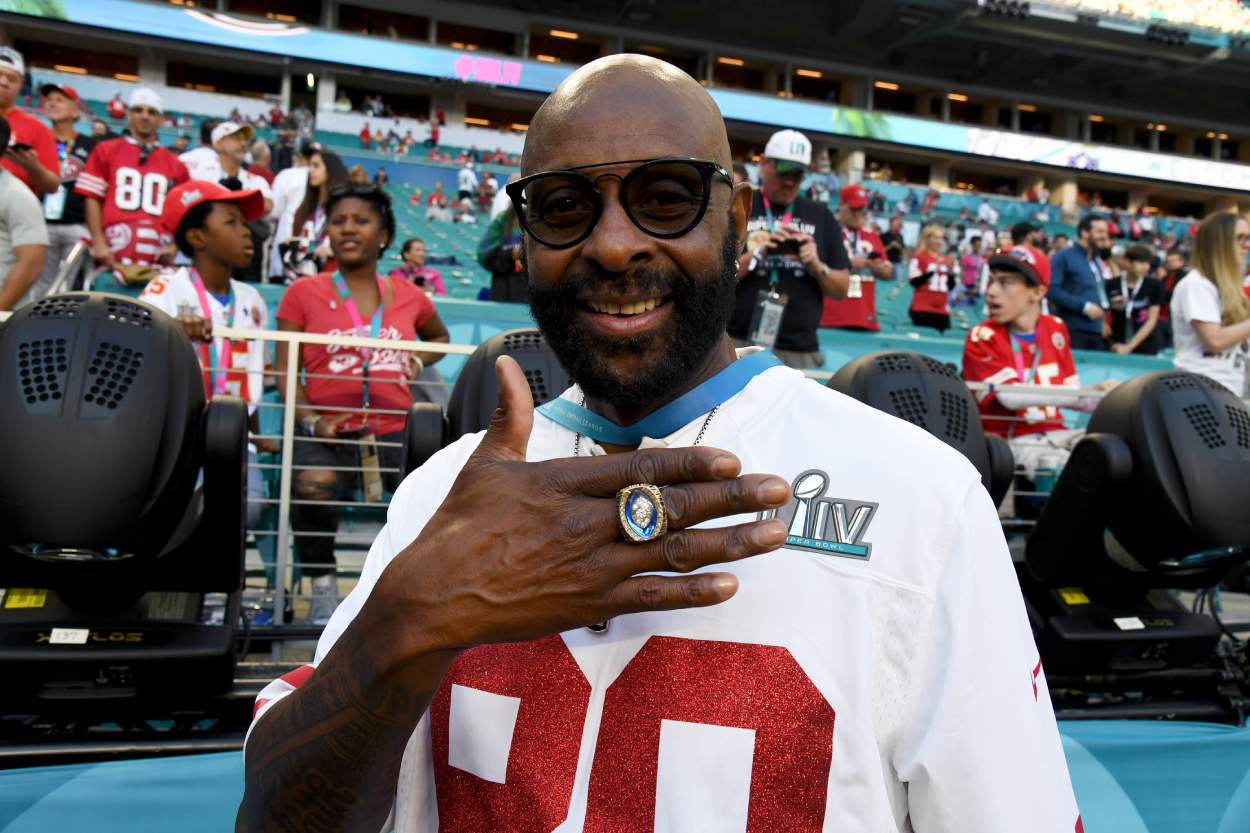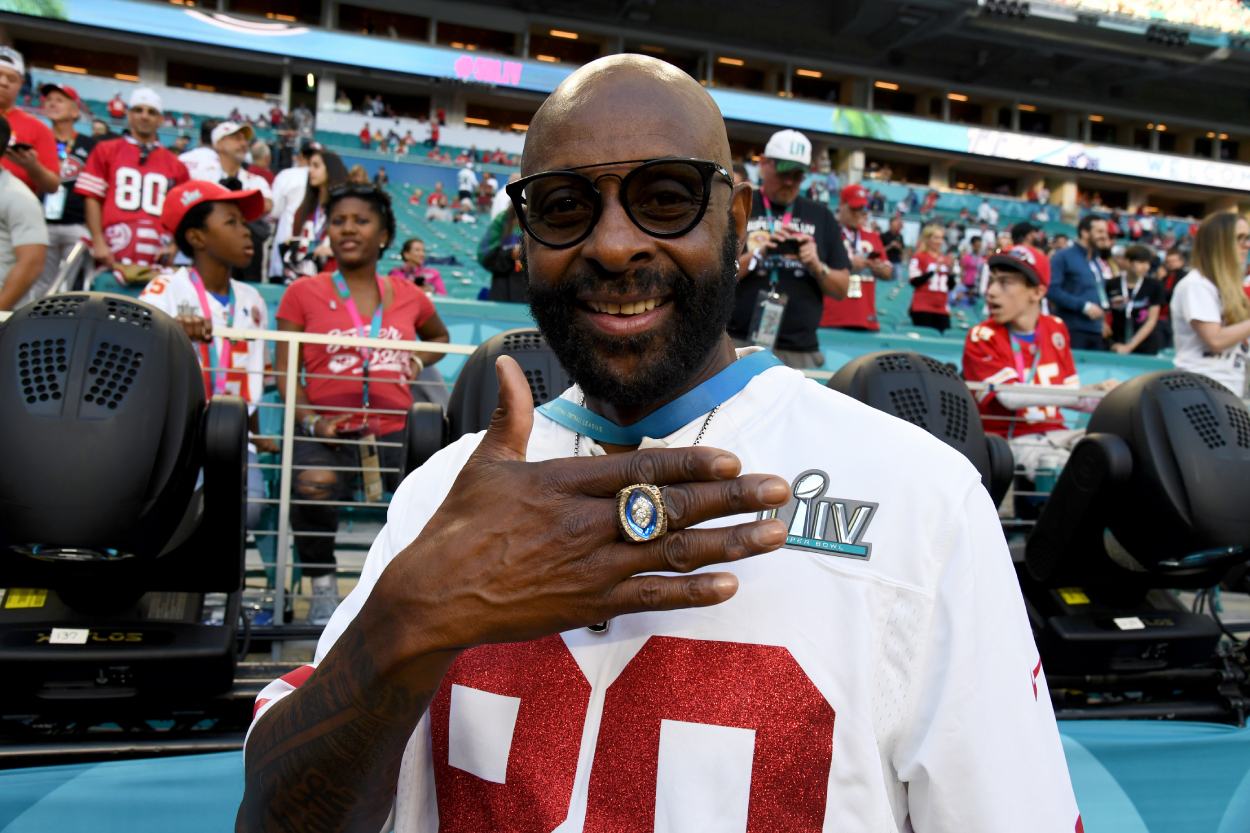 No one can ever accuse Rice of being modest, especially not as he gets older.
ProFootballTalk transcribed comments Rice recently made on Peacock's Brother from Another about how he'd fare if he played in 2021. If you expected the 13-time Pro Bowler to suggest he couldn't keep up, think again about who made these comments.
"First of all, the game really favors the wide receiver now because you can't put your hands on him. Linebackers can't take shots at you coming across the middle anymore. It's kind of hard because it's hypothetical; I probably might be able to like double everything."

Jerry Rice
Remember, Rice retired in 2005 with an NFL-record 1,549 catches, 22,895 yards, and 197 touchdowns to his name. He still holds all of those records, by the way, so if he could do all of that in a much more physical era, it really is frightening to imagine how elite he'd be in 2021.
How good would Rice really be if he played today?
For the sake of conversation, let's pretend Rice entered the NFL this year with the same size — 6 feet 2 inches and 200 pounds — and the same skillset. He played the bulk of his rookie season in 1985 at 23 years old, so we'll keep him at the same age here.
Watch any highlights of Rice, especially in the 1990s, and you'll see plenty of brutal hits and collisions. The NFL has made it a priority over the last decade to protect its offensive players from those bone-shattering, violent hits which ESPN and NFL Films once embraced.
However, he wouldn't exactly double his career numbers. Rice averaged 78 catches, 1,145 yards, and 10 touchdowns per season. If he played in 2021 and had a competent starting quarterback, it's not unrealistic to think he could average similar numbers as DeAndre Hopkins (93 catches, 1,251 yards, and eight touchdowns per year) or Julio Jones (85, 1,290, and six).
Those statistics would be enough most seasons to earn him a spot in the Pro Bowl, All-Pro honors, and a massive contract. Who wouldn't want a player of Rice's caliber on their team?
With that said, he'd also regularly be facing defensive backs who are bigger, faster, and more versatile than when he played. Defenses have more tactics now, between position changes and analytics, to create a deep game plan built around stopping the game's best skill players.
Off his talent and dedication alone, Rice would absolutely be a perennial Pro Bowler if he played today. Averaging nearly 2,300 receiving yards and 20 touchdowns per season, though, is asking a bit much.
Rice also deserves credit for playing well at an older age
If you're still skeptical about how Rice would fare in the modern NFL, keep in mind that he played into his early 40s as a receiver. Rice turned 40 midway through the 2002 season, his second with the Oakland Raiders.
In what proved to be his final Pro Bowl season, he turned 92 catches into 1,211 yards and seven touchdowns for the Raiders that year. He added 14 receptions, 203 yards, and two touchdowns in three playoff games.
In 2003, he had 63 catches, 869 yards, and two touchdowns in 16 games. Although Rice only had 30 catches for 429 yards and three scores in 2004, he did so while playing 17 games — the Raiders sent him to Seattle midway through the season — for the first time and only time in his career.
Counting the three playoff games in January 2003, Rice had 175 catches, 2,372 yards, and 12 touchdowns after he turned 40. An incredible feat for one of the greatest players ever to take the gridiron.
Like Sportscasting on Facebook. Follow us on Twitter @sportscasting19.